Dennis Van Roekel, the president of the National Education Association, the nation's largest teachers union, came out in favor of a two-year moratorium on adverse consequences for schools and teachers that have been proposed in connection with the Common Core State Standards in an interview with The Huffington Post Tuesday.
"If I had a magic wand, I would make a moratorium for two years," he said, referring to the stakes associated with the new Common Core tests, primarily linking teacher evaluations to student performance. "It's a steep learning curve -- the more you take off the onus of the measures, the better off you are. Seventy percent of teachers aren't covered by this and yet they'll be impacted right away ... We've got to have some temporary flexibility so that we can get this right."
The Common Core State Standards is a set of learning standards in mathematics and reading that has been adopted by about 45 states and Washington, D.C. The standards have come in response to what U.S. Secretary of Education Arne Duncan often calls "dummied-down standards" that states set in order to show high pass rates on standardized tests.
The Common Core standards focus on depth rather than breadth and are billed as a way to get students "college and career ready" in a global economy. The standards have been in development for over a decade by governors from both parties, with support from the federal government, the National Governors Association and the Bill & Melinda Gates Foundation. The rubber will hit the road in 2014, when most states will begin taking tests aligned with the core -- which sets higher standards, for the most part, than previous tests -- developed by two testing consortia sponsored by the federal government. At that point, states are expected to see huge declines in test scores, because the exams will generally test on tougher material.
The unions are objecting primarily to proposals by state and federal governments to link teacher evaluations to student performance on the new tests, and to the prospect of underperforming local districts losing funding.
In an impassioned call with reporters, Weingarten derided states like New York that have moved ahead with teacher evaluations based on Common Core-based assessments during the standards' early phases. "Give the test. We just want to decouple the stakes," she said. "The tests right now are disconnected to teaching ... I don't want [the standards] abandoned to the dustbin of history." She blasted out a message about the moratorium to supporters and members, urging them to flood Duncan's inbox with their concerns.
The NEA has been preparing its own plan, according to documents provided to HuffPost, that emphasizes the importance of Common Core implementation while expressing disdain for multiple choice tests.
"Randi's exactly right," Van Roekel said.
The call for a moratorium places both unions, which together represent a majority of the nation's public school teachers, in a precarious position at a pivotal point in the implementation of the standards. While both union leaders say they support the core, they also argue that more time and resources are needed to implement it with integrity.
Yet some see the moratorium effort as a retrenchment.
"It's a walking back from support for the standards. If this is what support looks like, I'd hate to see what opposition looks like," said Tim Daly, president of TNTP, the organization formerly known as The New Teacher Project, a research group that favors reforms such as linking teacher evaluations to student test scores. "It's eroding public confidence in [the core] and eroding the support of the public officials. It's hanging them out to dry. It suggests that the support for the standards is fair weather and not durable since it appears to be conditional."
The announcements come as the Common Core faces major backlash from some teachers and critics on the far right and the left, such as New York University historian Diane Ravitch. Last week, Sen. Chuck Grassley (R-Iowa) wrote a letter asking the federal government to defund the core standards. This week, eight other senators, including Sen. Rand Paul (R-Ky.) joined him. Though the core has had support from prominent Republicans such as Jeb Bush and Idaho schools chief Tom Luna, the Republican National Committee recently passed a resolution in opposition to the standards, calling them an overreach.
In New York State, teachers are protesting after only one year of teaching the standards, because students were administered a core-aligned test developed by Pearson -- while the consortia exams are still in development. Administrators throughout the state have described cases of their brightest students crying during the test because the questions were too hard, and there wasn't enough time to finish. Last year, a passage on a Pearson-generated test about a pineapple was derided for not having a clear answer; this year, critics have pointed to what they see as "corporate" influences on the test material and the repetition of study questions on the exam.
In a statement responding to Weingarten's moratorium proposal, John King, New York state's education commissioner, said that she is right about the need for additional resources but argued that New York is already providing them.
Van Roekel said he intends to prioritize collaboration with Weingarten to advocate for "increased flexibility" while educating members about the Core. The NEA's Common Core Working Group is planning to help affiliates educate teachers on the core and to develop tests, and is planning to develop criteria to evaluate tools and products designed around the core. It will also create "Standard Institutes" and "Teacher Leadership Institutes" to engage teachers on the standards and evaluations.
"You can't put something this big in front of teachers and say, 'We're not going to give you any time, resources and possibilities to help you prepare how to use these,'" he said.
Before You Go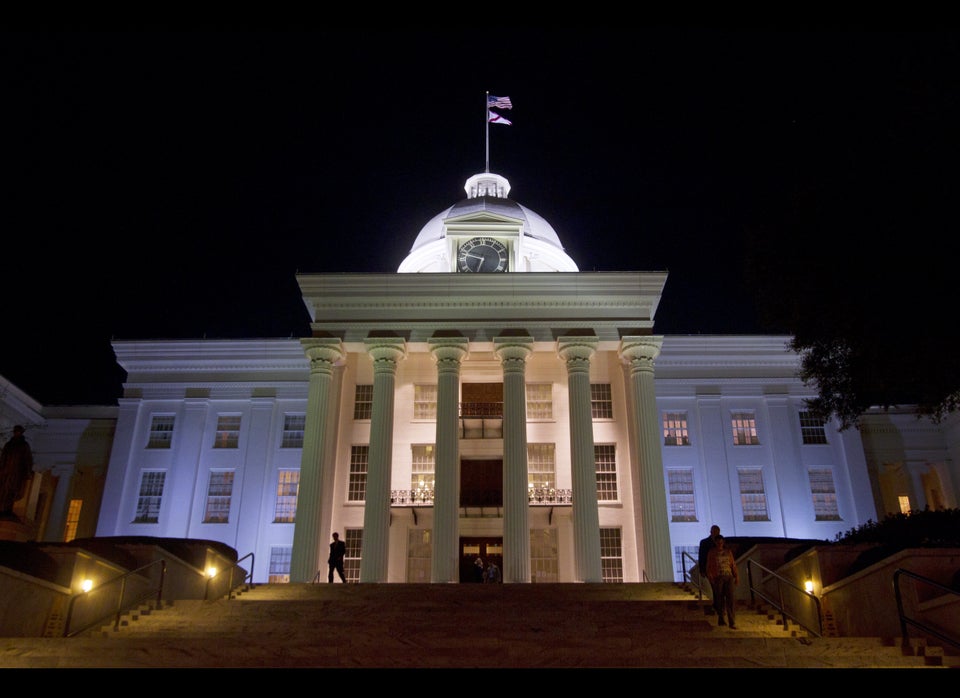 U.S. State Capitol Buildings
Popular in the Community