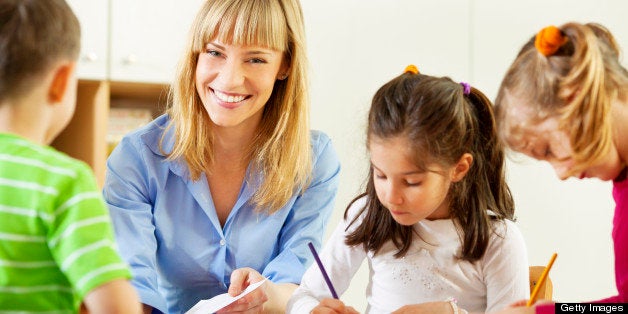 When kids first learn to cross the street, we tell them to stop, look both ways and assess the traffic before they proceed. Similarly, when it comes to decisions affecting the education of millions of our nation's public school students, we should exercise the same common sense.

Students across the nation are counting on us to help them learn and reach their dreams by getting the transition to Common Core State Standards right. To do that, teachers, parents, administrators and communities must come together and develop sound implementation plans, put those plans into place, and evaluate how well they work for students.

The conversation right now should not be about the consequences of a score, but about teaching and learning. Let's give students and educators the time and tools they need to succeed.

NEA remains committed to ensuring attention is given to what lies between the standards and student learning assessments: curriculum, instruction and supports for learning. We know that the new standards, as strong as they are, will not bring us any closer to improved achievement or quality education if those middle factors are not addressed.

For years, NEA has worked to ensure that every child -- regardless of zip code or parents' income -- has the chance to reach for the American dream. That is why NEA was fully engaged in the development of the Common Core State Standards, with accomplished educators examining the details and offering substantive improvements.

As a result of our input, the standards are well-written, promote equity of opportunity and rigor, and set the stage for better instruction. The standards set clear goals for educators, giving them the flexibility they need to apply new understandings of teaching and learning as they are discovered. Common Core State Standards have the potential to bring the joy of teaching back into our schools, where teachers are creative, truly engage their students and push them toward a deeper level of learning.

These standards also demand the type of assessments that really improve learning, allowing students to think critically, solve problems and be prepared for a lifetime of success.

I am most puzzled by the opposition to Common Core State Standards that has come from the right side of the political spectrum. Development of these standards was not driven by the federal government, but by the states. Governors on both sides of the aisle, the business community, and most importantly educators, came together to ensure one thing: that students learn what they need to live a successful life in a 21st century global economy.

Common Core addresses inequity, providing a wide set of standards which ensure a complete education for all students, increasing the likelihood that they will graduate from high school ready to succeed. I spent more than two decades as a classroom teacher, and this opportunity to provide all students with equal access to high standards is promising and uplifting.

NEA is already doing its part to help our members prepare for this transition. We are partnering with our affiliates to ensure educators' voices and expertise are leading the effort to develop instructional materials that are relevant and engaging and to help develop the strongest next-generation assessments possible.

NEA has established a Common Core Working Group, with representatives in every state, to produce a toolkit and other resources to ensure members have the knowledge and understanding of Common Core standards to help them lead implementation efforts.

We are hosting multiple "standards institutes" so that more educators will receive help in creating instructional materials that are connected to their work and make sense for them. We have established multiple partnerships to give teachers the resources they need, including a partnership to train 1,000 new teacher leaders who in turn will help tens of thousands of their colleagues to improve teaching and learning with a major focus on Common Core implementation.

Decision-makers at the federal, state and local levels must do their part too. If students aren't being tested on what is being taught in class and tests aren't actually aligned to the Common Core State Standards, then states and districts need to stop basing accountability systems on flawed data and make decisions based on valid and reliable information.
Right now, states have the opportunity to make changes in their accountability systems to correct this, and we hope they do. It wouldn't be necessary to call for a moratorium on the "stakes" associated with a single test if we had real accountability systems that were based upon multiple factors, tests being among them.

Educators do not have a problem with tests. Everyone knows teachers practically invented testing. But we know the harm that can come from accountability systems that don't help improve student learning or test students on standards that are not aligned to the curriculum. Just look at the seven accomplished Florida educators who earlier this month had to push back against an arbitrary, irrational and unfair evaluation system that does nothing to help students get ahead.
Our bottom line: Tests should assess what teachers teach -- independently or collaboratively -- and what students actually learn in the classroom.
As the nation looks to seize the opportunity presented by the Common Core State Standards, we must remember that our students' futures are at stake. Most of all, we must demand that educators receive the training, support and resources they need to provide every public school student with the high-quality education they deserve.
There is just too much at stake to do anything different.