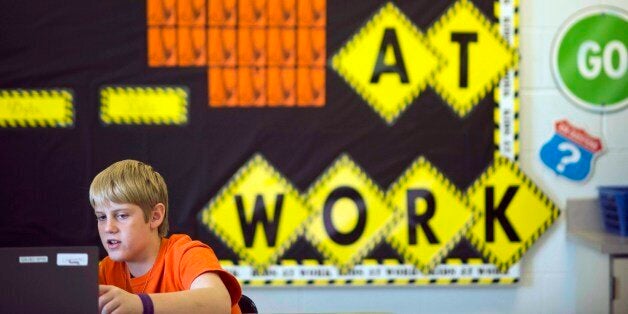 Members of a Facebook group called "Education is a journey, not a race -- USA" leaked pictures of a New York state English Language Arts exam on Wednesday in what the New York Post has called "an apparent act of sabotage." The Facebook group, which has since been deleted, has a history of posting content that is critical of the Common Core State Standards, the set of education benchmarks that informed the statewide exam.
It's not clear who is behind the Facebook group, or how they obtained a copy of the exam, which students took last week. However, before the group was deleted, its members posted more than three dozen images of the test, according to the Post.
The Common Core State Standards, and the tests associated with them, have drawn criticism from parents and educators around the country. This opposition has been especially strong in New York state, where early and unofficial reports show that more than 180,000 students opted out of last week's English Language Arts test.
Dennis Tompkins, a spokesman for the New York State Department of Education, told The Huffington Post that the state does "not know who is behind the Facebook page... We don't know how they obtained a copy of the exam or why they posted it."
Tompkins would not comment on whether there is an active investigation into the matter, but he noted that this means the state will have to use taxpayer money to design new questions for future exams.
"We don't use the same exact assessment every year, but, for budgetary reasons, we do draw from a bank of questions so some questions are used more than once," Tompkins wrote in an email to HuffPost.
David Bloomfield, a professor of education at Brooklyn College, called the leak an act of "civil disobedience," according to the Post.
"This is a political act and it will be interesting to see whether [test-creation company] Pearson or the state Department of Education understands it as that or goes after them for civil or criminal liability," he said.
Some have come to the defense of the rogue Facebook group on Twitter, while others said the group went too far.