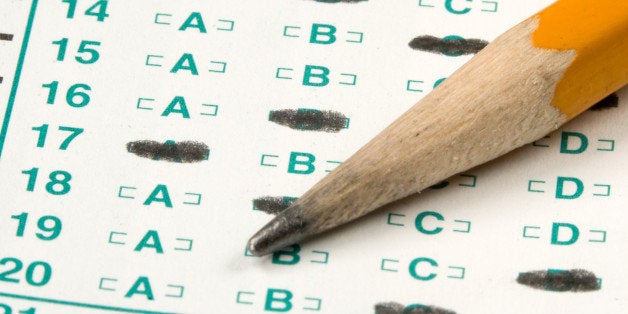 A few years ago, Arne Duncan, Bill Gates, David Coleman, and a merry band of policy wonks had a grand plan. The non-governmental groups like Achieve, the National Governors Association, the Council of Chief State School Officers, and Coleman's own Student Achievement Partners would write the Common Core standards (paid for by the Gates Foundation); Duncan would require states to agree to adopt them as a condition of eligibility for a share of the billions of Race to the Top funds at a time when states were broke; the Feds would spend $370 million to develop tests for the standards; and within a few short years the U.S. would have a seamless system of standards and assessments that could be used to evaluate students, teachers, and schools.
The reason that the Gates Foundation had to pay for the standards is that federal law prohibits the government from controlling, directing, or supervising curriculum or instruction. Of course, it is ludicrous to imagine that the federally-funded tests do not have any direct influence on curriculum or instruction. Many years ago, I interviewed a professor at MIT about his role in the new science programs of the 1960s, and he said something I never forgot: "Let me write a nation's tests, and I care not who writes its songs or poetry."
So how fares the seamless system? Not so well. Critics of the standards and tests seem to gathering strength and growing bolder. The lack of any democratic process for writing, reviewing, and revising the standards is coming back to bite the architects and generals who assumed they could engineer a swift and silent coup. The claim, often made by Duncan, that the U.S. needs a way to compare the performance of students in different states ignores the fact that the Federal National Assessment of Educational Progress (NAEP) already exists to do precisely that. In addition, critics like Carol Burris and John Murphy have pointed out that the Common Core tests agreed upon a cut score (passing mark) that is designed to fail most students.
As Politico reports, support for the federally-funded tests is crumbling as states discover the costs, the amount of time required, and their loss of sovereignty over a basic state function. The federal government pays about 10 percent of the cost of education, while states and localities pay the other 90 percent. Why should the federal government determine what happens in the nation's schools? What happened to the long-established tradition that states are "laboratories of democracy"? Why shouldn't the federal government stick to its mandate to fund poor schools and to defend the civil rights of students, instead of trying to standardize curriculum, instruction, and testing?
So far, at least 17 states have backed away from using the federal tests this spring, and some are determined not to use them ever. Another half-dozen may drop out. In many, legislators are appalled at the costs of adopting a federal test. Both the NEA and the AFT, which have supported the standards, have balked at the tests because teachers are not ready, nor is curriculum, teaching resources, and professional development.
Time and costs are big issues for the federal exams:
"PARCC estimates its exams will take eight hours for an average third-grader and nearly 10 hours for high school students -- not counting optional midyear assessments to make sure students and teachers are on track.

PARCC also plans to develop tests for kindergarten, first- and second- graders, instead of starting with third grade as is typical now. And it aims to test older students in 9th, 10th and 11th grades instead of just once during high school.

Cost is also an issue. Many states need to spend heavily on computers and broadband so schools can deliver the exams online as planned. And the tests themselves cost more than many states currently spend -- an estimated $19 to $24 per student if they're administered online and up to $33 per student for paper-and-pencil versions.

That adds up to big money for testing companies. Pearson, which won the right to deliver PARCC tests, could earn more than $1 billion over the next eight years if enough states sign on."
One of the two federally-funded testing consortia, PARCC, is now entangled in a legal battle in New Mexico, which was sued by AIR for failing to take competitive bids for the lucrative testing contract. This could lead to copycat suits in other states whose laws require competitive bidding but ignored the law to award the contract to Pearson.
Frankly, the idea of subjecting third graders to an eight-hour exam is repugnant, as is the prospect of a 10-hour exam for high school students, as is the absurd idea of testing children in kindergarten, first, and second grades. All of these tests will be accompanied by test prep and interim exams and periodic exams. This is testing run amok, and the biggest beneficiary will be the testing industry, certainly not students.
Students don't become smarter or wiser or more creative because of testing. Instead, all this testing will deduct as much as a month of instruction for testing and preparation for testing. In addition, states will spend tens of millions, hundreds of millions, or even more, to buy the technology and bandwidth necessary for the Common Core testing (Los Angeles -- just one district -- plans to spend a cool $1 billion to buy the technology for the Common Core tests). The money spent for Common Core testing means there will be less money to reduce class sizes, to hire arts teachers, to repair crumbling buildings, to hire school nurses, to keep libraries open and staffed, and to meet other basic needs). States are cutting the budget for schools at the same time that the Common Core is diverting huge sums for new technology, new textbooks, new professional development, and other requirements to prepare for the Common Core.
Common Core testing will turn out to be the money pit that consumed American education. The sooner it dies, the sooner schools and teachers will be freed of the Giant Federal Accountability Plan hatched in secret and foisted upon our nation's schools. And when it does die, teachers will have more time to do their job and to use their professional judgment to do what is best for each student.
Related
Popular in the Community