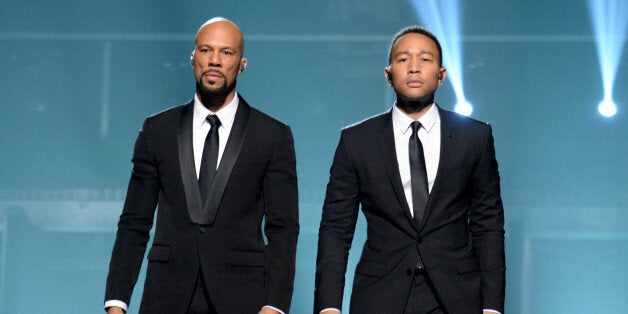 "There were many times when I wish I had the opportunity to perform at the Grammys, and I dreamed of being at the Oscars also, but I couldn't pick a better song and movie and co-artist to be able to do this with," Common told HuffPost Entertainment in an interview earlier this month. "This is what I want to do. This is what I dream of doing. I feel like we get the opportunity to have this platform, to deliver a message that's bigger than us and has a higher purpose. That's important."
The Oscar-nominated "Glory" acts as an emphatic statement at the end of Ava DuVernay's "Selma," a drama about Martin Luther King Jr.'s march from Selma, Alabama to Montgomery, Alabama in the name of equal voting rights for all black men and women. But rather than just rehash the history laid out in the film, the song connects "Selma" with today's current events.
"One son died, his spirit is revisiting us," Common raps in the track. "True and living, living in us. Resistance is us. That's why Rosa sat on the bus. That's why we walk through Ferguson with our hands up."
"Knowing what we're singing about is inspiring people as they march today in this present time, and knowing millions of people will watch the Oscars is such a huge honor," Legend said to HuffPost Entertainment. "It could not be a better combination of circumstances for us."
Legend and Common worked on the song together -- Legend singing the hook, with Common providing the verses -- but it was DuVernay who pushed them throughout the process. As Common said in his acceptance speech at the Critics Choice Awards in January after "Glory" won Best Original Song, the director wanted a track that recalled "We Are the World." "No pressure, right Ava?" he joked.
"Usually when we make songs, if it's a great song, I'm going to keep it on my album," Common said. "But now we have to please the director. So it was fun for me, but then also to have another person be like, 'We need We Are The World.' That drives you to a new level. I enjoyed that. I liked those challenges."
Fortunately, the pressure paid off: "Glory" is so popular that it closed out the Grammy awards, putting Common and Legend ahead of stand-out acts such as Kanye West, Madonna and even Beyoncé. If it wins Best Original Song at the Academy Awards, no one will be the least bit surprised.
"I know, for me, when I heard what John was singing, it moved me as an artist," Common said of the track. "Just listening to what he was singing, it made me want to do something better in life. It inspired me."
On Sunday, it'll inspire millions more.
Calling all HuffPost superfans!
Sign up for membership to become a founding member and help shape HuffPost's next chapter
BEFORE YOU GO