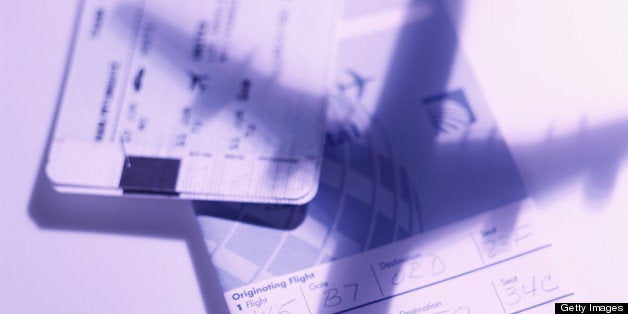 Many of the pitfalls that cause travelers to miss flights--from delayed departures to traffic jams--are beyond their control. Nevertheless, there are ways to up your chances of making it on that plane, no matter what obstacles the universe throws in your path. Step one: Stop making all-too-common travel mistakes. Even the best-laid plans can go awry, so keep yours intact by avoiding the following seven blunders that could make you miss your flight.
Planning a Too-Tight Connection
Online travel agencies (OTAs) and airlines occasionally sell itineraries with impossibly tight connections. But beware: While the booking system might say it's OK to have a 45-minute window between flights, it's often not.
Though there's no set rule for how much time travelers should pencil in between flights, experience and research can help one gauge what's appropriate. If you've been to a particular airport umpteen times and can get from terminal one to terminal three with a sleep mask over your eyes, you can probably swing a shorter connection, especially for domestic travel. But when heading to unfamiliar or supersized airports, or when traveling internationally, don't tempt fate. All in all, the less time between connecting flights, the more risk involved, and vice versa. When your initial flight is delayed (a common event these days), ample time between connections becomes crucial.
Many airport websites offer recommended minimum connecting times, guides for getting from one terminal to another, and estimates of how much time it all might take. London Heathrow, for example, provides minimum connecting times after you input some information about your itinerary. My advice? Add even more cushion, just to be safe. If, for example, an airport's website suggests you need an hour's window, go for 90 minutes if you can.
This one seems obvious. But many travelers miss flights due to lack of proper identification—be it an expired passport or one left at home in a dresser drawer. The former is especially tricky. Destinations have varying requirements for passport validity. For example, U.S. travelers going to the Galapagos must have a passport with six months' remaining validity in order to enter the country. Other places, such as many European countries, only require three months' validity. And don't disregard visas; U.S. travelers need them to visit countries such as India, China, and Brazil. Check the State Department's country-specific entry requirements for more information.
My fail-proof method for remembering to bring a passport every time: Make a packing list. And use it!
Disregarding the Busiest Travel Days
The day before Thanksgiving. Memorial Day weekend. Christmas week. Some of the busiest travel days are obvious to most avid travelers. However, some aren't so apparent: According to the Orbitz Insider Index, a travel forecast drawn from booking data and advice from industry experts, the busiest travel week of 2013 will be the third week in June (June 24 through 30). And according to a report from NBC News, May 11, 2012, (the Friday before Mother's Day) was one of the busiest days for travel last year.
The takeaway? Don't chance it—get to the airport very early. Lines could be much longer than you expect. Arrive particularly early on holidays, on weekends, and during much of the summer, and don't underestimate the travel rush on so-called minor holidays, like Mother's Day.
Not Checking In Prior to Arriving at the Airport
Airlines have solid check-in cutoff times. And if you don't make the cutoff, you'll lose your seat.
Many travelers check in online—you can usually do so 24 hours ahead of departure—to grab the best spot on the plane or avoid baggage fees (some airlines charge more for bags reserved at the airport). But if, say, you're in a hotel without a free Internet connection and you've decided to wait until you get to the airport to check in for a departing flight, you could be in trouble. I made this mistake on an international flight from Europe to the United States. I didn't check in for my connecting international flight (no Internet access) and, since my first flight was late, I got to the check-in desk for my connection about 50 minutes before departure. It wasn't enough time. I wasn't permitted to board.
You can check with your airline for its exact check-in cutoff times. For international flights, the tipping point is often 60 or 90 minutes before departure. For example, JetBlue requires that passengers check in 60 minutes prior to departure for international flights and 20 minutes prior to departure for domestic ones when not checking bags. But no matter with which airline you're flying, the safest thing to do is check in online, every time. It's worth the trouble to seek out an Internet cafe, head to a Starbucks, or even pay for a day's connection at your hotel if need be.
Getting to the Airport Too Late
Heavy traffic, the snail-paced shuttle from the airport parking lot, unreliable public transportation, and countless other factors could derail your timely appearance in that terminal. And, like building an itinerary with the perfect block of time between connections, arriving at the airport at just the right moment is an inexact science. But, generally, we recommend getting to your hub two or three hours ahead of departure, depending on where you're flying. According to When to Book, Fly, and More: Tips for Perfect Travel Timing, "As a general rule, it's great to get to the airport two hours in advance of domestic flights and three hours before international flights. However, if you're looking to shave off a bit of your hurry-up-and-wait time at the gate, you can hone the equation for your specific situation." Look up traffic reports and the local weather forecast before leaving your home, and, to make sure you don't arrive too early, check the status of your flight as well.
You have a tight connection. But you've planned your route through the airport, you're sitting at the front of the plane, and you're ready to sprint to the correct gate. In this situation, there's one big thing that could make you miss your flight: an unexpected gate change. It's not uncommon for a flight to end up at a different gate—sometimes at the far end of the airport—at the last minute. We've even heard reports of airport workers changing gates and then forgetting to make an announcement.
Here's how to deal: Glance at those departure boards whenever you pass them. Even easier? Use an app that pings your phone when your flight has a gate change. I like TripIt, which offers a range of practical travel-planning features. Additionally, many airlines, including United, American, and Delta, have apps that notify users of gate changes.
Forgetting to Factor in Security
On the way into the United States from an international destination, you'll have to go through customs and then the standard security line before getting on a connecting flight. Customs, as you may know, can take forever. I've seen lines in the custom's area at JFK Airport that make Free Cone Day at Ben & Jerry's look downright desolate. Travelers also need to go through security—and pick up and then recheck bags—when transferring internationally at many airports overseas. (Contact your airline or check the website of your connecting airport for more information.) Those who don't leave plenty of time to deal with security delays run the risk of missing a connecting flight.
Of course, TSA holdups are also an issue for those flying pretty much anywhere in the United States. For ideas on making it through the realm of the TSA as quickly as possible, check out 10 Ways to Speed Through Airport Security.
Related