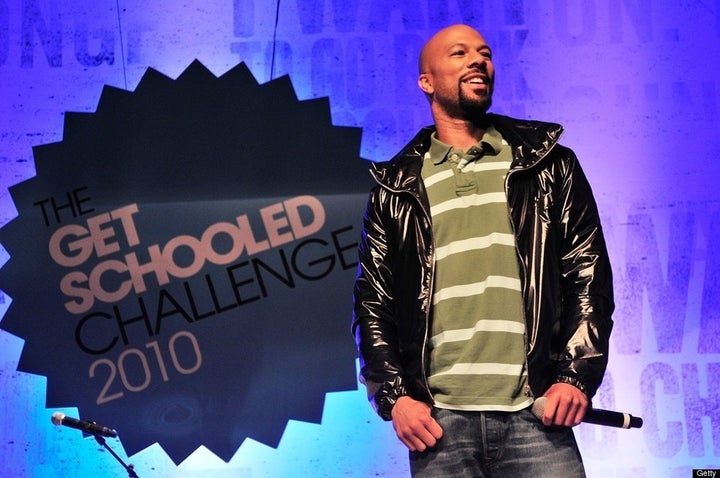 "How many of us really want to achieve in life and do something great?" hip-hop artist Common shouted into a packed high school auditorium.
Lincoln High students cheered and raised their hands high in response.
He continued, "Everybody in here has the opportunity to do something great and it starts first with education."
Common was addressing a crowd of students at a Philadelphia high school as part of the Get Schooled campaign's campus visits.
This isn't the artist's first foray into promoting education -- in fact, it's been an enduring mission for the Chicago-born actor, musician and author.
Common recently spoke to The Huffington Post about the importance of education and how he's working to make a difference for young people.
The son of a school teacher, Common credits his mother's influence for his success. "Education goes beyond your homework," he recalls her saying.
His mother worked tirelessly to ensure her son got a quality education beyond the classroom, filling his free time with museum visits and book reports. The hard work paid off when Common won a scholarship to Florida A&M University, where he studied business.
He speaks proudly of his mother's over 20-year career in South Side Chicago public schools and feels teachers get too little credit for their efforts. "Being a teacher is a big responsibility," he says, one for which "there is no glory."
In 2007, the star solidified his commitment to education by establishing the Common Ground Foundation, a nonprofit organization that promotes educational programs.
"When I got a platform to achieve some...dreams I had, I wanted to help others achieve theirs," he told HuffPost.
One of the more noteworthy initiatives in the organization is The Corner Book Club, which Common envisions as "a network of young people that want to learn."
Each month, users are encouraged to read the same book and use online discussion boards to participate with their peers.
Common also plans to continue participating in the Get Schooled initiative, speaking to young people across the nation. Funded by AT&T, Viacom and the Gates Foundation, Get Schooled aims to boost high school graduation rates and college readiness across America.
"I thoroughly enjoyed Lincoln High School," he laughs. He feels the campus visits are a "fun way to get the message to inspire our youth."
Common tells HuffPost, "I want to inspire. That's one of the biggest goals of my life."
Popular in the Community