When it comes to the quality of health care, there are two Americas.
In one America, infant mortality, avoidable deaths, health-care costs and other measures are far worse than in the other America, according to a new study by the Commonwealth Fund, a health policy research firm. And thanks to Republican lawmakers and the Supreme Court, the gulf between them may only get wider.
The map below from the Commonwealth Fund shows the stark divide. States with the worst overall health care systems -- as measured by factors like the number of insured adults and children, avoidable emergency room visits and access to affordable care -- are dark blue. States with better health-care systems are white.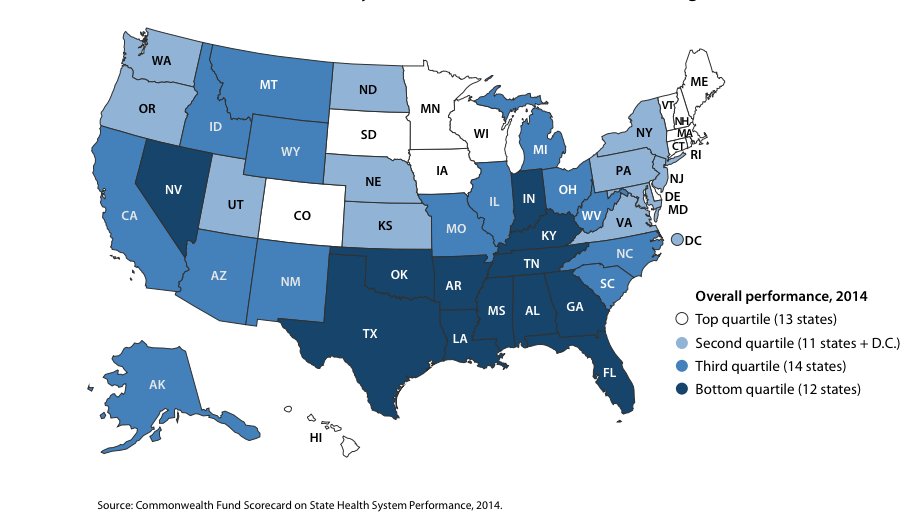 When it comes to things like health care access, quality and cost, certain states can be as much as eight times better than others, the report found.
"We continue to see this very wide geographic spread," said Commonwealth Fund senior vice president Cathy Schoen, a coauthor of the report. Millions of lives could be saved if the low-performing states could close just half the gap with the top states, Schoen said. "We really need to stay focused on aiming higher."
Many of the lower-performing states have higher rates of early deaths that could have been prevented by access to quality health care. The Commonwealth map below shows the number of avoidable deaths per 100,000 in each state.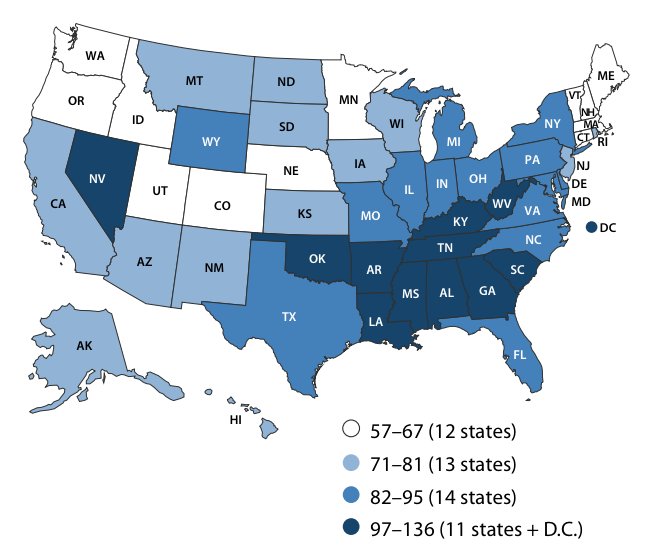 Many of the worst states for health care have several things in common. They're mostly in the South and are more likely to be among the poorest in the nation. Many of them have long had unusually tight standards for applicants to qualify for Medicaid, said Schoen, and many have been slow to expand children's health insurance.
What's more, 16 of the 26 states at the bottom of the Commonwealth Fund's scorecard aren't expanding Medicaid under the Affordable Care Act, also known as Obamacare.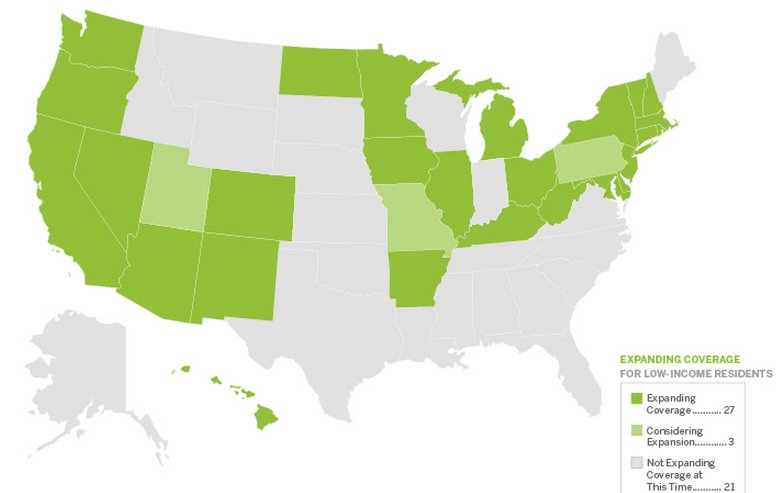 Map via The Advisory Board.
The states in grey aren't expanding Medicaid. Many of these are also states in which overall health systems are worse.
But the Supreme Court ruled in 2012 that states could opt out of joining the Medicaid expansion and the extra federal money that came with it. Many states with Republican governors or majority Republican legislators have done just that, leaving millions of their residents out of the national effort to cover the uninsured.
Increasing access to Medicaid isn't a cure-all for low-performing states, and improving health care outcomes overall will require more than just expanding Medicaid. But it could help, Schoen said. For one, it will extend health coverage to more people, making it less likely that poor patients will head to the emergency room for things other than emergencies. And if more low-income residents can pay for health care, more doctors might be convinced to move to poor or rural areas.
"The states that stay out could fail to improve, or fail to improve as fast as other states that choose to participate," Schoen said. "In some of these states, staying where you are is not very good performance."
Black Americans are likely to suffer disproportionately from these policies. More than two-thirds of poor, uninsured blacks live in states not expanding Medicaid, according to a December 2013 New York Times report. Already, the rate of avoidable early deaths among blacks is twice as high as among whites in many states, Commonwealth found. That gap is even wider in states with higher early death rates overall.
The difference in avoidable death rates in white and black populations in different states.
"You could see a few states start to improve quickly," Schoen said.
CORRECTION: An earlier version of this post included a map that indicated New Hampshire isn't expanding Medicaid. The state opted into the Medicaid expansion on March 28.
Popular in the Community