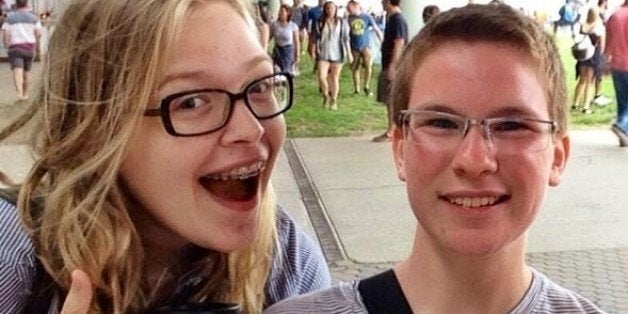 When I think of the word "ally," I think of equality in a relationship and a mutual understanding of one another. Not only a mutual understanding, but a mutual kindness. Allyship isn't something that happens overnight, though. As people from a variety of backgrounds, we may not instantly "get it." And that's okay. To be better allies, we must consider all perspectives within our communities. And in that, communication is involved to learn, understand and support one another. This communication helped me to find my own allies.
Coming out as a transgender male was no easy feat.
I would be presenting differently, asking for a shift in my own pronouns and silently requesting to be respected and recognized as male. And sure, everyone responded with an initial "okay," but who was really on my side? The first time I knew that someone was on my side was when I came out to my friend Kayla. We weren't that close at the time. We talked a lot and had fun being confused in math class together. But through my process of coming out, she communicated with me the most out of all my friends. For some of my peers, communication became sparse and awkward between us. Or, I would get bombarded with invasive questions and topics about my "edgy lifestyle" from my "allies," who had initially expressed acceptance. But Kayla stayed through it all. She never openly questioned "why" I was male or had any qualms about my masculinity, like some of my peers, or asked the age old, "Do you like boys or girls now?" She asked if everything was okay with my folks, she told me her family supported me if I needed anything and most importantly at that point in my life -- she talked about issues not related to my gender. She retained her humor and our friendship.
In coming out, my gender was the topic that plagued me. I had so much anxiety about how I presented myself, how I would come out to different members of my community and what would become of me and my social life. But having her as someone I could go to as both a friend to kick back and discuss superheroes with, as well as a support system, is something I value and still recognize to this day as we continue a great friendship. So with her and many others now as my allies, I realize that I give back to them as an ally myself.
So I ask: How can I be a better ally?
Out of my own experiences, I've found the keys: communication and awareness. As my friends and teachers have done for me, I do the same. If a peer is down, I ask if they are okay, need to talk or just want to do something. Just as my friend Kayla did for me! While it's none of my business to invade another's privacy, I want them to know that I'm there to talk and listen, to understand more and to stand up if anything should come upon them.
Being an ally doesn't stop at one-on-one conversation; it also happens in everyday group conversation in class or the hallway. In making my own school a safer environment, I make sure to educate others and say "that's not okay" when someone makes a comment or slur against any identity or background. As a Caucasian, transgender male, I recognize that I don't have the same experiences as others. So with that, I spread my allyship beyond -- to others of different races, religions, genders, sexual orientations and other factors of identity. Communicating and spreading awareness to be mindful of our surrounding communities is crucial.
Through communication and awareness, we can all learn to be better allies.
Related
Popular in the Community