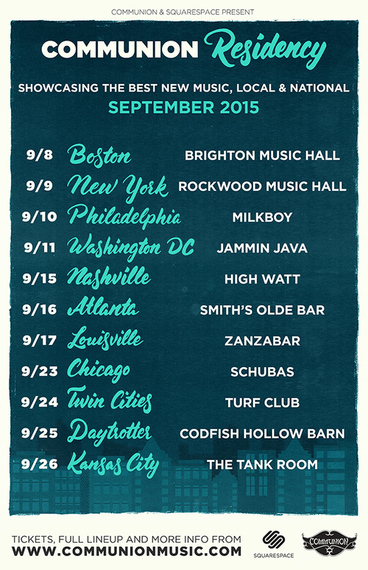 Though summer is coming to an end and festival season is dying down, music junkies needn't worry as fall will bring a new season with plenty of music. The artist-led music organization, Communion Music, announces their fall U.S. Communion Residency tour which will be visiting 11 cities across the country and showcasing multiple genres along with established and emerging talent. The touring September artists will include Freedom Fry, Clara-Nova and Conrad Sewell, who sang on Kygo's track "Firestone" and will soon be releasing his debut album. Notable acts of past residency tours include Walk The Moon, Catfish And The Bottlemen, Magic Man, Sturgill Simpson, Vacationer, Rubblebucket and Bear's Den.
Communion Music was founded in London by Ben Lovett of Mumford & Sons, Kevin Jones of Bear's Den and producer Ian Gimble in 2006. Created in the basement bar of Notting Hill Arts Club, the crew's network of musicians quickly grew alongside their organization. Their nine years of existence has seen a meteoric rise in success having released records for major artists such as Ben Howard, Gotye, Michael Kiwanuka, Tennis, Nick Mulvey, Willy Mason, Rubblebucket, Matthew and the Atlas, Bad Suns, Deap Vally, Catfish and the Bottlemen, Bear's Den, Daughter and many more.
Essentially the Communion Residency is the oldest aspect of what we do at Communion. The idea is to host a monthly party where we highlight a handful of our favorite new and breaking artists, introducing them to a group of open-minded music enthusiasts, audience members, other musicians, record industry executives and the rest! We keep the lineup eclectic, with the hope that there really is something for everyone, but my favorite stories over the past 9 years have been when people have bought a ticket to check one thing out and come away loving three artists they'd never heard of, or never imagined would be their cup of tea!

As far as how it all ties into what we're trying to achieve in the big picture sense, I guess this residency platform provides a platform, both for international artists to grow a U.S. audience for the first time, but also local artists to actually get noticed amongst all of the noise that exists out there these days. I hope we can help discover and launch the career of the next great band to come out of Louisville or Atlanta or Boston. And they may well not be an overnight sensation, or particularly hype friendly, but we're building structures that don't rely on any of that. All we rely on is people who love music, genuinely investing energy, time and a few dollars to supporting new music as it's introduced to them.

- Ben Lovett (Founder/CEO)
The release of Conrad Sewell's debut album will mark a major pinnacle in his career. Though the 25-year-old Australian native has already written numerous songs for other artists in Australia, had a European hit with his previous band, and recently garnered millions of streams singing on Kygo's track "Firestone," this will be his first solo recording to date. His powerful voice is reminiscent of the soul era but fits nicely in the electronic music world. Paired with Sewell's radiant vocals, his upcoming creation will swathe the hearts and ear drums of many as fans anxiously await the release of his debut. "I am extremely excited to be joining my first U.S. tour next month and coming out to play all of this new music I've been writing and recording for the album for everyone on the East Coast," says Sewell in regards to the residency. "It's going to be a sick show, I'm bringing my whole band out to play with me for our first-ever full band tour."
French/American duo Freedom Fry have been self-producing and releasing music since 2011 which dances between pop, folk and indie-rock. Their effervescent single "Shaky Ground (Hey Na Na Na)" started the year at number one on The Hype Machine and Spotify ranked them on their list of "100 Emerging Artists From SXSW." Freedom Fry's musical chemistry happily dances and tickles its way through the neurons creating a fully immersive and upbeat live performance.
The ethereal soundscapes of Sydney Wayser's creation, Clara-Nova, is a name and concept that was born in a dream. Sweeping strings, discordant interludes, bubbly beats, electronic sounds and alto vocals take the listener on a sonic journey through pastel landscapes. Both celestial and earthly, the upcoming Clara-Nova EP draws inspiration from deep sea dance parties, ancient Egyptian rituals and Martian folklore. There is no doubt that her otherworldly sound will resonate with all who experience it.
Communion Presents, the live promotional aspect of the company, also produces headline shows and tours. They offer concerts in over 20 cities within the United Kingdom, United States, and Australia that vary in genre and size, ranging from venue capacities of 150 to 10,000. In October, Galimatias and Alina Baraz will be stopping at Baby's All Right in Brooklyn, New York as a part of their first tour. Mysterious and alluring, the Danish/American duo will be showcasing their album Urban Flora which has already gained a vast fan base.
Year after year, Communion continues to curate a unique array of artists to indulge in. They are not just growing as a company, but they are growing as a community by connecting artists which each other as well as with their fans. Dive into fall with the Communion Music family and welcome in the many colors of autumn through the many colors of music.
REAL LIFE. REAL NEWS. REAL VOICES.
Help us tell more of the stories that matter from voices that too often remain unheard.