 Outrage. Pain. Speculation. These were the sentiments shared by many online communities last week during the bombings at the Boston Marathon and subsequent manhunt. But while other online communities battled and knit-picked over the validity of under-sourced details, we saw kindness, a spirit of generosity and a ton of Boston pride across the HuffPost community.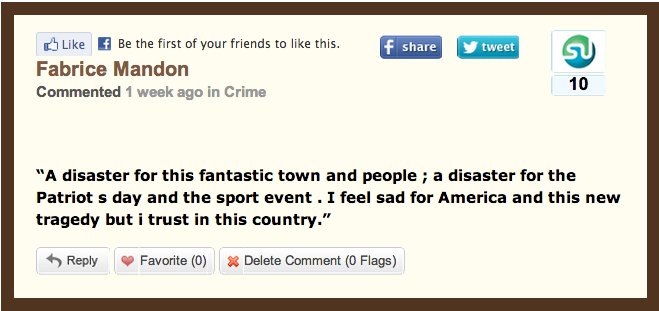 What was expressed in the comment section of our posts is worth noting, as social media has demonstrated the potential for dangerous misinformation is high when it comes to online reactions to the hysteria of mass tragedy. The search for and obsession with critical information can often create trouble for users on digital forums as horrific news unfolds and if the information being shared is harmful, inaccurate or posted with malicious intent.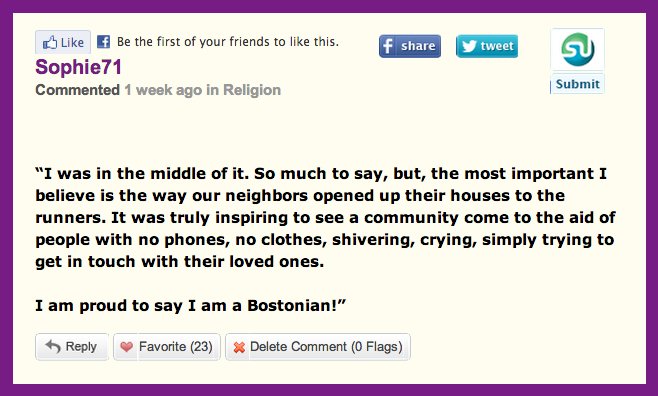 But here, we spotted countless commenters self-policing and reminding one another to be mindful of misinformation, encouraging both discernment and patience as the details of the tragedy were revealed. We're proud of you and have highlighted just a few users who took it upon themselves to keep conversations positive, respectful and uplifting.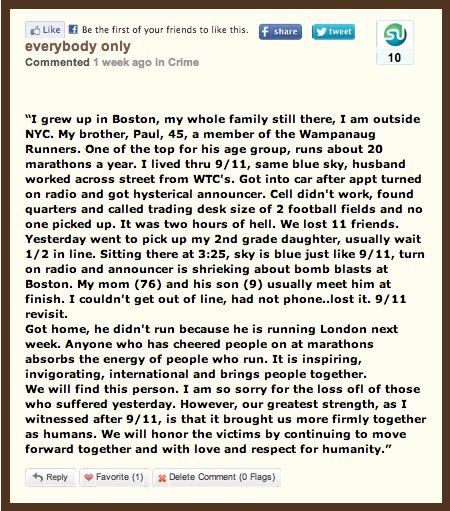 Whether we like it or not, online communities can shape both our perception and reaction to major news stories. Online communities are proving to be more powerful than ever; Facebook photos of the suspects became a key tool in identifying the suspects. While not everyone can offer the FBI information, all of us can offer love to those affected. What made us most proud was seeing the outpouring of support to Boston from seasoned and new HuffPost community members.

Did someone on HuffPost exhibit amazing strength or character last week? Shout out to them below.
REAL LIFE. REAL NEWS. REAL VOICES.
Help us tell more of the stories that matter from voices that too often remain unheard.