"I save lives, man. I mediate conflict. I make people smile," Tard Carter confidently stated. "God blessed East Baltimore with Safe Streets and Leon Faruq."
Carter's passion, conviction and sense of urgency is ever-present when he speaks. His engaging personality and belief in his life work is undeniable when you sit and speak with him.
"I put all my heart and my passion into this. I gotta help save these people, man. I gotta help be an example for these youth right here, for the whole city. Not just for Baltimore, for the United States Ghettos of America," Carter preaches. "They my brothers, man. Love is stronger than hate. Love is stronger than fear."
In the Baltimore City, despair and hopelessness permeate the air. If not felt as you move around neighborhoods of a city with a population of 620,961, you can see it. And in an environment that breeds poverty, indifference and addiction, violence is often a factor into the equation that usually results in prison or death.
Despite reductions in violent crime, due to various police initiatives over the past decade, Baltimore City has remained one of the most dangerous cities in the country. Especially for young African-American men.
In acknowledging homicide, the leading cause of death for African-American males aged 15-24, as preventable, and therefore a public health issue, the Baltimore City Health Department established the Office of Youth Violence Prevention in late October 2002.
With a public health approach to youth violence prevention that is population-based and works to increase protective factors, the Health Department strives to reduce risks and focuses on prevention. Through the public health approach that utilizes data to inform its work, data and surveillance have become essential to the public health approach to stopping violence.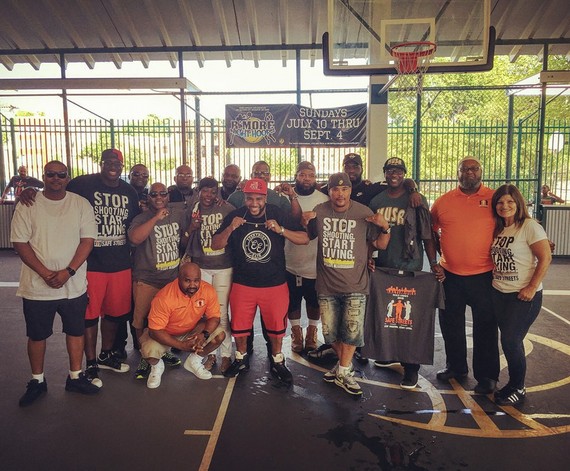 Cure Violence members from New York, Prince Georges County, and Baltimore pose for a group photo after hosting the Battle of the Blocks Basketball Tournament at the lendgary "Dome" in Baltimore. Photo by Angalia Bianca
Enter Safe Streets, a Cure Violence partner, which is backed by government and foundation grants. Cure Violence was shaped by University of Illinois-Chicago public health professor and epidemiologist Gary Slutkin, who approaches gun violence as a public health epidemic.
"Safe Streets opened in Baltimore in June 2007. For 22 months there were any homicides in this area," said James Tipton, a Violence Interrupter and Site Director in the Park Heights section of the city.
"Out program is very instrumental in getting guys who normally wouldn't speak to each other, to talk to each other, to interact with each other in a different setting," said Tipton.
In 1995, Slutkin developed the CeaseFire program to reduce youth violence associated with firearms. CeaseFire is a multifaceted intervention involving several different components. Most notably, street outreach workers - often former gang members - develop relationships with high risk youth in high crime urban areas. Outreach workers serve as positive role models for the young people, steering them to resources such as job or educational training.
"I remember we came down here to Baltimore to train these guys to do this type of work," Ricardo "Cobe" Williams recalled. "Baltimore was our first city that we duplicated out model. They were the first out of 60 plus location across the globe. That's why I come down here on the regular to make sure they're good. I do weekly conference calls with my guys Dante [Barskdale] and JT [James Tipson]."
Williams grew up in the Englewood section of Chicago. His father was taken away from him and his family when Williams was 11 years old. Knowing right from wrong, Williams made a few bad decisions that earned him jail time and an eventual reason to not want to live a life behind bars or without purpose.
After being released from prison in 2002, Williams was introduced to CeaseFire organizers by the founder of his former crew. In the time since, Williams has ascended within the organization acting now as National Community Coordinator.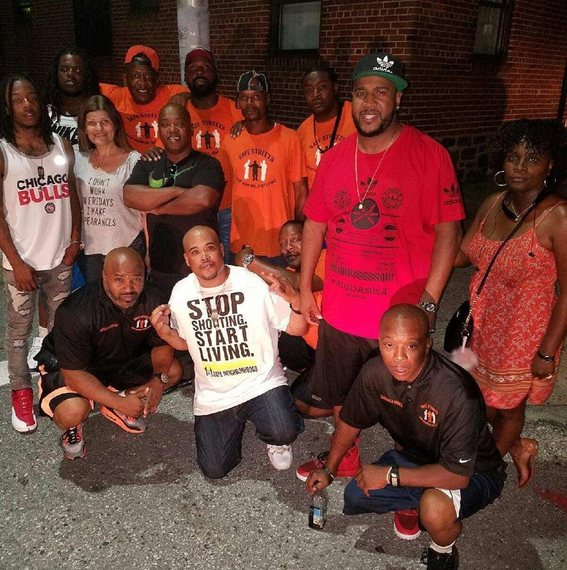 Cobe Williams (red shirt) with Safe Streets Sandtown members. Photo by Angalia Bianca

"My mission became to help the people of my community improve their lives and the lives of the future generations and to let them know there's always a peaceful way to do it," said Williams. Featured in the documentary The Interrupters (2011), directed by Steve James and produced by Alex Kotlowitz, Williams has been a recognizable face and name in the violence interrupters community.
"Joakim Noah sent out a tweet saying he liked the film. I responded to the tweet and he hit me back. We've been connected since," Williams explains. Explaining how his relationship with former Chicago Bulls Center Noah was initiated, Williams is appreciative of Noah's passion to want to influence positive change and stop the violence.
"We started the Peace Basketball Tournament five years ago with Joakim, Isiah Thomas, Pastor Father Michael Pfleger, my childhood friend Duce (Asa Powell) and Lauren Gillian from Connor Sports. Lauren and I talk on a regular basis, he said "lets do it," and it worked."
The Noah's Ark Foundation [founded by Joakim Noah], NBA legend Thomas' Mary's Court Foundation, Derrick Rose and Father Pfleger came together with Cobe to do our first basketball event in Chicago," said Gillian. As Global Brand Manager for the industry leader in hardwood basketball surfaces in all forms and levels of the game, Gillian stated that Baltimore was the "natural progression" to hosting a basketball event to engage the city.
"We don't seek professional athletes to be a part of Connor Sports Care initiative. We want the athletes to want to be involved which is how we've been able to grow the Peace Tournament and other related events like what we're planning."
Arriving in Baltimore days later, Williams participated in the annual Healing Justice Alliance Annual Conference. He also conducted trainings for the Safe Street teams which has sites in the Sandtown-Winchester, Cherry Hill, Mondawmin, Park Heights, and McElderry Park neighborhoods. A grant from the U.S. Department of Justice enabled the Baltimore City Health Department to attempt to replicate Chicago's CeaseFire program in Baltimore under the name Safe Streets. Williams ended his time in Charm City supporting a basketball tournament held at the legendary Madison Square Recreation Center also known as "The Dome."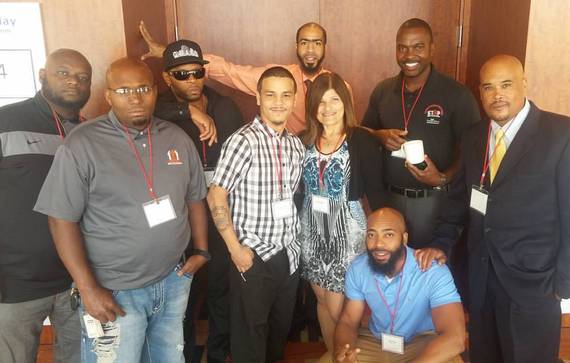 Baltimore, New York and Chicago Cure Violence members at the Healing Justice Alliance National Conference in Baltimore. Submitted photo
"Dante and JT have been organizing the teams that will play against one another this weekend," Williams mentioned. "They came out to Chicago to see the tournament last year and got a chance to hang out with Joakim for while. I'm happy we get to do it here in Baltimore."
"We obviously do not want to have to address the issue of gun violence, but we have identified a sensible and engaging way to support athletes, individuals and communities that are impacted by this epidemic," said Connor Sports Project Manager, Phil Esposito.
Now operating in cities including New York, Baltimore, Philadelphia, Kansas City, and with plans to continue international expansion in Central and South Africa, the Middle East and Africa, Williams is excited for the future. Williams is schedule to give a talk at TEDxSanJuanIsland next month, at the San Juan Community Theatre, in Washington state.
"We want to reach the ones [youth] that everyone gives up on," said Williams. "Just because you got into a disagreement doesn't mean it has to lead to violence. We want to deal with the high risk kids who are making bad choices that nobody wants to deal with. It's all about getting that work done."
REAL LIFE. REAL NEWS. REAL VOICES.
Help us tell more of the stories that matter from voices that too often remain unheard.