Can lessons from the Ebola response be applied to tackle Liberia's seemingly intractable rape crisis?
On 5 March, the last patient in Liberia still in an Ebola treatment center was discharged, grateful for having survived the disease. No new cases have been reported for more than three weeks -- a remarkable turnaround from six months ago when there were more than 300 a week. But another scourge has returned: rape.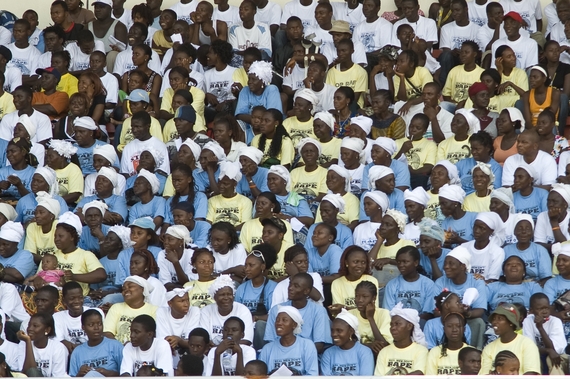 Stop Rape Campaign launch,2008, Monrovia - UNMIL Photo/Chris Herwig
After dropping drastically during the height of the Ebola epidemic, the number of reported rapes has shot back up. In January, a 12-year-old girl in Monrovia was severely injured when she was raped by a man from her neighborhood. She was one of five children known to have died due to rape over the past year.
According to Liberia's gender ministry, 554 rapes were reported last year, 90 percent of which were perpetrated against persons under the age of 18. While the official statistics on rape probably give an incomplete picture of its magnitude, the high prevalence is indisputable -- despite continuing efforts to combat sexual and gender-based violence since the end of the civil war in 2003.
Can lessons from the Ebola response in Liberia now be applied to tackle Liberia's seemingly intractable rape crisis? One of the main lessons learned might indeed be applicable: communities are central to a successful response.
For all the life-saving international support that flowed into Liberia to battle Ebola, the tide was turned against the disease by the homegrown efforts of the country's diverse communities. Even as Liberian authorities came to grips with the scale of the Ebola epidemic and began to scale up the response with increasing international support, a deep mistrust of the central government and its institutions meant too many at-risk people did not come forward. This challenge was compounded by the lack of facilities where people could be treated safely. As fear grew, communities mobilized and were able to persuade their members to change risky practices, isolate the sick, and report suspected Ebola cases. Local communities initiated communal quarantine, produced hand-washing facilities using traditional materials, and carried out safe burials on land they donated.
Efforts to halt sexual and gender-based violence (SGBV) may similarly hinge on communities' attitudes to both SGBV and the court system. "We do not pull each other to court," a community leader in Nimba told me. "It's not our way." Often, communities encourage rape cases to be settled out of court, allowing perpetrators to go free. Until communities themselves raise the cost of rape and make it socially unacceptable, it will continue.
Changes in community attitudes will not stick, however, if Liberia does not respond better when survivors come forward. Soon after President Ellen Johnson Sirleaf took office in 2006, her government developed a National Action Plan on Prevention and Response to Gender-Based Violence. The United Nations supported this plan, and has supported years of awareness raising via radio and community outreach, targeting schools, traditional and religious institutions, and male leaders. Progress has included a tougher rape law, a Criminal Court "E" that is dedicated to rape trials, the use of mobile in-camera trial screens in court to protect survivors' identities, and a specialist prosecution and investigative service for SGBV crimes.
But the legal process remains slow and most SGBV cases never make it to court. Only eight cases were brought to trial and disposed of in a 24-month period between 2011 and 2013. More judges are needed, as is improved coordination between the police, the prosecution, judiciary and corrections. Liberia also needs a tracking system to monitor the progress in rape cases -- from the initial report at a police station through to incarceration.
Survivors of sexual violence also need affordable access to formal justice mechanisms and healthcare. I recently met three remarkable women who have been helping to provide this in West Point, a densely-populated slum in Monrovia, through the NGO they founded in 2003, the West Point Women for Health and Development. They give moral support throughout the legal process, from accompanying women to file police reports, to helping families resist pressure to allow perpetrators to avoid justice.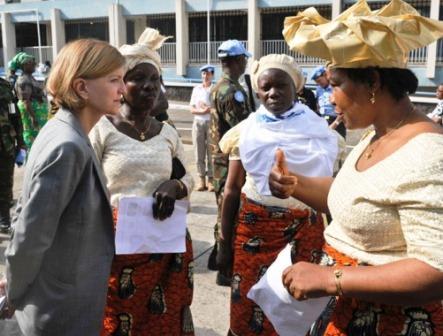 Karin Landgren, Head of UN Peackeeping Mission in Liberia (far left) meets leaders of the West Point Women for Health and Development on International Women's Day. UNMIL Photo/ Emmanuel Tobey
Other efforts to combat rape include a group of Muslim and Christian religious leaders who visit communities across Liberia to spread the message that their faiths do not tolerate rape. Liberia needs more of these initiatives to complement the government's national efforts.
I strongly encourage Liberia to hold a nationwide discussion about the devastating effects of rape. Ultimately, the shocking rape numbers will not be reduced without major community mobilization across the country.
Calling all HuffPost superfans!
Sign up for membership to become a founding member and help shape HuffPost's next chapter