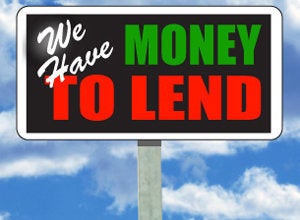 UPDATE: Iberiabank is first bank to return TARP funds it accessed via the CPP program.
As Citigroup takes a step closer to nationalization and attention is centered on America's crippled financial giants, there are hundreds of community banks in solid financial shape that want to step-up their lending.
Despite the fact the Troubled Asset Relief Program, or TARP, includes incentives for healthy financial institutions, its widely perceived as a bailout for failing banks. Consider the $250 billion Capital Purchase Program, where well-capitalized community banks sell preferred stock that pays a 5% dividend to the Treasury. In exchange, they receive capital they can use to boost their lending.
"It was the toughest decision of my 33 years in banking," Stephen Wilson, Chairman of LCNB National Bank in Ohio, said of his decision to participate in the CPP. "While the government was telling us it was our patriotic duty to participate, and we wanted to help our community, the public perceives it as weakness. That is so discouraging because nothing could be further from the truth."
Community banks are working hard to explain that accepting TARP funds is not a sign of weakness. Wilson's LCNB National Bank bought ads in the local newspaper, while others are issuing press releases and meeting with community leaders before taking the money.
"I knew the community at first would be upset because they perceived it as a bailout," said McCall Wilson, the president of the Bank of Fayette County in Tennessee. He spoke to both of his town's Chambers of Commerce and held meetings with the bank's employees, many of whom are shareholders, to explain why the program was a good move. Eventually, "everyone put their faith in me that I knew what I was doing," and the bank took out $6.2 million under the CPP. "Since I have this excess capital I continue to lend," he said.
Stephen Wilson of Ohio also participated in the CPP, accepting $13.4 million. Because of the way that banks use capital as leverage, this additional funding will allow his bank to make another $30 million in loans, he said.
In addition to spurring lending, some community banks are leveraging their knowledge of their community to use the CPP funds to create unique programs.
Kim Price, the president of North Carolina-based Citizens South, was reading a housing study when he came up with an original way to use the $20.5 million in CPP funds he had taken to help his town's real estate market.
Citizens South is using the CPP money to subsidize below-market rate mortgages for homebuyers, who purchase houses from the developers to whom the bank has made real estate loans. In exchange, the developers must agree to cover some of the additional buying costs associated with purchasing a home. In this way, buyers get below-market rate mortgages and avoid paying such things as closing costs. The developers, meanwhile, are able to sell their homes and make a profit. Citizens South also wins because it is able to make new loans, while also ensuring the loans it has already made are less likely to default.
"In my opinion, housing got us into this credit crunch, and housing will get us out of it," Price said. Since the program was created several weeks ago, more than 30 real estate developers have signed up and three home sales are already in the works.
The lobbying group the American Bankers Association is pushing the message that the CPP is not a bailout. They argue that CPP will earn money for the Treasury because the federal government receives dividends on the banks' shares of 5%, and since interest rates are so low, the Treasury can borrow money at a rate of just 1%. This results in the Treasury earning some 4% interest on the money it loans out under CPP.
"The ever-changing nature of TARP has created great confusion," the group wrote in a recent report. "Clear-cut distinctions between programs within TARP are needed... Only by clearly identifying the programs (and the costs of each) can there be proper Congressional oversight and effective policymaking."
For more information on community banks that are accepting TARP funds, go to Bailout Sleuth.

REAL LIFE. REAL NEWS. REAL VOICES.
Help us tell more of the stories that matter from voices that too often remain unheard.