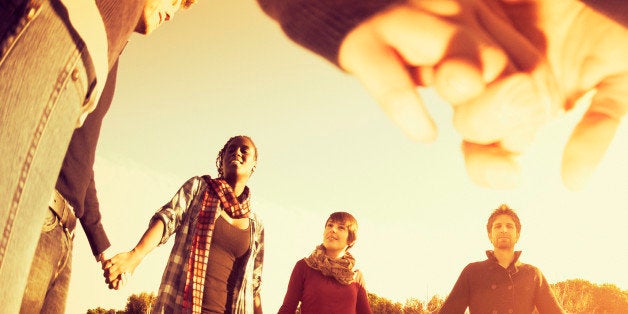 "Today was the first day, in a really, really long time that when I thought of my mom I just thought of her, the person she was, instead of thinking about how she died," my best friend, Brooks, said as we drove to our favorite restaurant in Kansas City after a Hope After Project in memory of his mom, Carla, who died from colon cancer in 2007.
I smiled and looked out the window. That's it, I thought, that's why Hope After Project exists.
I started Hope After Project, an initiative where I build memorial community service projects to help grievers, after my mom took her own life in 2011. I connect with families who are grieving, design a day of community service inspired by their loved one and find a partner organization to help us execute the event.
I built my sixth Hope After Project in memory of Carla, my best friend's mom, who battled colon cancer for many years. Carla was fortunate enough to be able to live at home while undergoing treatment. Brooks and his sister, Robyn, wanted their Hope After Project to give back to a community of people unable to live at home while receiving treatment. When I found the American Cancer Society's Hope Lodge it was the perfect fit.
The Hope Lodge provides free housing to cancer patients and their caregivers while they're receiving treatment. Many of the guests at Hope Lodge live too far away from their doctors and hospitals. The Hope Lodge gives them a home away from home so they can have access to the best care.
We gathered Robyn and Brooks' friends, family and community members for a day of cooking, cleaning and crafting with the guests of Hope Lodge in honor of Carla. We served barbecue and chatted with the guests at the lodge. We disinfected every nook and cranny, making sure the Hope Lodge was clean for the guests' delicate immune systems. We talked about Carla, we laughed and we wiped away tears as we told stories about her life.
Here's the video from the inspirational day.
We made a gratitude wreath for the living room of the Hope Lodge. We wrote things we were grateful for on strings of paper and strung them together. We wrote things like health, doctors, nurses, family, healthy food and friends.
I wish now that I could add something to that wreath (and that I had a really long strip of paper!). I would add that I felt grateful for the opportunity to remember a life, the life of Carla, amongst cancer patients fighting so valiantly for their own. I felt grateful for my memories of Carla, my memories of my own mom and for their lives. I felt grateful I was able to spend a day at the Hope Lodge with Brooks, Robyn and all the other volunteers...even though we would not be sitting there if our moms were still alive.
I do not feel grateful that my mom died despite the still surprising fact that so many wonderful things have come from her death. I do, however, feel grateful for her life, for the entirety of her life, which I believe includes her death. I am grateful that she taught me to be generous when she was alive. That I was raised by a woman who felt everything so deeply it became overwhelming to her. I feel tremendous appreciation for the experience of her, even though her life and her death, have caused a lot of pain.
I can't pretend to know how Brooks and Robyn felt after their Hope After Project. I would never assume that anyone's grieving process is even remotely similar to mine, for they are all so very different, but I hope that their project left them with the same feeling of gratitude for the life of their mom, Carla.
My wish is that every Hope After Project will help those who have experienced loss connect with the person whose life they miss. A day of community service will not make the pain go away, or even diminish it, but maybe doing something positive in the world, giving back to others and creating a living memorial for their loved ones will help grievers along their journey.
I hope that, as Brooks said, Hope After Projects can help people connect to the memory of how their loved ones lived and that they find some comfort there.
REAL LIFE. REAL NEWS. REAL VOICES.
Help us tell more of the stories that matter from voices that too often remain unheard.