Co-Author Dr. Ruth D. Gates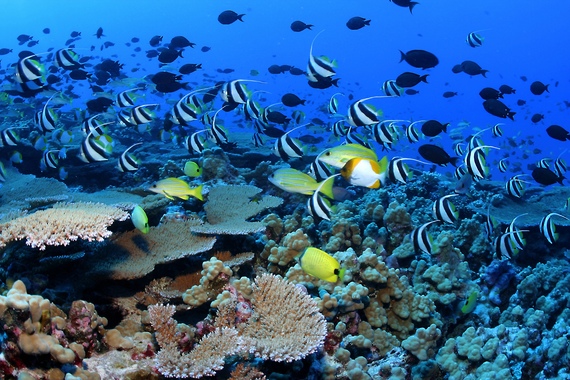 Living in Hawaii, we are blessed to be surrounded by ocean. Most of the world considers the Hawaiian islands to be paradise, but over the last several decades a spectrum of human activities have taken their toll on the waters surrounding the island. This is reflected in vastly depleted fish stocks, degraded coral reefs, sediment run off and sewage pollution in waters adjacent to high human populations. The Hawaiian island chain is environmentally diverse, representing 27 of the Holdridge life zones, and supports immense biological diversity. The habitat-rich Hawaiian islands were once fully self-sufficient, with Hawaiians caring for the land, oceans and shorelines in sustainable ways and supporting a population of about 800,000. Today, the state imports ~ 90% of the food and energy that supports a resident population of 1.4 million and more than 8 million tourists a year who visit the island chain. There is increasing awareness and understanding about how human behavior influences our environment and will need to change in order to preserve and enrich, it so that it can sustain our growing population. But to get this right will involve a change in human behavior. We must support community and government efforts to balance our seafood and tourism demands while providing mechanisms and time for the replenishment of our natural resources.
Fortunately, there are success stories in this realm, examples of communities who have insisted on and support government efforts to ensure that oceans have capacity to support all life. National, state, and locally managed marine and coastline preservation efforts are prioritizing responsible resource management and nature is responding positively.
A shining example of such action is the Papahānaumokuākea Marine National Monument, which is one of the largest marine conservation areas in the world. A U.S. Presidential Proclamation in 2006 declared the marine area northwest of the state of Hawaii to be a protected reserve and it protects the habitat of more than 7,000 marine species, 2,000 of which are found nowhere else on the planet. What is so striking about this National Monument is that it is also a mixed cultural and natural UNESCO World Heritage Site. The Hawaiian culture, like many indigenous cultures, considers malama 'aina, or care for the land, of paramount value. This recognition that our human culture is interdependent with our environment is not a new concept, but one that has been forgotten in our increasingly globalized world. Communities across Hawaii have realized that a systems approach to resource management helps enrich both the culture and the natural resources needed to live in a more self-sufficient way.
Another strong example of a community effort that resulted in protective legislation is the "Try Wait" campaign. The Kaupulehu Marine Life Advisory Committee was formed in 1995. Only last week, the Hawaii State Board of Land and Natural Resources approved a 10-year fishing moratorium on a stretch of the west side of the Big Island. Over the years, this group has worked with organizations like The Nature Conservancy to assess fish populations and understand the trade-offs required to ensure that there will be fish in the future, not only as a food source, but also as part of a healthy coral reef ecosystem that supports a strong tourism industry and that residents can use and appreciate. Successful community-based efforts help shift mindsets and reduce barriers between groups that feel they are being targeted by environmental legislations. Everyone can play a part in the stewardship of resources, from the consumer, to the commercial fisherman, to the resident or family visiting on vacation. Community-based efforts, with the support of local governance, ensure that everyone has a voice and that everyone shares in responsibility. Governments in turn can help ensure the success of such programs by providing enforcement for managed areas and by setting the standard of leadership to prioritize the well-being of both current and future constituencies. Too often, shorter-term corporate goals and political expediency are leveraged against the broader environmental considerations. We no longer have the luxury to silo public, private, and social sectors and must alter our systems to highlight transparency and accountability.
Smaller community-based efforts have seen success in their mission to assess and restore their coastline, viewing them as natural, cultural, and economic assets. Similar to Costa Rica's success in deriving greater economic gains from reforestation efforts, coastal and near-ocean restoration offers this triple win. A group doing this at the local level in Hawaii with the goal of preserving the entire watershed is the Hanalei Watershed Hui. This group partners with Federal, State, County, NGOs, community organizations and residents to address issues raised by scientific assessment and the community. The Hanalei Watershed Hui supports a range of strategic efforts, taking a "mountain to the sea" approach, which is a key value of Hawaiian stewardship. The goals of the Hanalei Watershed Hui are to ensure that: "1) The natural resources of the Hanalei Watershed are healthy and preserved for the future. 2) The economy of the Hanalei Watershed is diversified and sustainable, and 3) Preservation of the culture and traditions of the Hanalei watershed guide planning and decisions." These simple, deeply impactful guidelines are universally relevant and could and can be applied globally.
In Hawaii, we have a saying, "I na malama 'oe i ke kai, malama no ke kai ia 'oe". ("If you care for the sea, the sea will care for you"). With communities coming together with awareness, patience, and respectful action, the oceans and the biodiversity that lives there will thrive and support the needs of humans in a sustained way.


Dr. Ruth D. Gates, Director and Research Professor, Hawaii Institute of Marine Biology, University of Hawaii at Manoa
This post is part of a series produced by The Huffington Post in partnership with Ocean Unite, an initiative to unite and activate powerful voices for ocean-conservation action. The series is being produced to coincide with World Ocean Day (June 8), as part of HuffPost's "What's Working" initiative, putting a spotlight on initiatives around the world that are solutions oriented. To read all the posts in the series, read here. Follow the conversation on Twitter with the hashtag #MakeASplash.
Related
Popular in the Community