A Washington family was on vacation when police say their home and vehicle were vandalized with hate-spewing graffiti. But fortunately for them, they never saw the crude destruction left behind.
Instead, in a remarkable showing of good will, dozens of neighbors and local community members flocked to the residence Saturday, spending hours repainting and removing messages that included "KKK" and the n-word, King 5 reported.
By the time Marvin Phillips and his family returned that afternoon, there was virtually no sign of the destruction.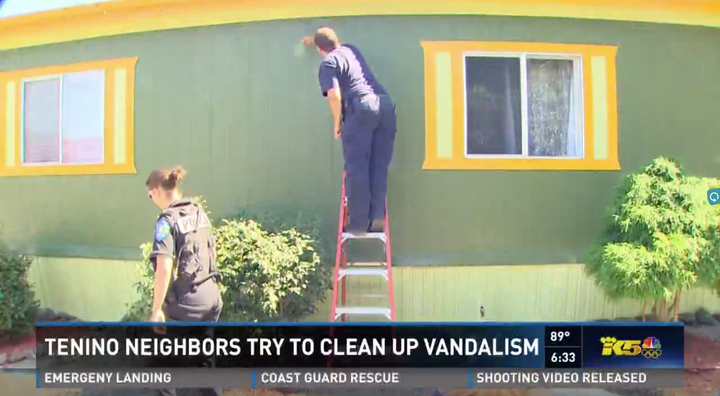 "I'm shocked. I really am. I'm grateful," Phillips told KOMO News following the morning's cleanup efforts. "I didn't know what the town had did until today."
The outstanding response came after a Tenino police officer responded to a call Friday morning about the mess.
"She found spray painted racial slurs around this gentleman's home and all over his vehicle and they were very nasty type racial slurs that I don't even like to repeat," Tenino Police Chief Don Moody told The Huffington Post Monday.
Unfortunately for the hateful artist, they picked the wrong family to mess with.
"This gentleman is very well liked in the community," Moody said of the homeowner. "We had the youth football team there, other community members, my officer went back over and helped. The mayor of the community was there. It was a very good showing of the people."
Even those who didn't know the family turned up to help. That included Mike Vanderhoof of the Thurston County Fire District 12.
"Frankly, it doesn't matter that I don't know him. It was a wrong thing that needed to be righted. So we took care of it," he told KOMO News.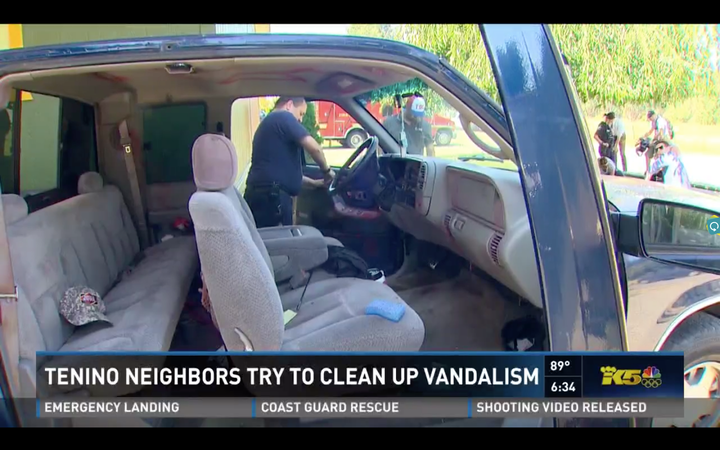 Among the handiwork Vanderhoof provided was replacing a door panel inside Phillips' spray-painted truck.
Within hours, the do-gooders had the home back to its original condition.
"When he came home it was pretty much all cleaned," Moody said. "He was happy that his children didn't have to see that stuff."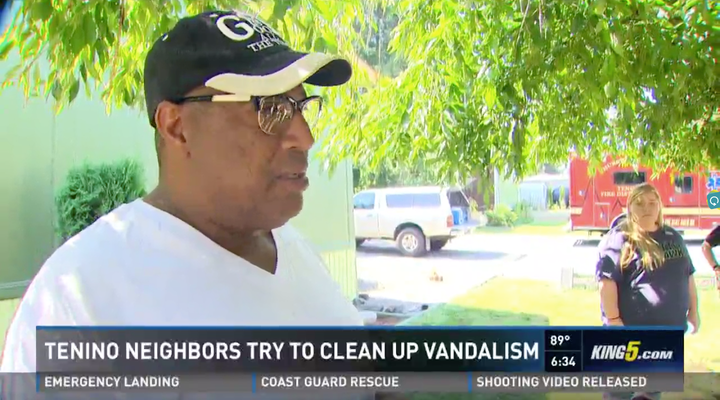 As of Monday morning, no arrests have been made in the case. Moody stressed that it's believed to be an isolated, and extremely rare, attack.
"I've been out here for 16 years in the south county and I've never seen this kind of incident happen," he said. "It's a very, very good community. It's a very small population of 1,800 and everybody knows everybody."
Residents echoed that message.
Popular in the Community