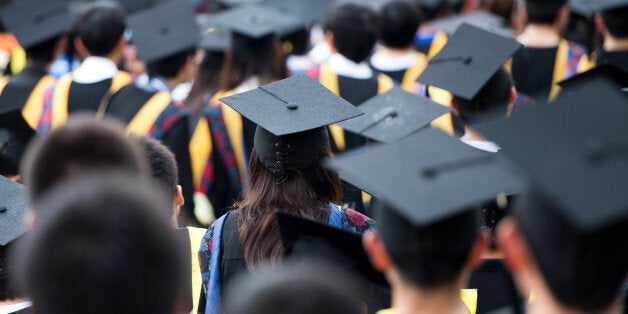 The dividing line between striving and struggling to achieve the American Dream is education after high school. The facts are clear: education is the key to getting a job, earning more, being healthier, and being active in the community through volunteering and voting. Education changes lives and puts the American Dream within reach for millions of people.
We see this every day at City Colleges of Chicago, a system of seven community colleges that has set a high bar for the success of every student, and accepts no excuses for failure. It's an example for other schools. Nearly all students come from underserved communities, and many are the first in their family to attend college and must balance work and family obligations. We see it in stories of students like Lidia Sanchez, who overcame incredible odds as an immigrant and a first-generation student. Today, she is working in Chicago's top restaurants and is pursuing her American Dream of starting her own business.
Unfortunately, for every story like Lidia's, there are many more that don't end as well. More than 40 percent of students in this country who start a certificate or degree program never finish. Put another way, the number of Americans who have attended college but left without graduating is greater than the entire population of Canada. By 2025, two-thirds of all the jobs in the U.S. will require post-high school education. Yet at the current rate the nation is producing college graduates, there will be an estimated shortfall of 11 million workers with postsecondary credentials to fill those jobs.
City Colleges refuses to accept the status quo. The institution simply could have explained away a graduation rate that was once 7 percent. Instead, City Colleges took responsibility for improving the economic prospects of our students. Goals were set based on student success rather than enrollment. Partnering with Mayor Rahm Emanuel, the College to Careers initiative was launched, working with employers to ensure that programs meet workforce needs, and program pathways were created to make sure that students acquire the skills they need while keeping them on track to graduate and enter the workforce with a good-paying job.
As a result, a new culture is emerging at City Colleges, one where students and their success come first. And it is getting results. Since City Colleges' Reinvention effort began, the graduation rate has more than doubled. But City College is not done; the goal is 100 percent.
City Colleges rose to the challenges we face in higher education in service of our students and our country. More schools must do the same. Working with partners, the Bill & Melinda Gates Foundation seeks to learn from innovators like City Colleges and encourage many more colleges to follow in its footsteps, and helping millions more students realize their American Dreams.
Ms. Hyman is the chancellor of City Colleges of Chicago. Mr. Greenstein leads work on postsecondary education at the Bill & Melinda Gates Foundation.
Support HuffPost
The Stakes Have Never Been Higher
Related
Popular in the Community