 A report released this month by the U.S. Treasury Department shows a correlation between state budget cuts to community colleges over the past decade and a growth in enrollment at for-profit colleges.
The report, titled "The Economics of Higher Education," examined both employment and income characteristics of Americans who attain some form of a post-secondary education alongside funding and tuition costs at public and private colleges.
The report notes that more high school students are graduating and going on to colleges and universities. Most attend public schools, many with shrinking state funding, which puts added pressure on community colleges:
Community colleges are highly dependent on state funding since, unlike four-year, public schools, they do not have diversified revenue sources such as hospitals, endowments, or research grants. While enrollments have been increasing, state support per student has remained relatively flat. In 2009, community colleges received approximately $6,450 per FTE (full-time equivalent) student, only slightly higher than the $6,210 in 1999,
According to the report, the funding decline for public colleges and universities bottomed out in 2005, then slightly increased before dropping again in 2008.
Because of the budget squeeze, community colleges are pushed to either raise tuition or or to limit class size, and often choose the latter, leading to a correlating spike in for-profit college enrollment. According to the report, community colleges are "more likely to serve low-income and first-generation student populations than four-year schools, and these students now constitute the bulk of the student population at for-profit schools."
Despite these dismal figures, the number of students attending for-profit colleges grew from 200,000 students in the late 1980s to nearly 2 million students today, representing 9 percent of all higher education enrollment, the report found.
The continued success of for-profits could be because the "college wage gap" is as wide as ever, since it was first estimated in 1915. The report notes college graduates in 2012 are statistically fully employed and make 64 percent more than those with just a high school diploma. Without a college degree, children born to families at the lowest income level have a 45 percent chance of remaining at that level, but they are more likely to earn more with a greater degree of education.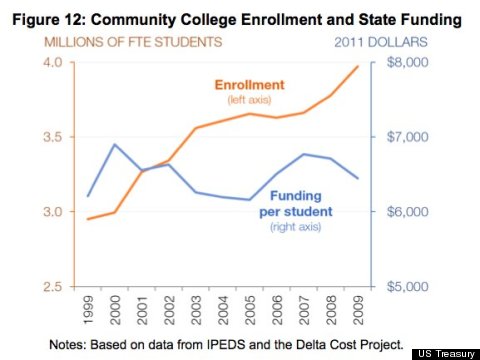 Related
Before You Go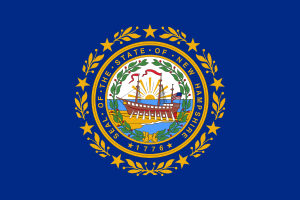 States With The Most Student Debt - Ranked By Average Student Debt, As Of 2011, From The Project On Student Debt
Popular in the Community