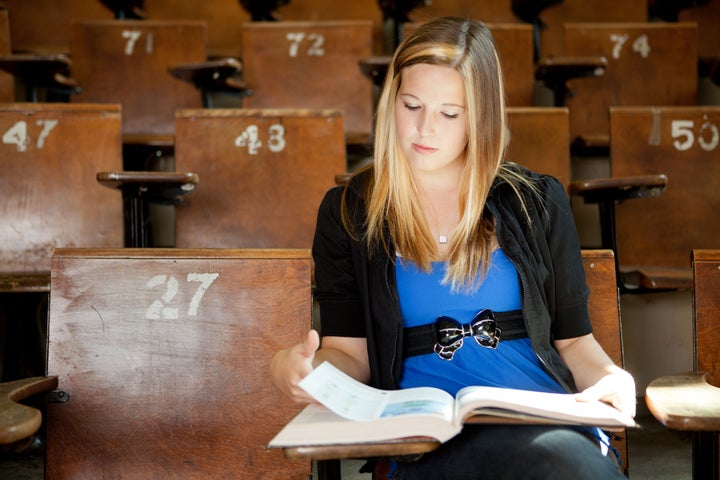 From "big (wo)man on campus" to the campus "fresh meat," the transition to college can be difficult. Adjusting to a new town with new friends and no parents hovering over your shoulder to finish homework presents collegiettes with a slew of challenges we haven't previously had to face. And with a price tag of tens of thousands of dollars (or more!), there's a lot of pressure to succeed.
But with less expensive, community colleges sprinkled across the country, some college-bound seniors decide to spend the first one or two years after high school studying in a more local environment.
"I didn't feel prepared to take college full-on right out of high school, so community college was a great way to ease into the experience," says Kelsey Walid, a junior at The College of William and Mary who transferred from Tidewater Community College. "It helped save a lot of money and was a great way to get all of my general education requirements out of the way."
Opting to enroll in a community college gives collegiettes an opportunity to receive an associate's degree before entering the job market or transferring to a four-year institution to complete a Bachelor of Arts or Sciences. For others, though, community college is simply a chance to continue learning beyond high school without the pressure of a huge price tag.
More than just a series on NBC
Community college, often a two-year institution, offers students –- who either can't afford or aren't ready for a 4-year institution -– an opportunity for higher education closer to home.
"I always referred to community college being a combination of high school and college," Kelsey says. "It felt like high school in that I would drive there, go to class, then leave. There's no living on campus, no dining halls, and nearly non-existent extra-curriculars. I will say, though, that my classes were great and I loved every professor I had."
Since the recession hit the U.S. economy several years ago, enrolling in a community college has become a more popular option, attracting applications from many high school graduates, high school seniors, and adults of all ages who lost their jobs.
"Community college traditionally is a less expensive educational route, so in times of tightened budgets, people often look for comparable service at reduced rates," says Erin Devlin, retention and graduation coordinator at The College of Southern Idaho. "Lower tuition paired with scholarship and financial aid opportunities allow students to get a quality two-year education at a fraction of the price of a four-year university."
On average, tuition for public two-year colleges costs $2,963, about a fourth the price of a public four-year institution and a 14th of the tuition to attend a private four-year institution, according to the College Board. And, the price of each spikes even more when you factor in other necessary expenses like room and board, books and a meal plan. Yikes!
As a result, the escalating price of higher education has driven a larger body of students to the more attractive, lower cost of community colleges. From 2000 to 2006, for example, community colleges noticed a 10 percent increase in the number of students who enrolled, according to data from the Department of Education.
"We want to see […] more students leave their current institution entering directly into the workforce or transferring to a university," Devlin says. "Students need to understand that by setting a goal, working hard and attaining that goal, they are laying the groundwork for a great life."
While the application process and acceptance rates among community colleges differ, most require potential students to fill out an online application, similar to the Common Application, which their admissions team will review. For most schools acceptance to the college isn't guaranteed, but admittance rates are higher than those at most four-year institutions.
Related
Popular in the Community