This post is co-authored with Donald Mitchell Jr., Assistant Professor of Higher Education at Grand Valley State University, and LaVar J. Charleston, Assistant Director and Senior Research Associate for the Wisconsin's Equity and Inclusion Laboratory at the University of Wisconsin--Madison.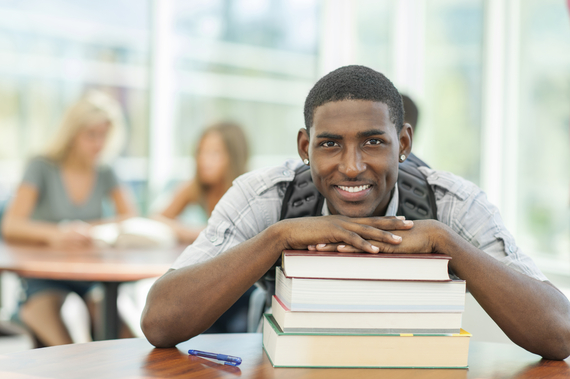 National attention on issues facing boys and men of color has been elevated in the wake of My Brother's Keeper, President Obama's initiative to improve life outcomes for boys and men of color in the United States. Accentuated by pervasive coverage of the Black Lives Matter movement, discussions on challenges and solutions regarding the educational and professional realities of boys and men of color are now mainstream conversations. Concerns regarding the opportunities for boys and men of color are longstanding amongst educators across the pipeline. Across the nation, schools and colleges are engaged in interventions focused on helping boys and men of color succeed educationally. In community colleges, where the vast majority of college men of color are enrolled, the presence of minority male initiatives is universal. However, these programs often serve a small number of men of color.
While the need for these programs is evident, these interventions are woefully lacking in their ability to move the needle and facilitate scalable change. Almost always, these initiatives focus on providing life skills training, mentoring, and tutoring for men of color. This model focuses the intervention on men of color themselves, often fully ignoring the lack of preparation that many faculty have in teaching historically underrepresented and underserved students in general, and men of color in particular. By disregarding educators who often work most closely with men of color, colleges and universities are, in effect, ignoring those individuals most responsible for shaping the learning environments that foster student success. Several California community colleges are reversing this trend.
Invigorated by state-level funding designed to improve achievement for students who do not experience satisfactory outcomes in comparison to their peers (referred to as disproportionate impact), California community colleges are employing campus-level interventions focused on developing the capacity of their faculty and staff to improve learning outcomes for men of color. Cuyamaca College, MiraCosta College, San Diego Mesa College, and San Diego City College have partnered with the Center for Organizational Responsibility and Advancement (CORA) to provide training on teaching college men of color. Over the course of the 2015-2016 academic year, these colleges, as well as numerous others, are making CORA's training available to all of their adjunct and full-time faculty (yes, all faculty).
CORA's large-scale professional development training was designed by scholars J. Luke Wood and Frank Harris III. The program is described as an intensive, one-week, fully online training that includes video modules, readings, live interactive sessions, and learning assessments. Participants gain strategies for facilitating relationship building with men of color and are introduced to research-based practices to support classroom learning. According to Harris and Wood, program outcomes assessments highlight gains in participants' commitment to collaborative learning; building personal relationships with men of color; using culturally-relevant teaching and course materials; using intrusive advising practices; and a greater awareness of racial microaggressions, which are subtle racially charged actions.
"Educating and engaging faculty in areas designed to enhance and rethink how we teach our men of color allows us to create the conditions that matter to ensure that our students have equitable access, outcomes and opportunities to excel as scholars and valued members of our community," says Ashanti Hands, dean of Student Affairs at San Diego Mesa College. According to Bridget Herrin, director of CORA, the program can facilitate these conditions for men of color but also for other students. "While our training focuses on practices that have an intensified benefit for men of color, it's important to recognize that the strategies we advocate benefit all students from historically underserved backgrounds," said Herrin.
If outcomes assessment data continue to demonstrate success, CORA could prove to be a capacity-building model that ultimately improves the educational experiences and outcomes of college men of color and other underrepresented groups, as well as improve the teaching skills and abilities of faculty and staff. With culturally responsive practices as key underpinnings of CORA, a rise in the number of culturally competent faculty and staff could serve to promote the tenets of CORA that could be replicable throughout the educational trajectory (i.e., B-20). A rise in the number of men of color matriculating through college to degree attainment could indeed be a tangible outcome as well, and that would truly exemplify "My Brother's Keeper."
Follow Donald Mitchell, Jr., Ph.D., on Twitter: @drdonmitchelljr
Follow LaVar J. Charleston, Ph.D., on Twitter: @drljcharleston
Popular in the Community