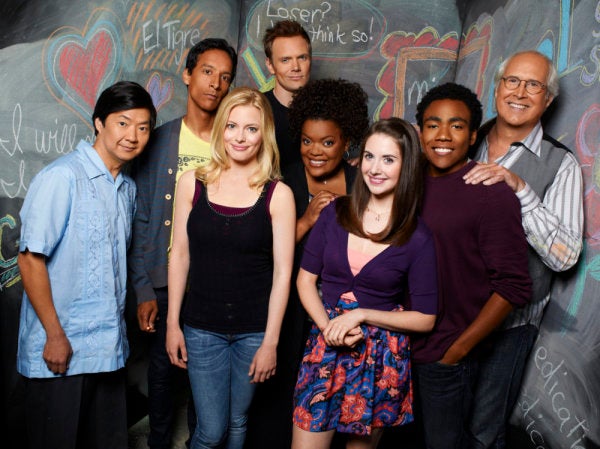 Seeing as he hadn't signed on to produce Community -- even after it was announced it had been renewed for a new season -- we knew it wasn't looking good for Dan Harmon. And now it's official. The creator and executive producer of the Thursday night comedy -- which just aired its three-episode season 3 finale on May 17 -- has been replaced by David Guarascio and Moses Port at its showrunners for the 13-episode fourth season. And it turns out, despite a NBC honcho telling press recently that he was sure Harmon would be involved in the show in some capacity, Sony Pictures Television (who owns Community) didn't even bother communicating with him about their intentions. Harmon took to his Tumblr to address his ousting:
Why'd Sony want me gone? I can't answer that because I've been in as much contact with them as you have. They literally haven't called me since the season four pickup, so their reasons for replacing me are clearly none of my business. Community is their property, I only own ten percent of it, and I kind of don't want to hear what their complaints are because I'm sure it would hurt my feelings even more now that I'd be listening for free.

I do want to correct a couple points of spin, now that I'm free to do so:

The important one is this quote from Bob Greenblatt in which he says he's sure I'm going to be involved somehow, something like that. That's a misquote. I think he meant to say he's sure cookies are yummy, because he's never called me once in the entire duration of his employment at NBC. He didn't call me to say he was starting to work there, he didn't call me to say I was no longer working there and he definitely didn't call to ask if I was going to be involved. I'm not saying it's wrong for him to have bigger fish to fry, I'm just saying, NBC is not a credible source of All News Dan Harmon.

You may have read that I am technically "signed on," by default, to be an executive consulting something or other -- which is a relatively standard protective clause for a creator in my position. Guys like me can't actually just be shot and left in a ditch by Skynet, we're still allowed to have a title on the things we create and "help out," like, I guess sharpening pencils and stuff.
You can read his full response here.

So, what does this mean? Well, first, it means Harmon will be able to dedicate all of his attention to his new animated show Rick & Morty, which was recently picked up by Adult Swim. Beyond that, for some television shows, Harmon's firing would mean very little, since many showrunners manage the day-to-day operations from afar. But Harmon was hands on; he was still an active writer on the show and gave a tremendous amount of input on just about every creative aspect of the show's production. It does mean that Guarascio and Port -- who created the not-very-successful Aliens in America, which ran for 18 episodes on CBS from 2007-2008 -- will have an uphill battle gaining the trust of the show's ensemble cast who seem to have loved working with Harmon. "Dan's the creator of the show, so to lose his voice would be pretty crazy," Joel McHale, who plays Jeff Winger on Community, told TVLine on Monday. "I pray that it works out well."

It also likely means Community will take a more mainstream bent. Guarascio and Port's pedigree is strong, having co-executive produced Just Shoot Me! for 87 episodes and more recently acting as consulting producers on ABC's Happy Endings. And, although both shows were/are considered edgier network fare -- relatively speaking, of course -- they are/were nowhere near the fringe of Community's hyper insider-y, super smart storylines.

I don't understand why, especially with a half-assed, half-of-a-season order for Community's fourth season, Sony felt the need to replace the main artery behind a show that has such a massive cult following, albeit, with crappy television ratings. Bringing Guarascio and Port in is not going to increase the show's viewership substantially -- if at all. What Sony should have done was fully embrace the show's odd storylines and, more importantly, its obsessed, intelligent and totally tech-driven viewership, and strike a deal with Netflix -- like Arrested Development -- to produce and distribute the show online.
Related
Popular in the Community