Dino Stamatopoulos -- the former "Community" writer and consulting producer, who also played the oddball character Star-Burns on the NBC comedy -- ripped the network executives who were behind showrunner Dan Harmon's firing while appearing on HuffPost Live.
"I think they should come out of the closet and admit that they don't have a creative bone in their body," Stamatopoulos said.
Although Stamatopoulos' "Community" character Star-Burns was thought to have died in a car accident/meth explosion in the "Basic Lupine Urology" episode of Season 3 (though it was later revealed that he was actually still alive), Stamatopoulos continued his behind-the-scenes roles until Harmon was fired after the third season ended. "I quit as soon as Dan Harmon was let go as the showrunner ... I left in solidarity, which was a very brave thing to do. Also, I hate acting," he quipped.
Harmon was fired from the show he created after publicly feuding with Chevy Chase, who is also leaving "Community" midway through the comedy's upcoming fourth season. NBC and Sony brought in former "Just Shoot Me" executive producers Moses Port and David Guarascio to serve as co-showrunners for Season 4.
In an interview with EW after in episode in which Star-Burns died, Stamatopoulos revealed that he asked Harmon to kill the character off so he could focus on his writing responsibilities. "I don't enjoy waiting around for hours on set, I hate when people touch my eyes and neck (make-up department!), I can't learn lines quickly (yes, even the amount of lines I get), and I don't need other actors (Joel McHale) asking me why I never got my teeth fixed ... The Star-Burns character was basically a conduit for the joke-sideburns and the one-note attitude about not being happy when people called him 'Star-Burns'. I didn't have a character in mind so it's always been an uphill battle for me to perform the part," Stamatopoulos wrote.
"Community" -- minus Harmon and Stamatopoulos -- returns for its fourth season on Thursday, Feb. 7 at 8 p.m. EST on NBC.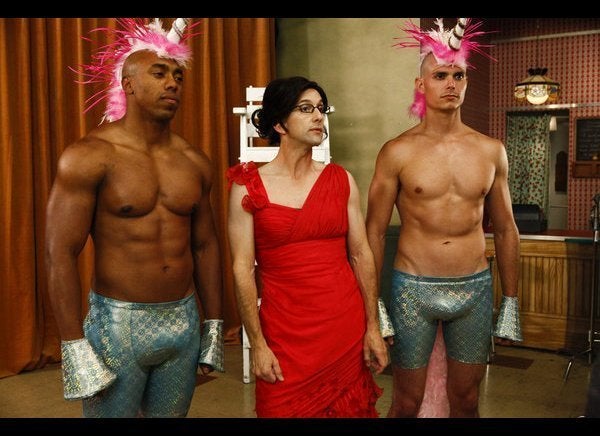 'Community' Season 4
Related
Popular in the Community