Less than two years ago, Ellis Johnston lived on the streets, unsure about where he would spend the night or when he would eat his next meal.
He lived this way for eight years before a friend told him about Mobile Loaves and Fishes (MLF), an organization that began out of the back of a minivan as a food delivery service. MLF is now the largest prepared feeding program to the homeless and working poor in Austin, Texas.
Today, a year and a half after being introduced to the program, Johnston resides in an RV and receives a steady paycheck, living a life he never dreamed would be possible. Employed by Genesis Gardens, MLF's community farm and garden, Johnston works between 15 and 25 hours a week (he also works a second job), and his motorhome is part of MLF's residential program.
Had Johnston not discovered MLF, he said, he's sure he would still be homeless. Instead, he wakes up every day with a purpose -- Johnston is in charge of caring for all of the trees on the garden's property -- and a roof over his head. And he's just one of dozens of people whose lives have been touched by this innovative organization.
Mobile Loaves And Fishes: How It All Began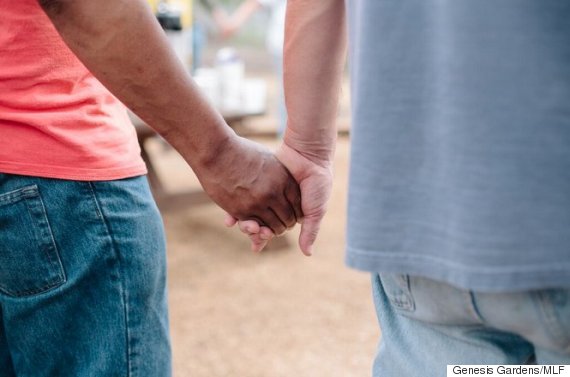 "Mobile Loaves and Fishes started in September 1999, with just five men from St. John's Catholic Church here in Austin," said Perri Verdino-Gates, communications coordinator at MLF. "Their immediate response to homeless folks standing on street corners was to feed them."
Rather than set up a soup kitchen, the men behind MLF drove a green minivan around, serving sack lunches to the hungry. Eventually, they built close relationships with the people they were serving.
"One thing throughout all that we've found, pretty much without exception, is that these folks are homeless not because they've lost their jobs or are mentally ill or are disabled," Verdino-Gates said. "The primary cause of their homelessness that we've discovered is a profound, catastrophic loss of family and support."
This lack of a support system set the tone for what MLF then strived to accomplish, and still works for today: fostering a community around the citizens of Austin who don't have one.
"We're building relationships, we're not making transactions," Verdino-Gates said. "It's not just, 'Here's a sandwich, here's a donation, here's a jacket,' and after after 24 or 48 hours, it's over. We're really trying to do things that build a relationship with those people."
To do this, MLF takes a multi-pronged approach. Currently, the organization helps individuals find and fund housing in RV parks around Austin, while the MLF Truck Program distributes food, clothing, hygiene items and other life-sustaining necessities to homeless individuals in Austin and four other cities, 365 days a year. Genesis Gardens uses sustainable agriculture to feed, support, equip and empower those in need, as well as employ formerly homeless individuals, and the Relationships and Opportunities Allowing for Dignity and Security (ROADS) program helps disabled and chronically homeless individuals hone their skills and talents to earn a dignified income. And when finished their up-and-coming Community First! Village will be a 27-acre master-planned community that provides affordable, sustainable housing and a support structure for those who need it in central Texas.
Built on the same site as Genesis Gardens, where Johnston is employed, the Community First! Village will extend the benefits of the community farm -- like being a viable food source, training site and community-building workshop -- to even more individuals in need.
Genesis Gardens: Cultivating Community Through Sustainable Agriculture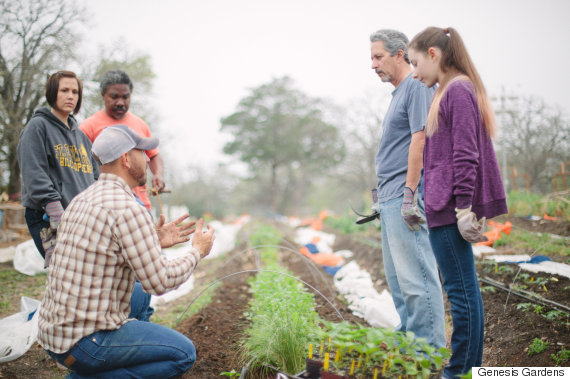 Johnston isn't the only formerly homeless employee at Genesis Gardens. MLF currently employs 10 formerly homeless and/or homeless individuals, known to each other as neighbors, according to Genesis Gardens director Heidi Sloan.
"Our neighbors host and lead about 200 volunteers a week in our garden, growing vegetables and herbs as well as fruit and nut trees," Sloan said. "They also milk goats, tend to chickens and care for our animals."
Genesis Gardens is home to 200 fruit and nut trees, three acres of organic vegetable production, farm animals including dairy goats, chickens, rabbits and honeybees, and a geodesic dome featuring citrus and avocado plantings, and an aquaponic system.
A typical day on the farm consists of neighbors arriving via a carpool system and dividing volunteers into teams, Sloan explained. Each neighbor has a specialty, like caring for the trees, taking on the role of harvest master or milking the goats, and volunteers are distributed according to where help is needed. After a three-hour work shift, the harvest is brought in and stored, and volunteers, staff members and neighbors alike enjoy a garden meal together. Meals take place about four times per week and help to strengthen the MLF community.
"We cook over a campfire and sit down down together to eat and talk about how the day went," Sloan said. "After a day of pulling carrots and enjoying ourselves, it's just natural to have those conversations and for relationships to form."
At the end of the week, all of the yielded produce, milk and eggs -- which haven't already been consumed during group meals -- are washed, cooked, canned or preserved, and delivered out to those in need through MLF's Truck Program.
Christine Lena, an RN at Seton Medical Center in Austin, has been volunteering with MLF for about two years, visiting Genesis Gardens eight to 12 times a month. During her time there, she has helped feed, milk and groom goats, put up fencing, prepare and build garden beds, harvest herbs and vegetables, and more.
"MLF is not only helping to mitigate hunger in Texas, but we are helping to mitigate hunger with good, wholesome, hand-picked, organic food," Lena said. "You can't get any better food than that. And I believe for all the pain, rejection and loss our homeless people have experienced, they deserve to have the best."
Feeding (And Housing) The Hungry: By The Numbers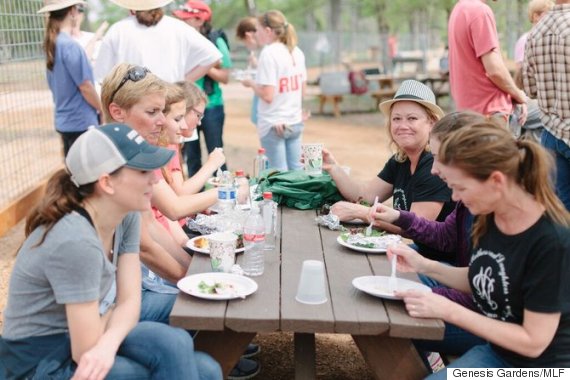 Since MLF's inception, the organization has served over 4.5 million meals to hungry people in need. While MLF doesn't track exactly how many individuals they feed per day, Verdino-Gates said about 15 trucks distribute approximately 75 meals each day, 365 days a year. And that doesn't include the meals provided after a morning of hard work at Genesis Gardens.
Currently, MLF houses 45 residents in motorhomes throughout Austin, but hopes to provide more affordable housing options -- like 100 lots for RVs, 125 micro-homes and canvas-sided cottages, and 12 tipi sites -- once the Community First! Village is complete.
"We know in the city of Austin, generally speaking, there are about 3,000 homeless people on any given day," Verdino-Gates said. "About 1,000 would fall under the 'chronic homeless' category. Those are the most vulnerable, and the most at risk."
Most neighbors and friends of MLF fall under this "chronic homeless" category, meaning they have had several episodes of homelessness for a year or longer.
But once involved with MLF, many chronically homeless Austinites have the chance to turn their lives around. One thing that has been deeply moving for Sloan is to witness how MLF's neighbors act when given the chance to care for animals after years of being on their own.
"Personally, what's been transformative to me is the care [neighbors provide] when our goats have their kids in the spring," Sloan said. "It's amazing to have someone out there who hasn't gotten to care for anything in a long time display their nurturing abilities. Our gist is that we reconnect all our neighbors with the opportunity to care for something, whether it's a plant or an animal, fulfilling that ultimate philosophical outlet."
MLF's Neighbors: Where Would They Be Now?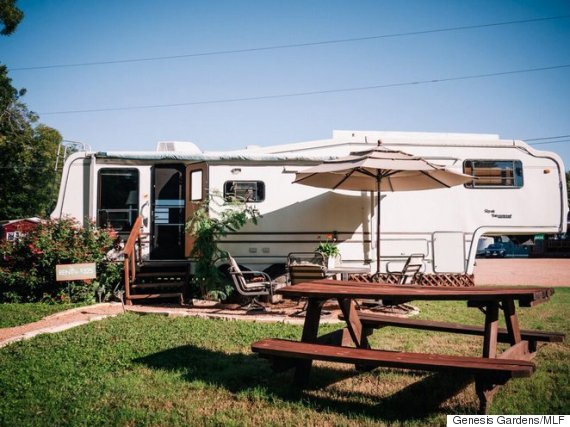 Over the past nine years, MLF has successfully placed 99 chronically homeless neighbors into MLF housing, with an 87 percent success rate to keep them off the streets.
Not only does Ellis Johnston admit he would be probably still be homeless -- and hungry -- had he never encountered MLF, he also knows exactly what he would be doing, too. Luckily, his memories of searching for relief from Austin's brutally hot summers -- by hanging out in a public library or finding a shady park -- are just that: memories.
"I am very thankful to have found the Mobile Loaves family," Johnston said. "They're very loving and kind people who are willing to give [the] shirts off their backs to help others."
From elevating everyday life to making a bigger impact in your community, Chevrolet Equinox is designed for possibilities.
REAL LIFE. REAL NEWS. REAL VOICES.
Help us tell more of the stories that matter from voices that too often remain unheard.