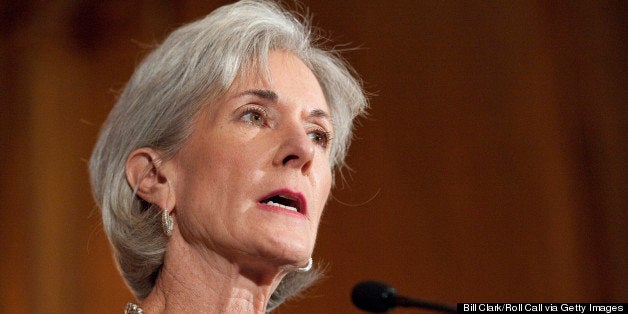 Community health centers, local clinics that provide primary care services mainly to poor and uninsured patients, will receive $150 million to bolster their efforts to help people enroll in health coverage through President Barack Obama's health care reform law, the federal government announced Wednesday.
Across the 50 states, the District of Columbia and four U.S. commonwealths and territories, 1,159 community health centers will get federal dollars starting Wednesday. The funding will enable the centers to hire about 2,900 workers, who will be responsible for counseling patients on how to sign up for health coverage via Obamacare's health insurance exchange marketplaces and how to determine whether patients qualify for financial assistance. These clinics will help as many as 3.7 million Americans enroll in coverage, Health and Human Services Secretary Kathleen Sebelius said during a conference call with reporters.
The community health centers initiative is a component of a broader national outreach and education campaign the Obama administration is rolling out in advance of a six-month enrollment period that begins Oct. 1. During that time, people who don't get health benefits at work will choose coverage for next year. Under the health care law, most U.S. residents will be required to obtain of health coverage next year. Those earning less than four times the federal poverty level, or $45,960 for a single person this year, will be eligible for federally subsidized health benefits under the law.
With enrollment beginning in less than three months, the Obama administration, states and health care reform supporters face significant challenges reaching the millions of people who will use these new health insurance exchanges and who may qualify for Medicaid coverage (in states that will expand the program) or tax credits for private health insurance. Opinion polls show that public support for the law remains low and public understanding of how it works is poor -- especially among the poor and uninsured people most likely to benefit.
Because community health centers are a major source of care for poor and uninsured people without access to other sources of treatment, the facilities and its employees are in close contact with people eligible for help, Sebelius said.
"Our national network of health centers serves more than 21 million patients every year, many of whom are uninsured. They're trusted resources, not only of good care but of information," Sebelius said. "In some of the neighborhoods that stand to benefit most from the expansion of health coverage, they have the ear of so many Americans we're trying to educate about the marketplace this summer and fall."
Community health centers served 18.8 million patients in 2009 and are expected to see 50 million people a year by 2019 as more individuals gain health coverage through Obamacare, the Henry J. Kaiser Family Foundation estimates.
"Health centers are uniquely positioned to contribute to our educational and outreach efforts," Sebelius said Wednesday.
Community health centers already provide help for patients who may be eligible for government assistance. The federal funding announced Wednesday will enable them to broaden those efforts, Mary Wakefield, administrator of the Health Resources and Services Administration, said during the conference call. The federal government also is funding programs to train "navigators" and "in-person assisters" to guide people through the process of choosing health coverage.
The Obama administration is running short on time to complete the massive effort to create the health insurance exchanges and put other key elements of the law into place before enrollment begins in October and before the law's main provisions take effect on Jan. 1, 2014. Recent setbacks -- including a one-year delay in enforcement of a requirement that large employers offer health benefits to workers and a Government Accountability Office report casting doubt on the federal government's readiness -- have prompted questions about whether the health insurance exchanges will be operational on time, despite the administration's insistence that they will.
Supporters and opponents of the health care law are ramping up campaigns this summer. Obamacare promoters Organizing For Action and critics Americans For Prosperity both unveiled television spots this week. At the community level, the Obama administration last week announced a partnership with local libraries, and allied organizations like Enroll America are mobilizing volunteers to disseminate information about how to use the law's health insurance exchanges. The Obama administration also reached out to professional sports leagues, including the National Football League, but pushback from Republican lawmakers provoked the NFL to decline to participate in outreach efforts.
"We know it won't be easy. So many Americans have spent their whole lives being frustrated, gouged or turned away by our health care system, and connecting them with information they need to finally get quality, affordable coverage is a huge undertaking," Sebelius said.
Calling all HuffPost superfans!
Sign up for membership to become a founding member and help shape HuffPost's next chapter
BEFORE YOU GO
PHOTO GALLERY
Health Care Reform Efforts In U.S. History