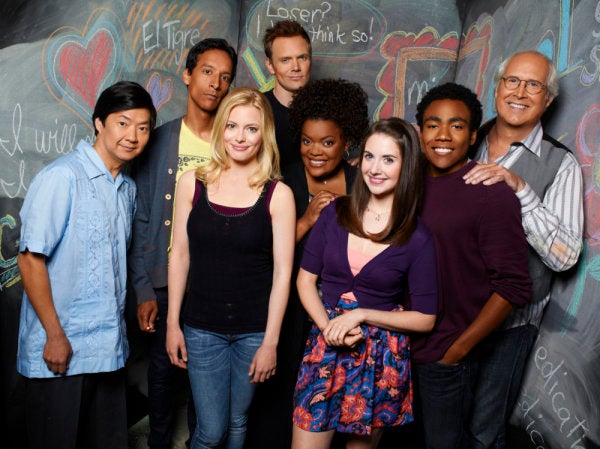 "Community" is back on NBC's schedule! The fan-favorite comedy is returning on Thurs., March 15 to its old 8 p.m. EST timeslot according to series creator Dan Harmon who tweeted the news.
NBC benched "Community" when they announced their midseason schedule back in November, replacing it with "30 Rock." While in the 8 p.m. EST timeslot, "30 Rock" pulled in series low numbers, with Nielsen ratings in the low 3 million area, proving it wasn't a "Community" problem, it's a larger timeslot problem. But "Community" will happily take that timeslot back.
With "Community's" return, "30 Rock" will move to 8:30 p.m. EST while "Parks and Recreation" will take a five-week break. "Parks" will return on Thurs., April 19 at 9:30 p.m. EST, replacing "Up All Night" after its first season has finished airing.
"Betty White's Off Their Rockers" and "Best Friends Forever" will take the 8 p.m. and 8:30 p.m. EST Wednesday timeslots, respectively, starting April 4. "Whitney" and "Are You There, Chelsea" end their seasons on March 28.
"We are happy to have an unprecedented amount of original content on NBC this spring," Bob Greenblatt, chairman of NBC Entertainment, said in a statement. "'Bent,' 'Best Friends Forever' and 'Betty White's Off Their Rockers' are welcome additions to the Wednesday schedule, and we know that the loyal fans of 'Community' will be pleased with its return to its home on Thursdays at 8:00 p.m."
Related
Popular in the Community