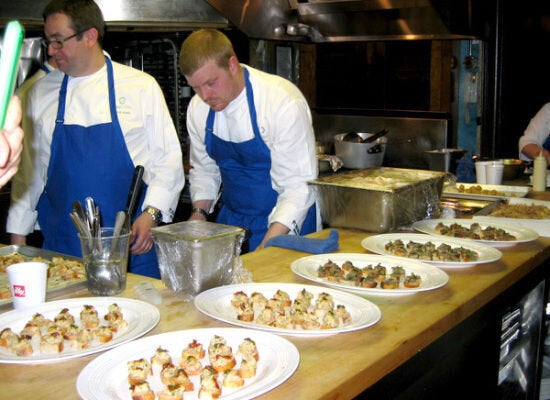 So many people think it takes a membership, or being on some foodie A-list, to dine at The James Beard House. To the outside world, the place has an aura of exclusivity, one that defies the community feeling you get on the inside. Truth is, anyone can enjoy a beautiful meal by a diversity of gifted guest chefs at The Beard House. No membership required.
To get invited to a press lunch though, you do need to be on someone's list. Luckily I was when Executive Chef Ben Batterbury of The Rees Hotel's True South Dining Room in Queenstown, New Zealand traveled 9,300 miles to cook at The Beard House.
While it felt like a privilege to get my first press invite, it truly is a privilege to be invited to cook at The Beard House. Among chefs in America, it's considered an accomplishment. Funny enough though, being based in New Zealand, chef Batterbury told me he didn't realize this until he arrived in New York City.
"I didn't know the reputation of The James Beard House, that it was such a big deal to make a dinner here," admitted Batterbury with a chuckle. "Then when I got to New York and was meeting people around town, everyone I talked to made me realize it was a big deal." But Batterbury still wasn't nervous, telling me, "Cooking is what I do for a living, it's just that I'm doing it in a different kitchen."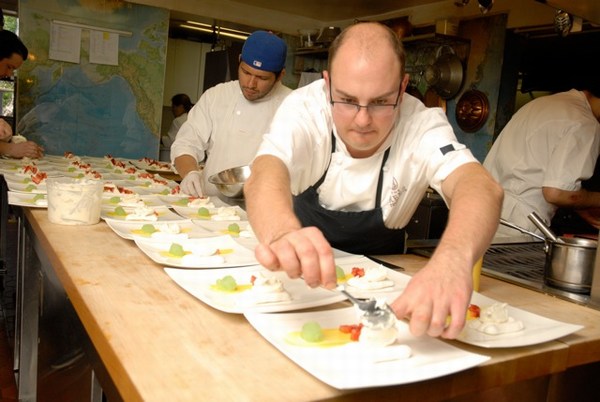 Chef Ben Batterbury plating his dessert: Strawberry Pavlova with Otago Saffron Custard and Lemon Verbena Ice Cream (Keith Coleman Photography, Courtesy of True South / The Rees Hotel)
Batterbury's confidence played out on his plates, an exquisitely executed parade of some of the best products New Zealand has to offer. But he did labor hard on it, "I started planning the menu six months ago. It was a lot of work and I had to see what New Zealand products we could find out here. At True South I source all my products locally and I deal with people I know."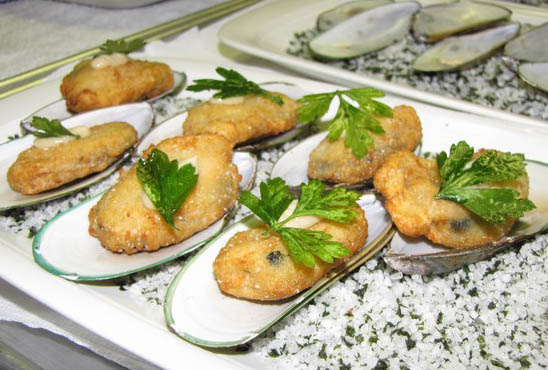 Sealord New Zealand Greenshell™ Mussels, Roast Garlic Butter, Parsley and Horseradish (Courtesy of James Beard House)
Batterbury told me there's a "community feeling" among producers, farmers, cheese makers, etc., and chefs. "And, people can farm, fish, and produce properly all over New Zealand, you don't have the smog, pollution, and crap like that anywhere."
One product he could source in NYC was New Zealand King Salmon. While not native to New Zealand, King Salmon has thrived in the pristine waters of the Te Waikoropupu Springs and the Marlborough Sound in this super environmentally conscious country. The cured salmon dish included rhubarb pickled in Heilala vanilla from the Vav'u Island of Tonga, a tortellini stuffed with smoked salmon, crème fraîche and pickled ginger, avocado mousse and cubes of raw kohlrabi.
Now I don't like salmon, and I've only ever met one salmon dish I liked (it was made by Cesar Ramirez at The Chef's Table at Brooklyn Fare). Still, every time salmon is placed in front of me, I always try it, because I never know. Thankfully my willingness to keep trying was rewarded. Batterbury gave me the second salmon dish I've ever liked, something I attribute to both the quality of the product and the talent of the chef.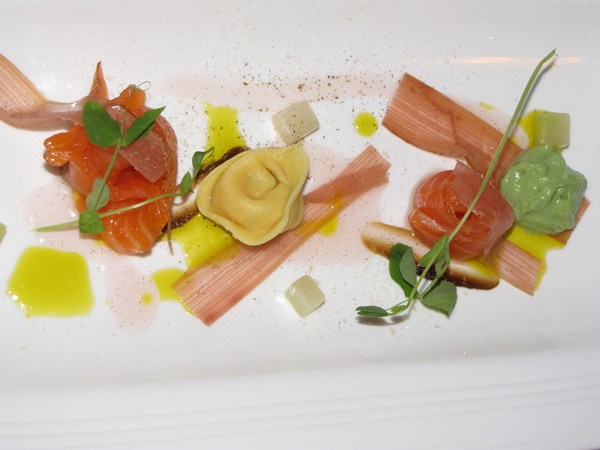 The salmon dish that won over my taste buds (Courtesy of James Beard House)
Of course there was New Zealand lamb, which I think is the best, and Batterbury made the most of it by roasting the loin and also braising the shoulder, molding the tender shredded shoulder meat into a rectangle, breading and then frying it (YUM!). It was served with Swiss chard, courgette Provençal, smoked aubergine purée, and Boulangère potatoes (potatoes layered with caramelized onions and cooked in butter).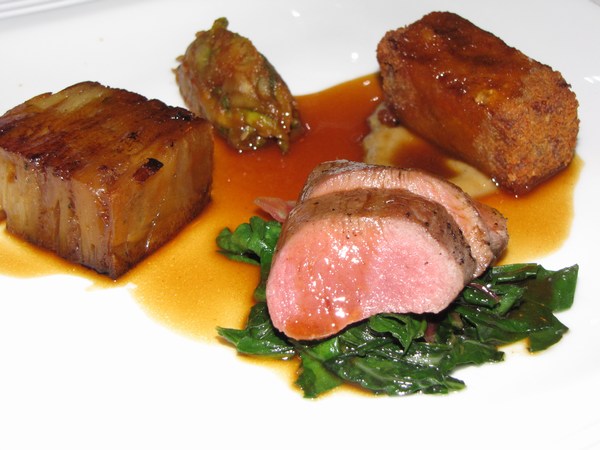 Batterbury's dish did justice to New Zealand Lamb (Courtesy of James Beard House)
The whole meal was paired with fine New Zealand wines like a Neudorf Moutere Riesling 2009 and a Vinoptima Noble Late Harvest Gewürztraminer 2004. A lover of New Zealand wines already, another surprise besides the salmon was the cheese course. I had no idea New Zealand produced such wonderful cheese. Among the offerings was a Kapiti Kikorangi from Fonterra -- a triple cream cheese marbled with deep blue veining, and a Tuteremoana aged Cheddar.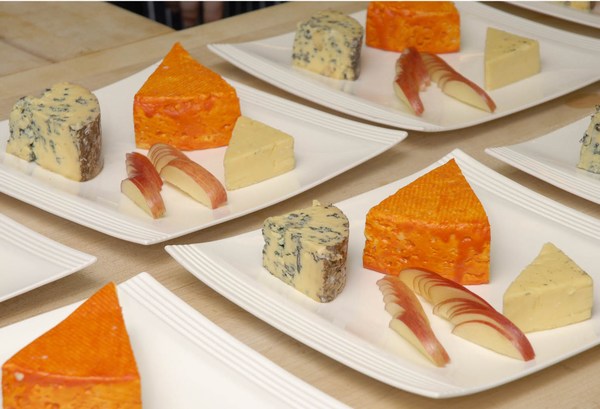 New Zealand cheese served with New Zealand Jazz apples from ENZA farms (Keith Coleman Photography, Courtesy of True South / The Rees Hotel)
I got treated to a nice wedge of Blue River Dairy Curio Bay Pecorino later that same night. I had to double back to The Beard House because I neglected to grab my goodie bag. When I popped my head into the kitchen to thank Ben again for the lovely lunch -- he was still there doing the dinner -- he handed me a chunk of cheese we didn't get earlier. Prejudice in favor of Italian Pecorino, I nevertheless nibbled away the entire piece on my way home. I have to admit it was good, very good.
While I was at The Beard House I squeezed in a quick interview with Director of House Programming Izabela Wojcik. An envious position to hold in this food fanatic city, I wanted to get her take on the Beard House image of exclusivity. She sighed, "I've tried hard over the years to shake the notion of the private club for members, because that's not what we are."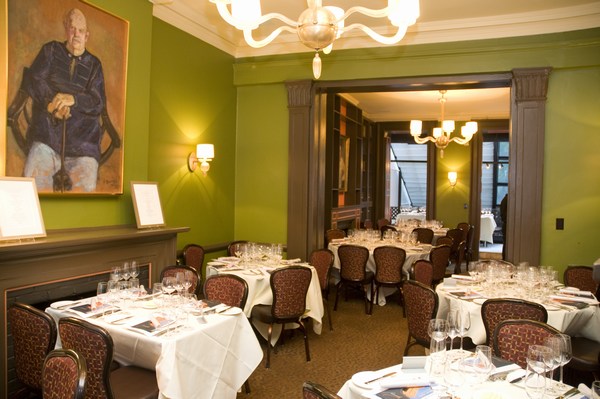 The dining room at James Beard House (Courtesy of James Beard House)
Twenty-five years ago, the James Beard Foundation was just a group of people who came together to save the house where James Beard lived. When it went up for sale, those who had been his students, colleagues and friends -- all of whom had dined in his home over the years and saw it as a gathering place for great food and conversation -- just wanted to buy the house, and somehow preserve it as the open, communal place it had been when Beard called it home.
"At the beginning everyone was a volunteer, and the work that went into saving the house became a bigger spirit than just the building itself," explained Izabela. "Today the Beard House still offers a unique dining experience. Everyone is seated communally so people make new friends. You get wonderful food prepared by renowned chefs of caliber, but you're still dining in someone's home."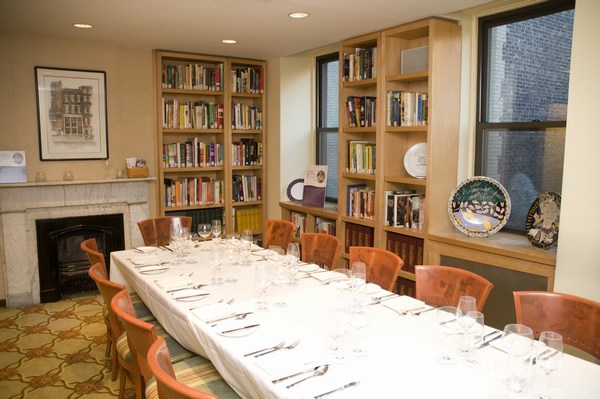 The Boardroom set for dinner (Courtesy of James Beard House)
That someone is of course not just anyone, it's James Beard, and that fact adds a magic and a history to the experience that no restaurant, however acclaimed, can match. While it's not a haunted house, it is a house filled with the spirit of a great man and his passionate love of food, and of all those who came to share a meal with him throughout his time there.
When you consider that eating at The James Beard House doesn't cost more than any other fine dinner in NYC, there's no reason why you shouldn't experience this magic for yourself. Each meal holds surprises, every visiting chef is talented, and each guest feels at home.