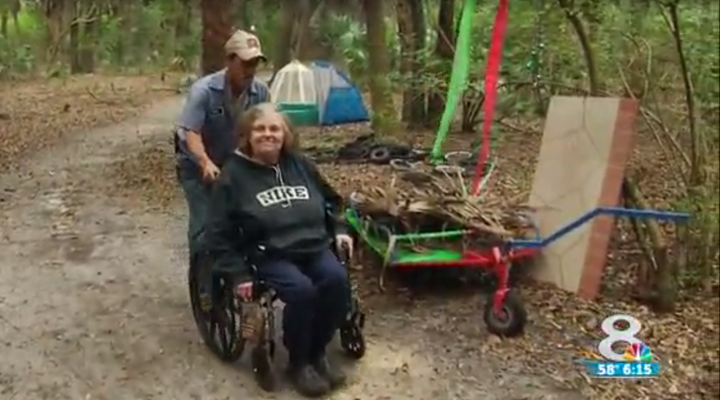 Evelyn Adams and David "Rocky" Barlett haven't had your typical love story.
For the last three years they've called a wooded homeless community in Florida home while hoping to one day marry and have a roof over their heads. Now, after 22 years together, they just may get their wish.
About $20,000 has been publicly raised to give the couple, who are both 55, a fairytale wedding, after word spread about a Tampa police officer's mission to help them find a home, WFLA reported.
"They've had an outpouring of support," Officer Daniel McDonald, who serves as the police department's homeless initiative officer, told the station. "People they've never met, who've never met them. We had a wedding venue contact me and they wanna host the wedding in Dover and it's all-inclusive. They're going to do everything."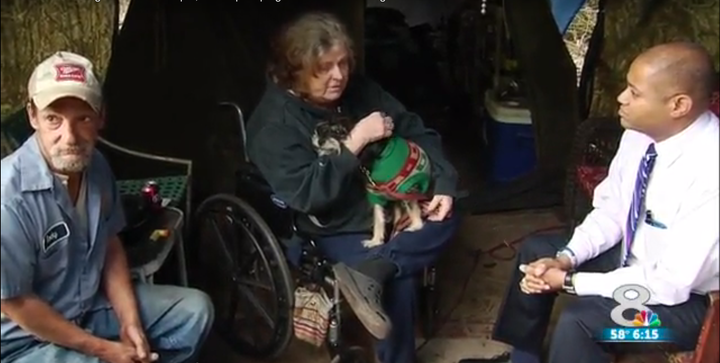 Being unemployed, with Adams unable to work because of a medical condition, the couple has struggled to get by.
They moved down south from their hometown in Ohio to start fresh after Adams' son died in a car accident.
When McDonald reached out to help them, he said he learned about their desire to one day wed despite their inability to afford the $93 marriage license. In the officer's eyes, if they married they may be granted housing faster. In Adams' eyes, housing would be the sweetener to finally tying the knot.
"I'm doing it because we should be married," she told the Tampa Tribune last month. "We've been together 22 years. If we don't get inside, it's all right."
Though it appears more and more certain that her wish will come true, she said it's taken her a while to shake off her surprise and disbelief.
"I said, 'Are you sure these people want to do this for me and Rocky?' He says, 'Yes, because this is what they do,'" she recalled to WFLA.
The couple has a wedding date set for April 1 at a local community resort, the station reported.
McDonald said he hopes to find a home for them, and their little dog, before then.
Pope Francis' Surprise Visit To Homeless Shelter In Rome
Related