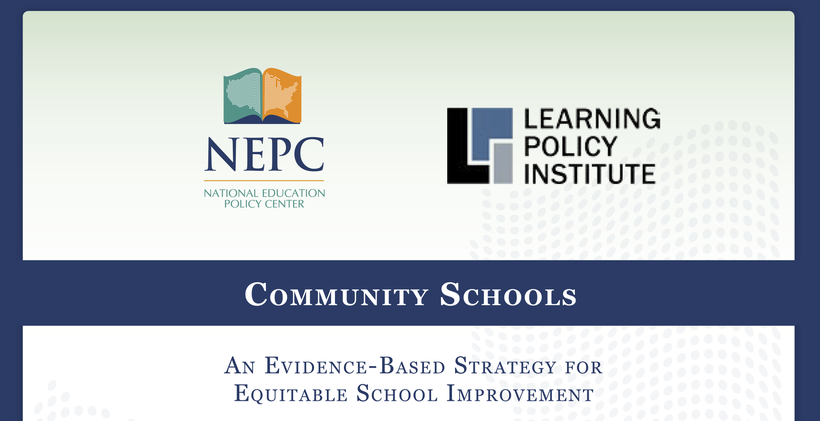 The Trump Administration's education agenda endangers our public schools. Proposed budget cuts and investments in vouchers would harm communities' capacity to educate our children and youth. They would exacerbate the vast inequalities already evident in our society, undermine public education, and diminish our nation's ability to compete in a fast-changing global economy.
There is a better way. Real change in public education demands that education and community leaders work together with students and their families. We need leaders at the grassroots and grasstops to listen and learn from one another and struggle together for better results. That is what more and more leaders are doing through the community schools strategy –an approach that builds connections across political, cultural and institutional divides.
Community Schools are public schools –hubs of their neighborhood, uniting families, educators and community partners to provide all students with top-quality academics, enrichment, health and social services, and opportunities to learn and thrive in school and in life. They are an effective strategy for all schools, particularly for low performing schools; and they are an alternative to closing schools in impoverished neighborhoods.
Community schools are a national movement with a multi-decade track record of improving achievement, empowering students and families, and strengthening neighborhoods. They are 7,500 strong and growing in urban, suburban and rural communities in large, medium and small districts.
Addressing students' needs through community schools made sense to the Metro Nashville Public Schools, and led to development and implementation of Community Achieves, their community school initiative. The Nashville Area Chamber of Commerce is a key partner, connecting schools with businesses in a variety of career pathways. Nashville's Pearl-Cohn Entertainment Magnet High School is one example. Pearl-Cohn creates opportunity and removes learning barriers by serving the whole child and whole family. Pearl-Cohn aligns their 36 community partnerships around four pillars: Family Engagement, College and Career Readiness, Health and Wellness, and Social Services. As a result, Pearl-Cohn has seen a 68% reduction in discipline infractions, has less than 1% student expulsions, and a 41% reduction in their student mobility rate.
Enlace Chicago, a community-based organization, and Oakland International High School (OIHS) illustrate how community schools respond to the needs of immigrant students and their families. With a deep focus on schools in Chicago's Little Village neighborhood, Enlace brings after school, health, mental health and family engagement programs into partnership with neighborhood schools. Their work is a key reason why high school graduation rates and the percentage of adults with a high school diploma or GED in Little Village are increasing.
All of the students at OIHS are recently-arrived immigrants, hailing from 33 countries, and speaking over 30 languages. OIHS involves community partners to offer academic, legal, health, and social emotional services. It has become a school that students want to come to, with the number of students deciding to attend on their own jumping from five to nearly 60 in recent years.
The New York City Community Schools Initiative calls for all public agencies and community-based organizations concerned with young people and their families to mobilize themselves around the city's public schools and students. Mayor Bill de Blasio and NYC Schools Chancellor, Carmen Farina are playing key leadership roles, making major investments in community schools with expanded learning time and mental health, after school and other services. New York's 215 community schools have seen a 7.2% reduction in chronic absenteeism, a 1.8% increase in math, and a 5.7% increase in English language proficiency(?) in the past year.
P.S./M.S. 188, The Island School is a community school on Manhattan's Lower East Side. Nearly all of its students qualify for free or reduced-price lunch and live in public housing or homeless shelters. The school, together with its partners, has helped students significantly increase English and Math results and it has been recognized with an "excellent" rating in the "Growth on Tests" and "Closing the Achievement Gap" categories by the State Department of Education.
There are far too many divides in our nation today, and public education is stuck in the middle. The experience of community schools award winners, and many other across the country, demonstrates that bringing together educators, families and community partners is the way to help students learn and thrive.
Calling all HuffPost superfans!
Sign up for membership to become a founding member and help shape HuffPost's next chapter
This post was published on the now-closed HuffPost Contributor platform. Contributors control their own work and posted freely to our site. If you need to flag this entry as abusive,
send us an email
.