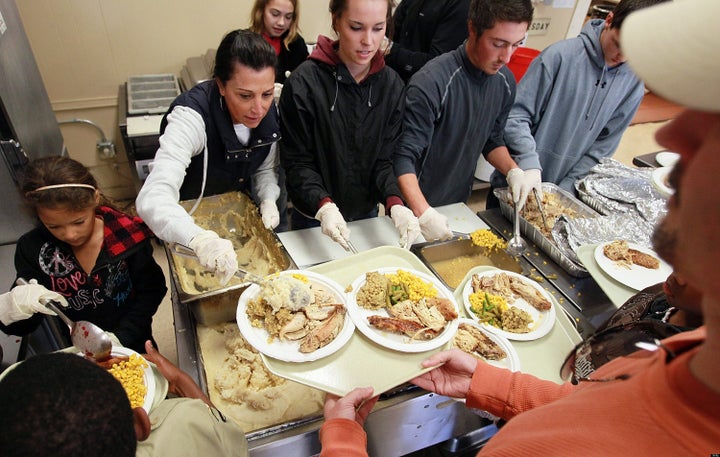 In today's light-speed, electronically connected world, we are bombarded daily by social media, text messages, email, voice mail, snail mail, tweets, event invitations, and somewhere among those, we try to find a little mental down time to keep our sanity.
How is it, that with all this social and personal interaction going on, so many of us are experiencing a palpable emptiness and lack of connection that is hard to pinpoint?
I recently attended a community tree planting in my Los Angeles neighborhood, Woodland Hills, where over 200 local residents, business owners, and elected officials came out early on a Saturday morning to improve a stretch of Ventura Boulevard by digging into the dirt together as part of Mayor Antonio Villaraigosa's Million Trees initiative.
I was standing, shovel in hand, with two fellow volunteers looking out at the vast assembly of our neighbors, who were digging, laughing, trading gardening gloves, and wearing "I planted a tree" t-shirts. There was an amazing moment when the three of us were simultaneously moved emotionally by the sense of community in the air. We stood in silence, just watching. It had the feel of an old-fashioned barn-raising.
When we get involved and share ourselves through volunteering for causes we're passionate about, or even simply attending events supporting local organizations, it doesn't just benefit our community; it benefits our own emotional fitness.
It's logical that community connection and the feeling of giving back are essential ingredients in our everyday sense of joy and well-being. It's also probably safe to say that human beings have a natural instinct, even a need, to help one another. But, with busy work schedules, home life, and the convenience of social media to keep us "posted" on what our friends, acquaintances, and even our frenemies are up to, we are fooling ourselves into thinking that we have enough social and community connection in our lives, when the truth for most of us is that we're sorely lacking.
The healthy feelings of giving, of connecting in person, and coming together with our peers to do good cannot be replaced by texting, emailing, or clicking on a link that gives a penny to a charitable cause.
So, where to begin giving back while filling the spacious void in our souls caused by participation deprivation? If your time is limited, try looking into joining an organization or committee that meets monthly where your professional expertise could be a great help.
For example, I have a PR and media background, so I belong to a couple of local nonprofits where I'm able to contribute publicity ideas for fund-raising and events at monthly meetings. There are members from an array of professions, and it's powerful when a diverse group comes together for a common cause.
If you're a business owner, try joining your local chamber of commerce. It's a great way to network with and support other local business owners in your area, while at the same time keeping up with community events and volunteer opportunities.
In Los Angeles, we have a system of 93 Neighborhood Councils, where over 1700 members from around the city volunteer to take on quality of life issues at the grassroots level. If you're passionate about local issues and have several hours a month to give, being part of a local government council can be a great experience.
Join a local service organization, such as the Jaycees or Rotary Club
Volunteer for a candidate you believe in who is running for a local office
Get involved with your local Neighborhood Watch
Attend events supporting local charities, cultural centers, or youth organizations
Life has more to offer you, and you have more to offer life. Find something you're passionate about that offers you the opportunity to give back, and go for it. Make the time. Learn. Feel. Unplug. Give. Grow your wings. You never know where they may take you.
Related
Popular in the Community