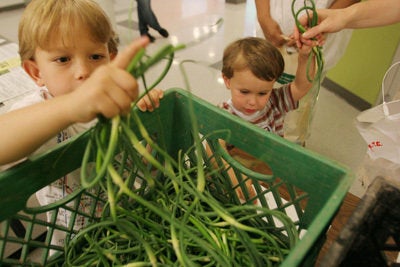 Short of tilling your own backyard, joining a Community-Supported Agriculture (CSA) scheme is perhaps the most effective way you can green your eating habits. Here's how it works: individuals subscribe to a given farm operation at the beginning of the growing season, effectively becoming shareholders in the harvest. CSA growers and subscribers support each other, sharing both risks and the bounty of a given season.
It works out great because farmers are less vulnerable to, say, a frost that zaps their raspberries when they have already been essentially pre-paid for the season's bounty. Subscribers benefit, too: CSAs are typically very affordable, and work out far cheaper than shopping at farmers' markets per-pound of produce of commensurate quality and local-cred.
THE FUN OF MYSTERY VEGETABLES
Some CSAs deliver boxes of vegetables (and sometimes fruit, dairy, meat, eggs and/or flowers) directly to subscribers but others simply set up pick-up points at a given location each week. Subscribers might whine about a heavy load of rutabagas and celeriac towards the end of the year, but they are just as likely to be delighted by an unexpected abundance of asparagus or strawberries come spring. For someone who likes to cook, subscribing to a CSA provides the ultimate challenge: you have to work with what you get. It's not just about eating seasonally - it's also about being flexible.
As Jane Black recently reported in Gourmet,
Joining a farm share is a kind of religion for some foodies. And like any true faith, it requires sacrifices. Instead of shopping at a 24-hour grocery store, members of a CSA (community-supported agriculture) program show up at a designated time and place to pick up their weekly box. Inside is an assortment of fruits and vegetables that they may not like or even know what to do with. Some members complain. But for most, the suffering (if you can call it that) is viewed as a step on the path to righteousness.
FIND A CSA SUBSCRIPTION NEAR YOU
CSAs have become increasingly popular over the past few years. Indeed, according to Local Harvest, the number of CSAs in the United States was estimated at 50 in 1990, and has since grown to over 2200. These farm shares typically fill up early - now is a great time to subscribe for the upcoming growing season. Check out Local Harvest for a CSA near you.
Ten years old, the company is the largest CSA in the world with annual revenues of $45 million and is growing at a 20 percent clip--not bad in the midst of an economic crisis. "To be successful, we had to give up some of the high-church ethics of a CSA and adopt a more ecumenical approach," says Harttung. "But to really change things, we cannot preach to a very small congregation. We must deliver a message about organic food to a broader audience."

Harttung attributes Aarstiderne's success to the delicate balance it strikes between aspirational and dogmatic. For example, the company has a no-fly rule. And customers cannot pick and choose what they want on a given week. This limits Aarstiderne's waste to just two to three percent of its produce, compared to the 12 percent that is wasted in conventional European retail chains. Harttung believes that farms, which are responsible for 8.2 percent of greenhouse gases, can be part of the solution to global warming.
Spud, the largest organic delivery service in the US, similarly lets customers choose from a variety of local fruits, vegetables, and even dry goods for delivery. Spud contends that having local produce delivered results in not just a reduction in food miles, but also:
• Reduced car travel - as individuals don't have to travel to the grocery store.

• Less in-store energy use - CSAs cut out not only the middle man, which makes economic sense, but also energy-intensive refrigeration practices, which makes green sense.
Popular in the Community