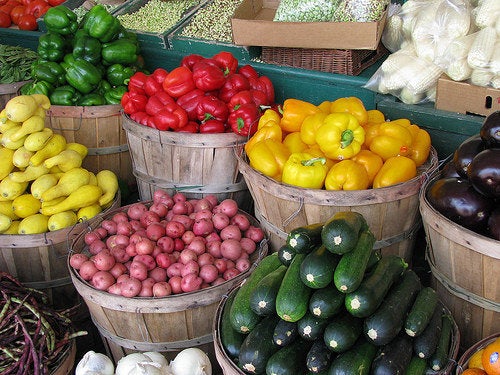 In the last 20 years or so, the place of food in contemporary art has taken on a privileged and not always comfortable role.
The abundance of interactive art, like slides in art museums, has as its immediate forerunner in those '90s installations and performances where artists cooked for visitors, turning the gallery space into a kitchen or dining room... and which have remained popular as relational art shows no signs of slowing down.
On the political side, "food practices" are an increased source of critical and artistic attention. The argument about whether food is art or not will be perennial -- though surely we can agree that the most high-end restaurant experiences are a form of performance art.
But when contemporary food art practices are taking off, both in terms of the amount of work and increased critical attention, it's a good time to figure out what food can and can't do as an art object.
If the most important role for art is to create social interaction (ideally community) or make visible and question political and economic issues, then food would seem to function as well as any interactive sculpture or installation. And using food as an element in contemporary art is accessible for audiences, creating hospitality. But equating food practices and art practices -- leveling art's role to something that a communal curry can do -- would seem less harmless.
However, there's another (in my opinion, far more interesting) way that the structures surrounding food and art can inform each other, and that threewalls, an artist nonprofit here in Chicago, is utilizing in an intriguing and encouraging way -- using sustainable food distribution models for the production and distribution of contemporary art. Threewalls's second run of their successful CSA (Community Supported Art) program this winter models art after a produce box.
My first reaction was to be suspicious of the project (more on this in a bit), which works similarly to the way that shares in a classic community-supported agriculture work: customers buy shares that fund the "season's" production -- in this case a few hundred dollars per customer. The customer then receives a work of art made by each one of a number of artists selected by the gallery. If nothing else, the CSA's approach reveals what a uniformly retail model (and increasingly, a chain-retail or multinational conglomerate model) the art world is... and shows the alternative kinds of models that could take its place.
But art is not food, and my first thought, when I heard about the first incarnation of threewalls's experiment last spring, was to ask whether they were just fetishizing the "buy local" ethos of our time. While buying locally has tangible economic and ecological benefit, the same can't be said for a print or a sculpture. And then there's the issue of choice in art, which is understood to be highly personal-- what adds value to art is in part a lack of substitutes.
If I hate kohlrabi, I'll put up with it temporarily and figure out how to use it, but probably not so a painting I loathe. Customers who may be more likely to share a "risk and reward" system with food, not getting angry if they don't get any kale because kale was bad this year, might be less likely to shoulder the burden of an artists whose art didn't "work" for the customer. While the CSA model in the food world results in higher quality foods guaranteed, the same isn't true of art, no matter what differing definition of quality you use. Frankly, I initially wrote off the project as an idealist but not ideal solution for art distribution.
And yet the first run was so successful (they sold 97 of 100 shares), and so many people spoke highly of it, that I became intrigued with why it was working so well. I spoke with Erika, a collector from the first run, about her experience. Erika, who works in advertising and had never bought art before, loved the concept of the collector starter kit, which is how threewalls marketed the show the first go-round. "I'd always had an interest in art but had never been in a position where i could afford it."
After hearing about the program from a co-worker on the board at threewalls, Erika went to a gallery fundraiser and met some of the artists involved. "I loved that I could meet them and talk to them about their work -- and finally have art not from Crate & Barrel on my wall." What about art she didn't like? "There were one or two pieces out of the group of six not to my taste, but at the end of the day, if there had only been one or two I liked, that would have been enough." The philosophy behind the project, and connections with the artist, it seems, are enough to make the experience for collectors worth the cost.
For Leggett, the program "allows people to start a collection of their own, supports local artists by promoting their work to a wider audience, and provides them with a dialogue with the shareholders." He's referring here to an artist-shareholder dinner run by artist and gallerist Eric May.
Is he nervous about making the work for strangers who have pre-bought it? Yes, Leggett admits, but adds that you "can't please everyone." However, selection by threewalls means a lot -- a guarantee of quality that seems to have worked is the careful curation by a staff, which has created some of the most consistently thoughtful visual art exhibitions in Chicago.
While Leggett is used to editioning his works on paper, other artists have to radically alter their art practices to fit the model of the show, which is the one problem director of programming Abigail Satinsky admits they had to iron out after the first run. If you do the math, the artists made only $20 per piece made last spring, so this time around, they're raising the commissioning fees (though lowering the overall share price, from $400 to $310 per person), while at the same time encouraging artists to "make something they wouldn't otherwise make, and think about distribution of work in conceptually different way," Satinsky says.
What Satinsky likes about the CSA model is that "we can be really transparent about supporting artists. It's not a given that nonprofits like threewalls will be around in perpetuity, and we can use the model as a tool to educate people about how they work" at a time and place where there is a real lack of transparency about the "economy of how art objects move." Many galleries across the country are landing on the CSA and other art subscription models as alternative systems for producing and distributing art (a quick Google search reveals at least a dozen programs running this year), where it turns out to be a way to level the playing field in a market that's hyperbolically hard to break into as an artist and intimidating for would-be collectors.
Ultimately, threewalls's system, if it continues, will both fix the problem of the model of art-buying -- and begin to adjust the much bigger, more systemic problem, which is that people aren't buying art at all, even while spending more money on luxury goods. As a friend and artist of mine mused the other day, "What we really need to do is figure out why people think that they don't have the several hundreds to spend on a piece by an interesting emerging artist, but that it's "worth it" spending the same amount of money on a purse." Or, I would add, a performance piece of a dinner.
Shares of this winter's CSA program at threewalls go on sale November 1st. Visit the website for more information about the program, artists, and how to subscribe.
 
REAL LIFE. REAL NEWS. REAL VOICES.
Help us tell more of the stories that matter from voices that too often remain unheard.