Every picture tells a story. This photo was taken in April this year, but the story started in January 2012.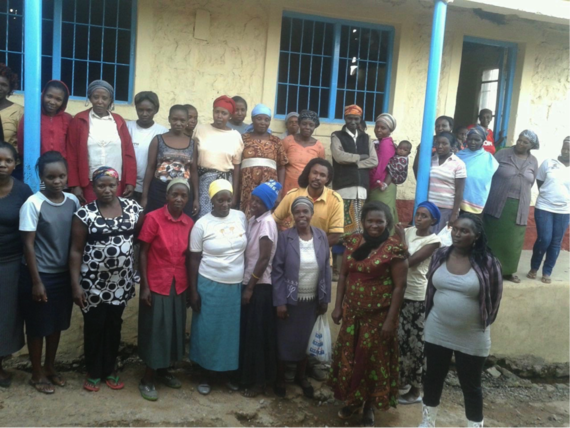 At the start of each training we encourage people to do a number of things. One of these is to share the training with at least 20 people in the community within the next month; another is that they would start a project that benefited their community. In January 2012 we ran our first pilot in Kenya. In the audience were two mothers whose jobs were to pack vegetables as fast as they could to be sold in European supermarkets. Each evening they returned to Dandora, their home community, built on the very edges of the City refuse dump. The difference on this January day, was that the two ladies returned home seeing themselves as leaders, story writers, ladies who now had the pen to create a different story within their own lives and the lives of those around them. Thy looked around the community wondering who they could teach and what community project they could do. Right in front of their eyes were youth - many, many youth - unemployed, angry, hopeless, drug and alcohol numbed youths. Youths that were making the community unsafe for the very young and old.
So that is where the ladies began. Courageously, fearlessly, they began to share what they had learned with these youth and to everyone's amazement the youth listened. They liked what they were hearing. It was waking them up; it was giving them a taste of hope rather than the future of an early death that they knew was the fate. They wanted to hear more, so each evening they were taught more.
Over the next 12 months the lives of the youth began to change in fundamental ways and the community of Dandora changed with them. The unemployed got themselves back to education or set up business to generate income. Community projects were initiated around urban agriculture, community security and arts. Up to this point there was one rape or death each night in Dandora Phase 4. Now, three years on, there's only one a month at most.
But it didn't stop there. Amongst this youth group (now called The Dandora Uprising), was a young man called Peter who confessed to me recently that if it hadn't been for the Emerging Leaders training he would have been dead by now, like many other youth in the area. In September 2013 we invited Peter, one of the founder members of the youth group to attend a week long Train The Trainer. From there Peter started training other youths. As of the end of April 2016 Peter has now trained 1500 people himself. His training has an estimated impact on the lives of up to 9000 people. The wider impact of the training that Peter and his friends have carried out has reached over 20,000 people.
• 203 of the youth are sustaining their lives from revenue collected from the community through projects
• 20,100 community members enjoy safe and secure environment
• 1,200 people have increase saving
• More than 5 Million Kenyan Shillings (just under $50,000) have been saved through table banking
• 25 youth have gone back to university and colleges, including Peter
• Initiation of more than 100 small scale businesses,
• Improved livelihoods due to additional income because of youth leading their finance
• A clean environment, safe for children to play
• Increase in enrollment of children in school
• Increased trust between youth groups and government institutions
• Creativity and innovation - people want to start leading their own projects like the Uprising Library (see below)

In Peters words "this would never had been possible if Leadership for Life had not been introduced to Dandora"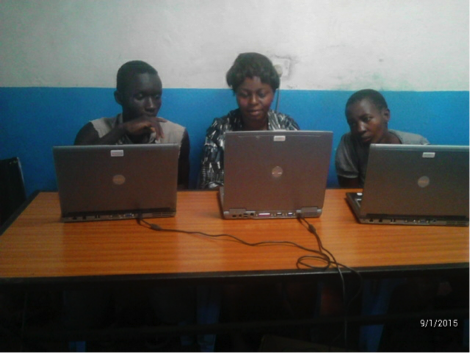 I once asked Peter ,"What is the legacy you want to leave with your life". He asked for time to think about it. A few months later he said, "I have the answer to your question. I want to build a library in Dandora because there isn't one. Children have no safe, lit place to go and do homework after school". At that time there was nothing. Now there is Dandora's first ever community library that he and his team have created, with over 500 books and a few computers, with 25 children attending each evening.
So, what about the picture at the start of this blog? In the centre is the only male, Peter. This was his April 2016 group. All unemployed women. They came in hopelessness. They told Peter that they found their food each day by picking over the City rubbish dump nearby and they simply waited to die because they saw absolutely no hope for their lives. Peter started with 35 women and this soon became 50 women as word spread of the hope the training was bringing. By the end of April, 6 of them had started businesses to create their own income. Peter pointed out to me the smiles on their faces. "There were no smiles when they started. They now have hope"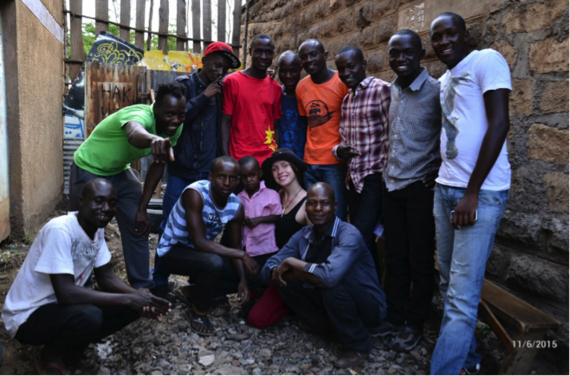 Stephen (in the green shirt) also trained as a trainer and here is is with a gang of ex criminals he trained in Leadership, now all in jobs or back in education.
It doesn't matter who your name is, when one person starts to lead their own lives the world around them changes.
REAL LIFE. REAL NEWS. REAL VOICES.
Help us tell more of the stories that matter from voices that too often remain unheard.