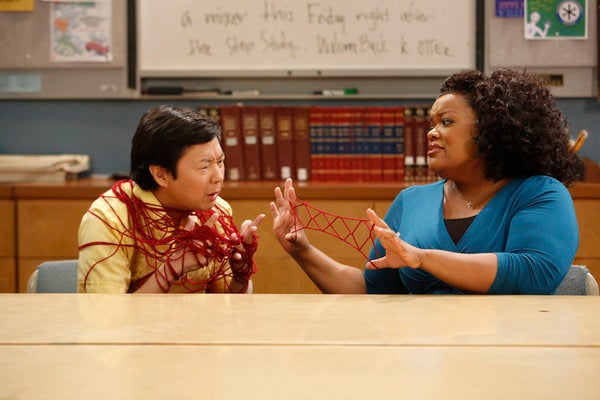 But fear not, Greendale Human Beings -- as dire as things seem, the wait may prove to be a good thing. Network insiders are reportedly insisting that NBC simply wants to push back the comedies' premiere dates to allow for an additional marketing push. It's certainly true that neither show has received much promotional love amidst the blitz for the network's new series, such as "Revolution" and "Go On."
Vulture also speculates that NBC's hesitation could stem from other entries in its lineup that may be underperforming. "Animal Practice" and "Guys With Kids" are struggling in the ratings, and no-one's ruling out a Thursday night shuffle that could see a return for "Community," since most of NBC's comedies are having a hard time gaining a foothold. "Community," at least, has an established and loyal fanbase who would follow the show anywhere, which may be preferable to freshman or sophomore series that have yet to see their numbers stabilize.
There's also likely to be a level of curiosity attached to "Community's" return, thanks to Dan Harmon's highly-publicized exit as showrunner. In a recent interview with HuffPost TV, star Danny Pudi was optimistic about the direction of the new season, admitting, "I have noticed a little difference [in scripts]. I think it's natural. I think we've noticed differences in all three seasons ... The writers are getting up to speed, and though we miss Dan, I'm excited to see what their new spin is."
UPDATE: NBC released a statement on the matter. "Given the success we've had for the past four weeks -- including winning the first week of the season in A18-49 -- we've decided to continue to concentrate our promotional strength on our new NBC shows that are scheduled Monday through Wednesday and have therefore decided to hold 'Community' and 'Whitney' from their previously announced premieres of October 19th," the network said in a statement. "Without having to launch these comedies on Friday at this time, we can keep our promotion focused on earlier in the week -- plus we will have both comedies in our back pocket if we need to make any schedule changes on those nights. When we have a better idea of viewing patterns in the next few weeks, we will announce new season premieres of 'Whitney' and 'Community.'"
What do you think of the delay? Are you worried about the future of "Community" or "Whitney'"?
PHOTO GALLERY
'Community' Season 4
Calling all HuffPost superfans!
Sign up for membership to become a founding member and help shape HuffPost's next chapter
BEFORE YOU GO