We've all been waiting for a perpetually late, "New Yorker" reading, Starbucks-swigging Barbie and she is finally here.
"Commuter Barbie" — or "Babrie," as her Starbucks cup reads — is a quintessential New York girl. She rides the subway, juggles catcallers, and reads the latest in trendy bestsellers.
The doll is equipped with all the best branded accessories, including a Clif bar and Urban Ears headphones, which one of the young girls in the video quips:
"If she can't hear the catcallers, how will she know to smile?"
But no matter! "Commuter Barbie" leans in, always has a seat at the table, and won't deal with manspreaders.
The parody doll was created by Carina Hsieh, Sex & Relationships editor at Cosmopolitan.com, and Claudia Arisso, a brand packaging designer. The BFFs came up with the idea after finding a mini Strand tote first "during a late night procrasti-walk."
"Claudia mentioned how she'd TOTALLY buy a Commuter Barbie, and then I wouldn't STFU up about it and nagged her until we made it," Hsieh told HuffPost.
And people have totally related to the doll:
If you're like us you couldn't get over the cuteness of the doll's adorable accessories, Hsieh says they were a collaborative effort ― Arisso was responsible for creating the "lil' Canada Goose label, mini manila envelope, Starbucks cup, iPhone, 'New Yorker' (complete with Slack ad on the back cover), Swing Time, and Trader Joe's bag" while she made the Swell bottle "with Sculpey and some leftover chunky NARS nail polish."
"The coat is an Elf on the Shelf accessory pack original and the beanie is a baby sock from a local 99 cent store," she said.
How's that for ingenuity?!
Hsieh says the duo has more ideas up their sleeves, including possible male versions of Barbies — like a "Murray Hill Ken with his ill-fitting suit and oversized loafers? Frat Bro Ken? Lite Thrasher™ type Ken with Supreme MetroCard?"
We're totally here for those Ken dolls, Carina. Parody dolls FTW.
Related
Before You Go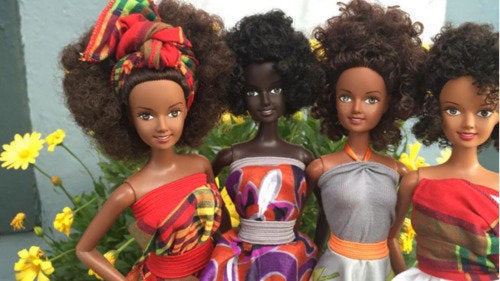 11 Dolls Besides Barbie That Celebrate Diversity
Popular in the Community