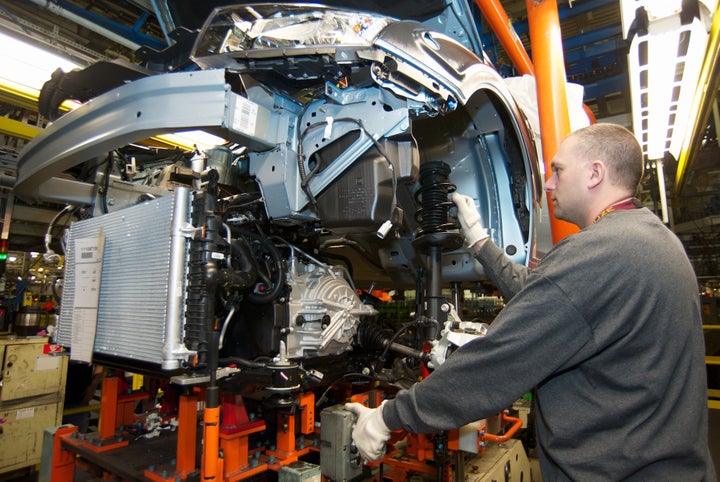 President Donald Trump campaigned on the promise that he would prevent companies from laying off American workers in favor of cheaper foreign labor.
So far, he hasn't delivered. Companies are laying off workers due to foreign competition at a pace of roughly 90,000 per year since Trump's election, according to a new report from Good Jobs Nation, a union-backed worker advocacy group.
That's slightly above the average of 87,000 workers displaced annually in the five years before Trump took office, though the numbers can vary greatly from year to year.
"One-and-a-half years into his presidency, Donald Trump shows no sign of following through on his promise to put an end to offshoring," the organization said in its report.
Good Jobs Nation gets the numbers from the U.S. Department of Labor, which certifies when a mass layoff is caused by trade rather than local business conditions. The government does so because those workers qualify for special unemployment benefits called Trade Adjustment Assistance.
The job losses don't represent a complete picture of how the economy is affected by trade, which economists usually describe as a net benefit for the U.S. ― just not for workers in occupations like manufacturing that have been especially vulnerable to imports.
And Trump has made an effort to deliver on his trade-related campaign promises. This week, for instance, he announced a tentative deal with Mexico to overhaul the North American Free Trade Agreement. The proposal includes a provision aimed at boosting domestic auto manufacturing.
Earlier this year Trump slapped tariffs on imported steel, aluminum and a range of other products imported from China. The tariffs raise the price of imports, thereby giving domestic producers an advantage over their foreign competition. But steel producers' gain is steel users' pain.
"There's always going to be a mixed bag when you implement tariffs," Dean Baker, a labor policy expert with the Center for Economic and Policy Research.
Domestic employment in metalworking industries may have ticked up a tiny bit this year, while several companies that use metal to make other products have announced layoffs due to rising prices. Studies on the impact of the tariffs generally "suggest a small negative overall effect on U.S. gross domestic product (GDP) from the tariffs with employment shifts into the domestic steel and aluminum industries and away from other sectors in the economy," according to a May report from the Congressional Research Service.
"Trump should issue an executive order "blocking the award of lucrative federal contracts to corporations that outsource American jobs to foreign countries.""
Trump may have won his clearest offshoring victory before he even took office, when in November 2016 he helped strike a deal to prevent the Carrier Corporation from closing a factory in Indianapolis and shifting production to Mexico. But a big reason for that victory may have been that Carrier's parent company, United Technologies, does a lot of business with the federal government.
Good Jobs Nation says Trump should issue an executive order "blocking the award of lucrative federal contracts to corporations that outsource American jobs to foreign countries."
HuffPost readers: Have you ever lost a job to offshoring? Tell us about it ― email arthur@huffpost.com. Please include your phone number if you're willing to be interviewed.
By Good Jobs Nation's count, since Trump's election United Technologies has made more than 1,600 workers eligible for Trade Adjustment Assistance ― good for third place on a list of the top 10 federal contractors offshoring jobs.
General Motors, which has $558 million worth of federal contracts ― such as for providing Secret Service vehicles ― topped the list by having sent 2,800 workers into the TAA program, which provides unemployment benefits and training.
A Lordstown, Ohio, GM plant that makes the Chevy Cruze has shed nearly 3,000 workers since 2017 as its production of the vehicle has slowed, according to David Green, president of the United Auto Workers union local. The company has simultaneously maintained a Mexican plant that makes a different version of the Cruze, and Trump has complained that some of those versions have been sold in the U.S.
"We just want the company to be conscious of the community," Green said. "Our opinion is if you want to sell it here, you need to build it here."
A GM spokesman said the Lordstown layoffs stem from declining Cruze sales, an industry-wide trend owing to Americans' increasing preference for light trucks and crossover SUVs instead of sedans. Green said the laid-off workers have nevertheless qualified for TAA benefits.
Theoretically, the Trump administration's NAFTA move could help American auto workers. The tentative deal would require 40 percent of vehicles sold in the U.S. to be made by high-wage workers, which would discourage firms from shifting production to Mexico, where autoworkers have much lower wages.
Frank DuBois, an expert on car manufacturing with American University's Kogod School of Business, said the wage requirement would likely be something companies could game.
"How do I get it up to an average $16 an hour? Do I give all my Mexican workers a 100 percent raise?" he said of potential moves by the companies. "Do I count U.S. marketing executives as part of the labor content? I'm going to look at ways to do that, and I'm going to keep my trade lawyers very busy."
"I don't really think that's going to help us from what I've read," Green said of the potential revision to NAFTA. "But I guess that remains to be seen."
CORRECTION: An earlier version of this story gave the wrong name for the head of the UAW local that represents workers at the GM plant in Lordstown, Ohio. The union president is David Green.
Popular in the Community