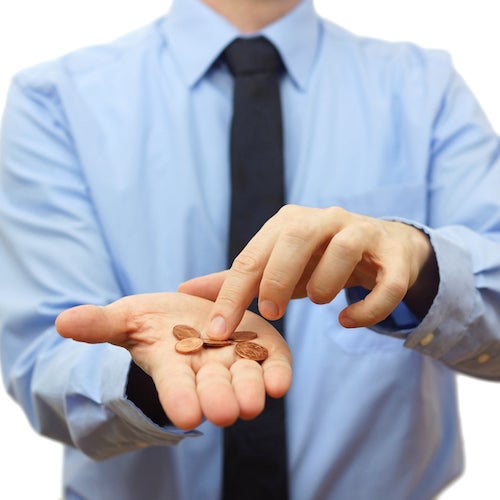 Wal-Mart, the world's largest company and private employer, recently raised the minimum wage of its employees to $10 an hour. Since the company's announcement last year, several of the corporate giant's competitors, including Target and TJX, announced similar base minimum wages for their employees. A $10 per hour wage is $2.75 an hour higher than the federal minimum wage.
Wal-Mart and its competitors are often criticized for paying their employees low wages and for treating them poorly. Many claim the wage increases are a public relation move and that these companies can afford to pay much more. Even at $10 an hour, these companies' workers would still be paid far less than the typical American. The average hourly earnings of all U.S. workers is $23.23.
Wal-Mart and Target have raised wages, others in the retail and service industry continue to pay front line workers $9 and $8 an hour. Some often just pay the minimum wage of $7.25 an hour. 24/7 Wall St. reviewed the largest American companies paying their workers very low wages.
Millions of workers in the United States are currently earning minimum wage or just a few dollars above. David Cooper, senior analyst at left-leaning think tank Economic Policy Institute, discussed the difficulties these low-wage workers face with 24/7 Wall St.
"At $7.25, a minimum wage worker with one child is going to be below the federal poverty line even if they're working full-time, year-round," Cooper said. "There is a federal bill to raise the minimum wage to $12 by 2020. But the reality is that in many parts of the country, you would need more than that minimum wage target in order to have a decent quality of life. In most cities in the U.S., you would probably need at least $15 an hour in order to have a basic decent income."
Cooper explained that because of the nature of the service sector, companies employing these low-paid workers tend to view them as exhaustible resources. This explains the low pay and high turnover that can sometimes reach nearly 100% in a single year.
Further, these companies have a high share of part-time workers. Indeed, a massive share of frontline workers in the service industry is employed part time. Of Dollar Tree's 167,800 employees, about 112,00, or two-thirds, are employed in a part-time capacity. Of the 140,000 workers employed by Kohl's, 77% are part-time workers.
Companies, he explained, do this to be cost-effective, as part-time workers allow for greater flexibility, and also typically do not need to be paid benefits like health care. In addition to missing out on these benefits, Cooper explained, these workers face other problems. Such workers are typically forced to find another job to make ends meet, but if their employer requires them to be flexible, maintaining a second job can be impossible. Cooper added it can also hinder professional development. "if they're constantly shifting from job to job, they're also never really focusing on building their skills."
The federal minimum wage of $7.25 an hour does not apply to tipped employees. While fast food companies on this list, including McDonald's and Yum! Brands, do not employ tipped workers, fast casual dining companies such as Darden, which is on this list, do. Companies that employ tipped workers are only required to pay them $2.13 an hour if workers earn the federal minimum wage through their tips.
The companies paying their workers so little are mostly not struggling -- they pay executives very high salaries and often report large and increasing profits. Wal-Mart raised its minimum wage at U.S. stores to $10 an hour, but it would take 952 full-time employees working year round to match the salary of CEO Douglas McMillon. The profits of most of the companies on this list rose last year. Even among the companies that reported lower net income, most still posted hundreds of millions, if not billions of dollars in profits. Low- and minimum-wage workers involved in last year's fast food strike point to these figures when demanding an increase in wages.
Opponents of raising wages in the service sector explain that asking companies to raise wages is counterproductive for employers and employees alike. allowing companies to set the wages they prefer to pay allows them to hire as many workers as possible. This will likely be more common argument as automation becomes an increasing factor in low-skill work, and employers need to weigh higher salaried employees with potentially cheap and more effective machines. minimum-wage jobs, it has been argued, also create opportunities for young adults or college students entering the workforce for the first time.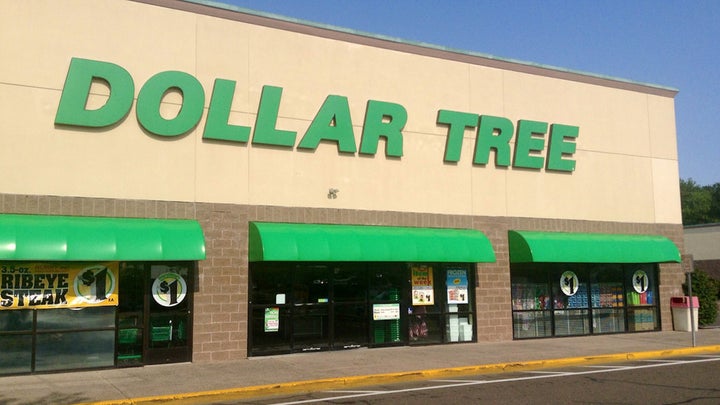 10. Dollar Tree, Inc. (NasdaqGS:DLTR)
Workforce: 167,800
Annual revenue: $15.50 billion
CEO: Bob Sasser
CEO compensation: $9.53 million
Discount store Dollar Tree has locations in all but two U.S. states, as well as in a number of Canadian provinces. The 60-year old company employs more than 160,000 workers at its nearly 7,900 stores. Dollar Tree cashiers can expect to make just $8.22 an hour, roughly $1 above minimum wage. An assistant manager at Dollar Tree makes an annual salary of $41,466. In contrast, the company's CEO Bob Sasser annual salary of $9.53 million is more than 223 times that figure.
In addition to earning close to minimum wage salaries, many Dollar Tree workers likely need to find a second job to make ends meet as 112,500 of the company's 167,800 workers are part-time employees.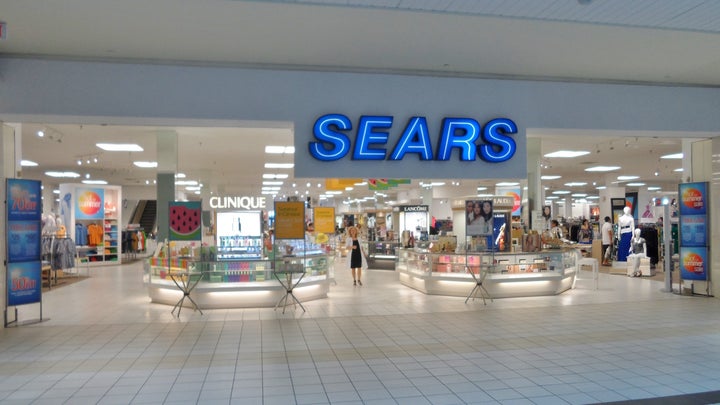 9. Sears Holdings Corporation (NasdaqGS:SHLD)
Workforce: 178,000 (U.S.)
Annual revenue: $25.15 billion
CEO: Edward Scott Lampert
CEO compensation: $4.3 million
Sears Holdings Corporation is the parent company of the Sears and Kmart brands. Frontline employees at these stores are not paid especially well. The average pay of hundreds of cashier salaries reported to job review website Glassdoor is $8.34 per hour.
While cutting labor costs by paying low wages appears to be helping most companies on this list achieve tremendous financial gains, this does not seem to be the case with Sears. Comparable sales have declined each year for over a decade. As a consequence, store closures and layoffs have become routine in recent years. The company's U.S. workforce of 178,000 is down from 315,000 in 2007.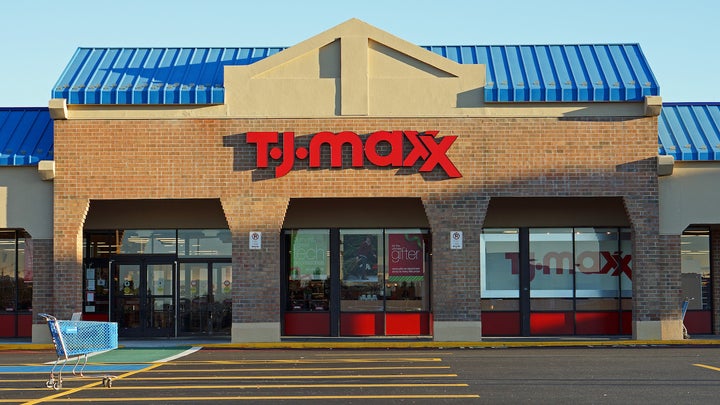 8. The TJX Companies, Inc. (NYSE:TJX)
Workforce: 216,000
Annual revenue: $30.95 billion
CEO: Ernie L. Herrman
CEO compensation: N/A
The TJX Companies, which owns and operates retailers such as T.J. Maxx, Marshalls, and HomeGoods, employs 216,000 people. The company announced last year it would increase the minimum wage of workers who had been employed at the company for at least six months to $9 an hour in 2015, and to $10 an hour this year. Assuming a 40-hour workweek and 52 weeks a year, $10 an hour comes to $20,800 annual wage. As of January 31, CEO Carol Meyrowitz stepped down and was replaced by Ernie Hermann. Before she departed, Meyrowitz received an annual salary of $19.6 million.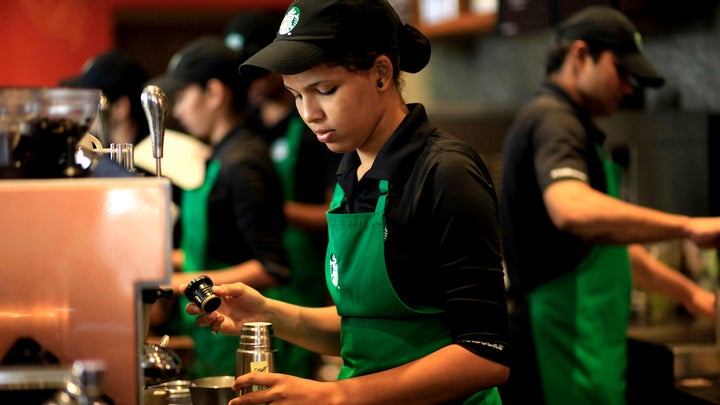 7. Starbucks Corporation (NasdaqGS:SBUX)
Workforce: 238,000
Annual revenue: $19.16 billion
CEO: Howard D. Schultz
CEO compensation: $20.09 million
As is generally the case in the service industry, wages at Starbucks are some of the lowest in the United States. In addition to their meager paychecks, the substantial number of Starbucks employees working part time also lack of benefits and have low job security. Starbucks employees have also complained of erratic hours, which can make ordinary life planning a challenge.
CEO Howard Schultz's salary of over $20 million is in stark contrast with the low pay of his employees. His compensation is one of the highest even compared with other chief executives.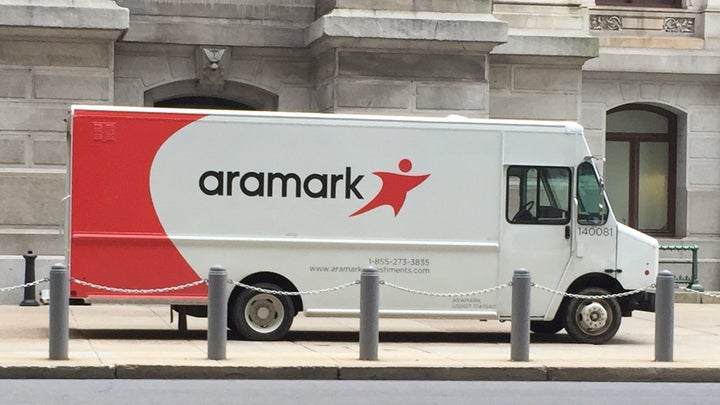 Workforce: 265,500
Annual revenue: $14.33 billion
CEO: Eric Foss
CEO compensation: $21.14 million
Philadelphia-based Aramark provides dining services, uniforms, and other food service logistics for corporations and educational institutions. This September, a group of female lunch servers at a public school in Pawtucket, Rhode Island, threatened to strike, citing a substantial gap between their salaries and the salaries of men doing comparable work. Aramark agreed to raise the employees' salaries by a total of $1.20 over the next three years.
As of the end of the most recent fiscal year, Aramark employed 265,000 people worldwide, 110,000 of whom in a part-time capacity.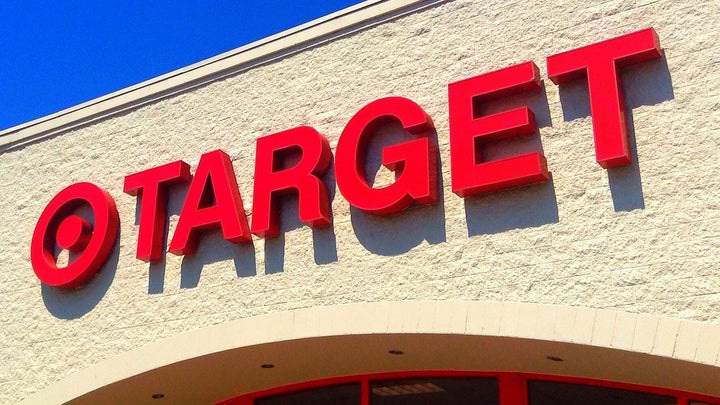 5. Target Corp. (NYSE:TGT)
Workforce: 341,000
Annual revenue: $73.79 billion
CEO: Brian Cornell
CEO compensation: $16.95 million
Target had a very successful 2015 fiscal year. After reporting an operating loss of $1.3 billion in 2014, Target reported net income of $3.3 billion in 2015. Based on hundreds of employee reports at Glassdoor.com, the typical cashier at Target makes around $9 an hour. A sales floor team member earns an average $9.19 an hour. However, Target recently announced it would raise its minimum pay to $10. Based on this figure, a Target employee working 40 hours a week for 52 weeks a year would earn $20,800 annually. Target CEO Brian Cornell made $16.95 million last year.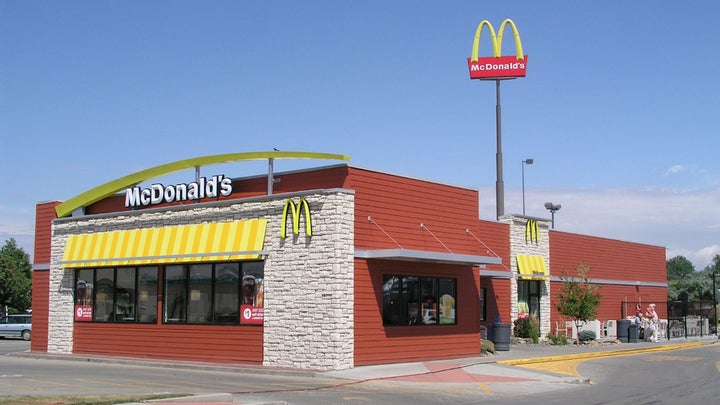 4. McDonald's Corp. (NYSE:MCD)
Workforce: 420,000
Annual revenue: $25.41 billion
CEO: Stephen Easterbrook
CEO compensation: $7.91 million
Thousands of low-wage workers protested for higher wages outside McDonald's headquarters last year, one of a string of related demonstrations reported in recent years. The protests are a strong indication that for many employees, including those at McDonald's, wages are inadequate. Amid flagging sales in recent years, the hamburger chain replaced CEO Don Thompson with Stephen Easterbrook earlier this year. With mounting protests, the company announced a pay raise for its employees, although the move was criticized as a public relations stunt since the increase would only apply to company-owned stores, which only account for around 10% of McDonald's restaurants. The vast majority of stores are franchises.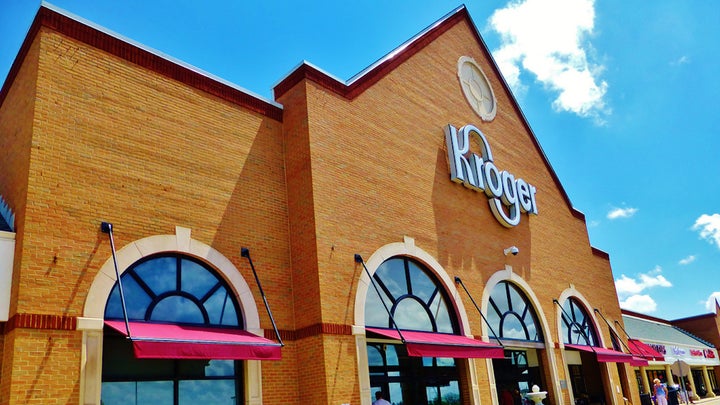 3. The Kroger Co. (NYSE:KR)
Workforce: 431,000
Annual revenue: $109.83 billion
CEO: W. Rodney McMullen
CEO compensation: $11.75 million
Supermarket chain Kroger employs over 430,000 workers at more than 2,700 stores. Based on hundreds of employee reviews on Glassdoor, the average front-line worker at Kroger locations do not earn much more than the minimum wage -- cashiers earn an average of $8.39 an hour. Working full-time, year round, a cashier earning these wages would make $17,451 annually before taxes. In contrast, company Chairman and CEO W. Rodney McMullen earned $11.75 million last year. Meanwhile, company profits have steadily increased in recent years. Net income of the Cincinnati-based company rose from $2.73 billion in fiscal 2013 to $3.58 billion in fiscal 2015.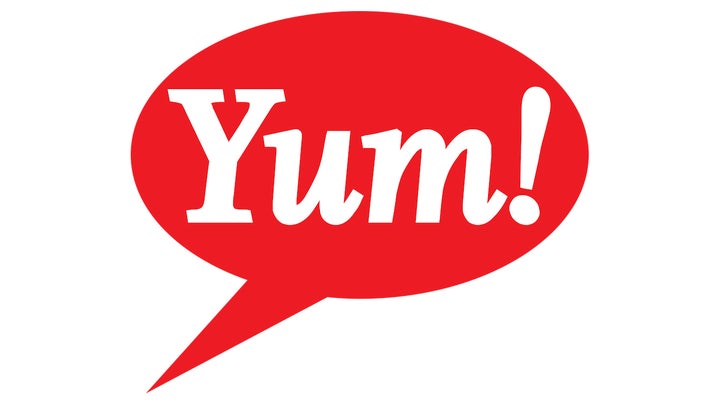 2. Yum! Brands, Inc. (NYSE:YUM)
Workforce: 505,000
Annual revenue: $13.11 billion
CEO: Greg Creed
CEO compensation: $7.49 million
Yum! Brands is the owner and operator of fast food chains KFC, Pizza Hut, and Taco Bell. The vast majority of workers at these fast food chains are part-time, hourly paid employees. Based on salaries reported to Glassdoor, delivery drivers, crew members, shift managers and cooks are paid as little as $8 per hour.
Most of Yum! Brands restaurants are located in the United States. With success in countries such as China, however, 70% of KFC restaurants are located overseas, where working conditions are often considerably worse than they are for low-paid U.S. employees.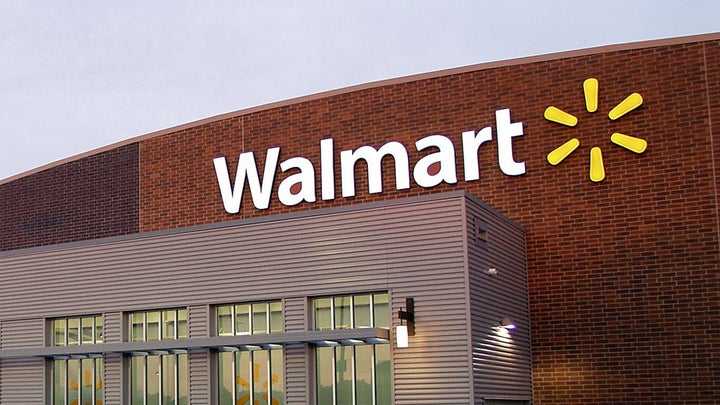 1. Wal-Mart Stores Inc. (NYSE:WMT)
Workforce: 2,300,000
Annual revenue: $478.61 billion
CEO: C. Douglas McMillon
CEO compensation: $19.81 million
C. Douglas McMillon's annual compensation of nearly $20 million is one of the largest even among U.S. chief executives. Yet McMillon's salary pales against the wealth accumulated by the Walton Family, two of whom currently serve on Wal-Mart's board of directors. With a combined worth of more than $140 billion, the Waltons are the wealthiest family in the United States by a wide margin. Meanwhile, Walmart employs the largest force of low wage workers in the world.
After four consecutive years of revenue gains, Walmart reported a 0.7% decline in revenue in fiscal 2016 compared to fiscal 2015. Walmart's latest revenue of $482.13 billion still dwarfs the revenue of any other U.S. company.
Calling all HuffPost superfans!
Sign up for membership to become a founding member and help shape HuffPost's next chapter