With National Volunteer Week on the horizon, any company engaged in employee-led corporate philanthropy may want to consider how to join the celebration. Observed from April 10-16, National Volunteer Week recognizes those who are impacting their communities through service and encourages more people to get involved in volunteering.
National Volunteer Week has grown steadily each year since it was launched in 1974, offering thousands of projects across the country and helping people understand that their contributions can put them at the center of social change. With a theme of Celebrating Service, National Volunteer Week 2016 continues a longstanding tradition of honoring ordinary people who accomplish the extraordinary through giving back, and in so doing inspire others to follow their lead.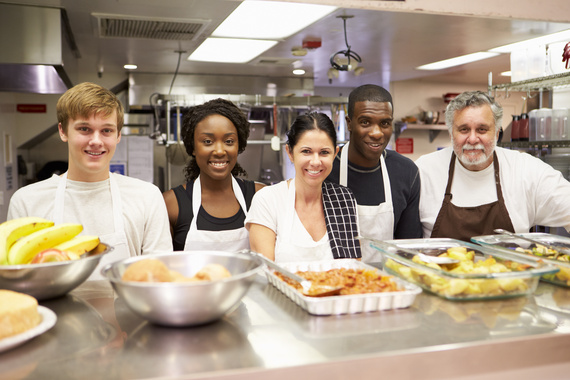 Companies that prioritize employee volunteering can and should use National Volunteer Week to shine a spotlight on this important aspect of employee engagement. It's an opportunity to re-energize employees around what volunteering can mean to them, their communities and their companies.
And as I was reflecting on this year's Volunteer Week, I also thought about what volunteering means to families. Companies can absolutely spark increased interest in employee volunteering when they make it a family affair.
"But my kid is too young," you say. Well that didn't stop Joshua Williams from launching his own charity to feed the hungry when he was four and a half years old. Moved by the plight of ordinary people just like him who were going hungry, Joshua and his family started Joshua's Heart, a nonprofit focused on feeding the hungry through a range of programs that engage volunteers of all ages. From backpack distribution programs to junior advisory boards, Joshua's Heart is a surprisingly robust and innovative enterprise whose brainchild is, well, a child.
Of course, kids don't have to be budding social entrepreneurs launching their own businesses to volunteer. Volunteering in any capacity teaches kids that they can make a difference, and when you give back as a family, parents get the opportunity to serve as models of inspiration. That's why Points of Light, a nonprofit dedicated to engaging more people in volunteer service, created Family Volunteer Day, to celebrate the power of families who volunteer together.
But volunteering with your family shouldn't always have to be separate from volunteering with your colleagues. Companies would be well-served to encourage the bonding, pride and scientifically proven sense of happiness that comes from giving back and make it easy for employees to occasionally involve their whole families.
If you'd like to inspire your employees to start volunteering, National Volunteer Week is an ideal time to reframe corporate volunteering as family volunteering for this special week of the year.
Here are a few ideas for how employees can give back with their families, whether being "official" volunteering endeavors with a nonprofit or more indirect ways of making their communities stronger. (Thanks to Laura Grace Weldon and Points of Light for some of these suggestions):
Decorate reusable grocery bags and fill them with their favorite non-perishable food items. Feeding America offers a Food Bank locator, searchable by zip code.
Another way to help out at a local food shelter is by asking if they'll allow families to work together to set up tables, serve beverages and clean up.
Stuff new, warm socks with water bottles and granola bars to give to homeless men and women you pass on street corners.
Volunteer to deliver Meals on Wheels in your neighborhood.
Help someone struggling with an illness by doing errands or cooking for them.
Grab gloves or a pick up tool and pick up litter in your neighborhood or wildlife area.
For teens aged 16 and up, volunteer for the National Park Service Youth Conservation Corps and help protect natural and historical resources in your area.
For families with older kids, volunteer with Habitat for Humanity and help build a house together.
Volunteer with Red Cross Youth Services through your local Red Cross branch. And make sure kids and parents take a CPR/first-aid course so everyone is ready to volunteer lifesaving services if necessary.
Write letters to deployed service members. For more snail mail ideas, check out 38 Unexpected Ways to Revel in Snail Mail.
Volunteer to help out with Special Olympics.
Network with other young people working on causes and get small grants to fund your project through Do Something.
Make treats and deliver them to your local police or fire station.
Volunteer as a family to help at a Ronald McDonald House in your area.
Causecast partner VolunteerMatch uses a zip code locator to allow users to search by zip code for volunteer opportunities throughout the U.S. And these opportunities are marked with special icons to indicate if kids, teens or seniors are welcome to volunteer. Volunteers can tailor their search to cause interests or find opportunities with specific organizations, and you can even search for virtual volunteering opportunities.
This National Volunteer Week, consider how you can inspire your employees to get their whole families involved in giving back and what your company do to support this effort. Paid time off to volunteer? Dollars for doers to put corporate dollars towards favorite charities that families volunteer for? Encourage story capture to share with the rest of the company? However your company supports volunteering as a family affair this National Volunteer Week (and beyond), your employees are sure to be grateful for this consideration and more engaged in your program. To find out more about "strategic volunteering" and how to get the most from your corporate volunteer program, sign up for a webinar by America's Charities that I'll be participating in on April 5th at 2pm ET.
REAL LIFE. REAL NEWS. REAL VOICES.
Help us tell more of the stories that matter from voices that too often remain unheard.