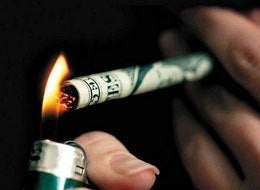 If you smoke, you'll pay more. That's the message and policy coming out of some of the country's largest corporations.
As of July 1, employees at Macy's who admit to using tobacco will be charged an extra $420 a year for health coverage, reports Bloomberg Businessweek.
Macy's is joining the ranks of companies like PepsiCo, which requires its smoking employees pay an extra $600 year, and publisher Gannett, which charges an additional $720. Some companies like Humana, Union Pacific and Scotts Miracle-Gro flat out refuse to hire smokers.
According to the Center for Disease Control and Prevention, smoking costs the U.S. more than $193 billion a year, and a smoking employee is 18 percent more expensive for employers than a nonsmoker, reports the magazine.
Companies can either cut benefits or do what they can to reduce lifestyle choices that lead to higher medical costs:
Businesses also are looking at how they can get workers to keep closer tabs on their health. Scotts Miracle-Gro cuts insurance rates up to $60 monthly for workers and spouses who get their weight, cholesterol and blood pressure checked regularly. Union Pacific offers free fitness club access.
And more companies are taking note of those choices. The Society for Human Resource Management estimates that about 59 percent of companies offered wellness programs last year, and 28 percent paid bonuses for employees who quit smoking or achieve health goals.
In 2010, Whole Foods launched their "Team Member Healthy Discount Incentive" program, aimed at controlling health care costs. The voluntary program allowed workers to increase their in-store discounts if they met specific health criteria like nicotine use, blood pressure, cholesterol level and body mass index.
Whole Food's program was met with criticism, and so are policies that refuse employment to smokers or levy extra insurance charges against them. Health advocacy group, the American Legacy Foundation told Businessweek that the polices discriminate against low-income and less educated workers.
While it might make sense to charge smokers more or refuse employment, but is it legal?
"Being a smoker is not a category that is protected under the law," according to attorney Lisa Coulter. She told USA Today that more employers are seeking to regulare their workers' conduct both in and outside the workplace on everything from smoking to what they can post on their Facebook page.
REAL LIFE. REAL NEWS. REAL VOICES.
Help us tell more of the stories that matter from voices that too often remain unheard.