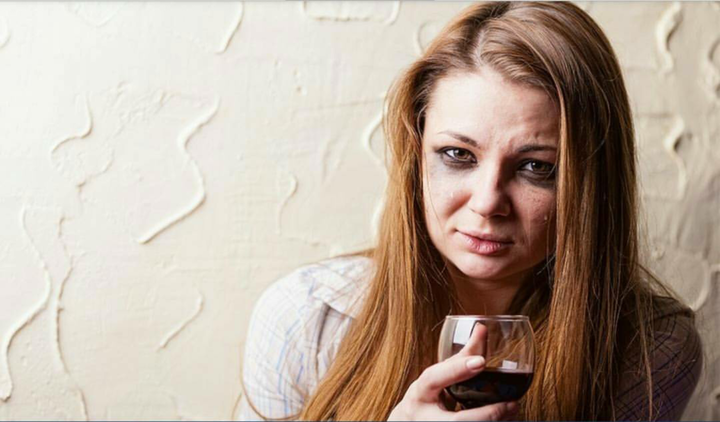 KnowThyCustomer is a company that assists businesses in diving deeper into "who" their customers and employees are. According to their Facebook page, they help their clients through every stage of the customer journey; from finding new customers to knowing more about existing customers to aiding compliance in removing unwanted customers.
The company, based out of New York City, recently shared the following post on their Instagram Account.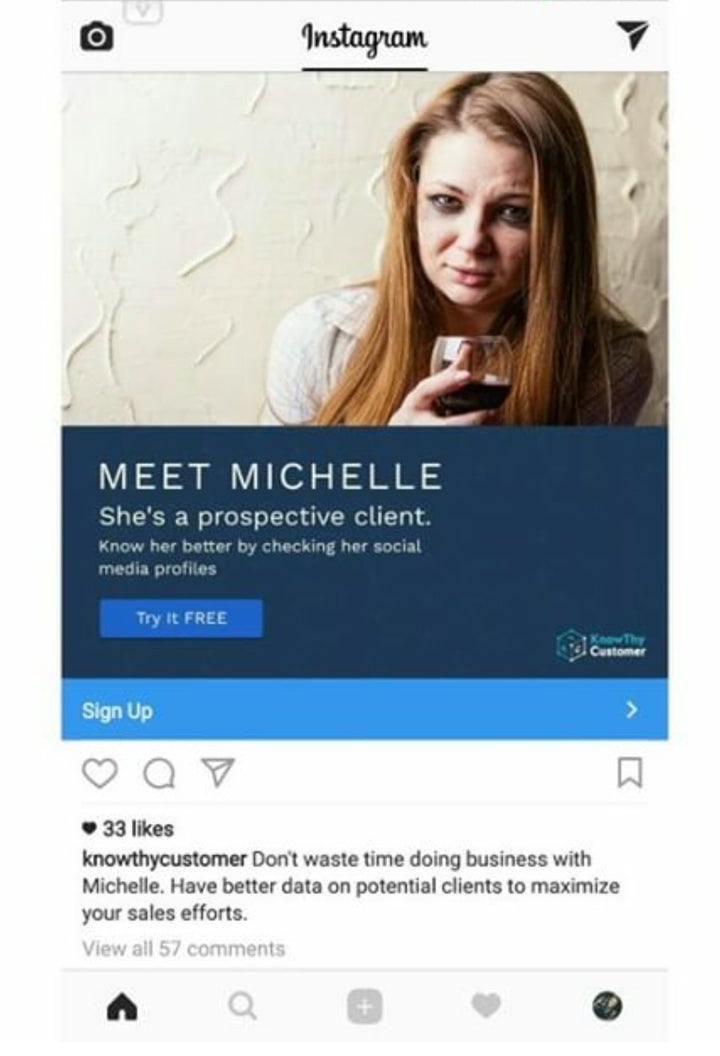 This company attempted, and failed, to use this stock photo of a woman to sell their services. To make matters worse, their caption reads, "Don't waste time doing business with Michelle."
By using this photo, along with its corresponding caption, they are saying that this woman doesn't deserve assistance from a company and/or that she is not suitable for employment, because of her appearance/mental state.
KnowThyCustomer is pushing their clientele to invest in their software to weed out people "like" Michelle.
As a company that aims to help other businesses vet their clients, this tasteless attempt at clever wit does nothing but perpetuate the stigma still surrounding those battling mental illness and addiction.
Though the stock photo itself intensifies the common stereotypes attached to addiction and mental illness, this woman, with her frown, tired eyes, and smeared makeup, is representing pain ― and the glass of wine in her hand points to self-medication.
A quick reverse image search of the photo on Google led me to Shutterstock.com, a popular stock image gallery. The description of the same photo used by KnowThyCustomer reads, "Young beautiful woman in depression, drinking alcohol."
Every single site where I found this image used by KnowThyCustomer depicted the photo model as "depressed," "hysterically depressed," and/or "disheveled." Some of the descriptors can be found below: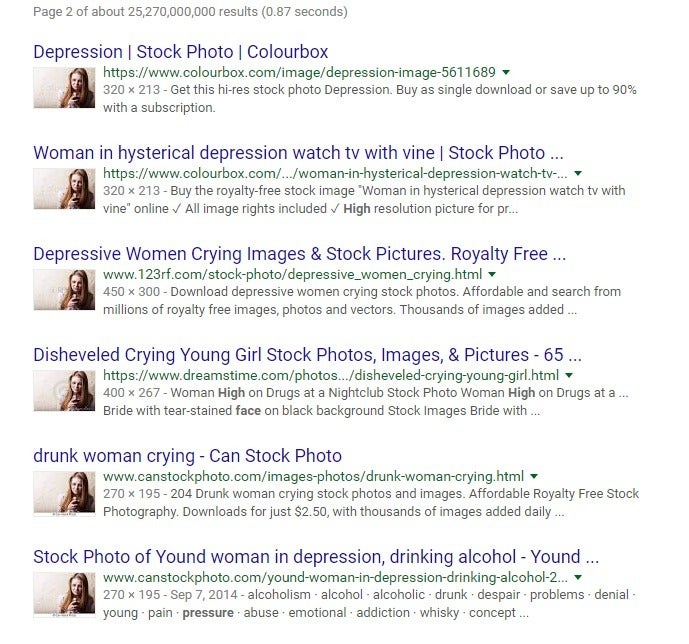 Other sites that have used this same photo used it in a manner relative to their mission. For example, Health 24, South Africa's leading health and lifestyle website, used the photo to spread awareness of high blood pressure, hypertension, and alcohol intolerance.
The stigma of mental illness, although more often related to context than to appearance, remains an influential negative attribute in society. While many people work tirelessly to diminish the stigma, companies like KnowThyCustomer are just adding fuel to the fire for a couple of laughs and "likes."
KnowThyCustomer, even if just for a brief moment, embraced a harmful attitude and discriminating nature toward those with mental health problems. In the bigger picture, the social effects of this could include marginalization, poor community support and quality of life, and lowered self-esteem from those triggered by the post.
One in five adults in the United States suffer from a mental illness each year. If KnowThyCustomer stands by their own marketing, they are urging businesses to not "waste their time" on nearly 43.8 million adults in the United States.
Those battling these illnesses live with their own shame and guilt that is only fostered by KnowThyCustomer's Instagram post. Furthermore, it has been proven that perceived stigma could lead to poorer treatment outcomes.
It's 2017. The world should know by now that anxiety and panic disorders, bipolar disorder, depression, eating disorders, schizophrenia, substance use disorder, and so on are not promotional tools – they are illnesses.
The post has since been deleted ― I'd assume due to viewer feedback.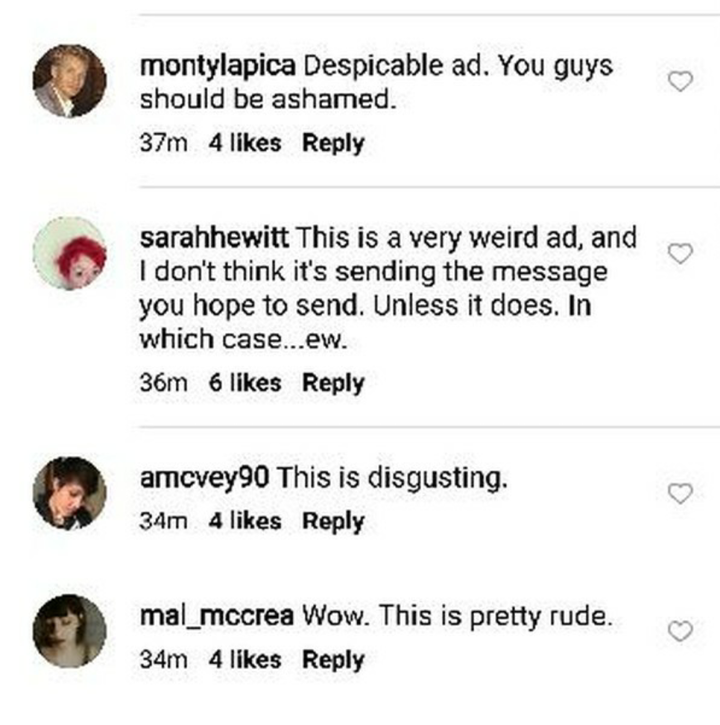 Need help with substance abuse or mental health issues? In the U.S., call 800-662-HELP (4357) for the SAMHSA National Helpline.