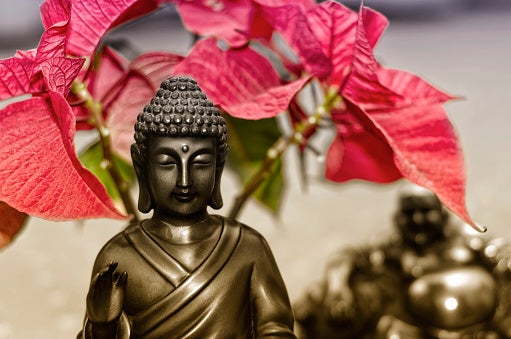 "There is a saying in Tibetan, "Tragedy should be utilized as a source of strength." No matter what sort of difficulties, how painful experience is, if we lose our hope, that's our real disaster." – Dalai Lama
I've been addicted to a variety of different substances, some healthy, like writing or music, others incredibly unhealthy, like booze and drugs and toxic relationships. The hardest thing I've ever had to quit was the idea that I was going to be free just by choice, without doing the work, without doing any work, just by making a decision – that I was done-zo.
You hear me? I'm done. Take this from me. And let me be free.
I've made the decision to stop abusing drugs and alcohol a hundred or so times - perhaps, even a thousand times. I could always, always quit for a bit. But, I could never stay stopped. People have continuously asked me to share about my "rock bottom" moment or the moment in which sobriety finally "stuck."
And the truth is, I didn't stay stopped because of a rock bottom. I've had too many rock bottoms to count. I stayed stopped because I put one foot in front of the other. I stopped thinking I deserved the whole world, and instead, started thinking about what the world deserved.
"When we are motivated by compassion and wisdom, the results of our actions benefit everyone, not just our individual selves or some immediate convenience. When we are able to recognize and forgive ignorant actions of the past, we gain strength to constructively solve the problems of the present." – Dalai Lama
I believe that love and compassion are what saved me from my addiction. It is why I have chosen to live a life of sobriety: clean, present, aware, and always in the practice of great love and gratitude for my life and my fellow human beings. Recently, I've been reading more about The Dalai Lama and the process of love and compassion.
The Dalai Lama says this:
"I believe compassion to be one of the few things we can practice that will bring immediate and long-term happiness to our lives. I'm not talking about the short-term gratification of pleasures like sex, drugs or gambling (though I'm not knocking them), but something that will bring true and lasting happiness. The kind that sticks."
I believe that I was chasing what The Dalai Lama refers to as short-term gratification. I thought I was entering into a world where I could finally be present, in the moment, without worrying about what my future would entail. I truly believed that drugs allowed me to be present. And maybe they did, but it never lasted.
I could never maintain the peace and ease of living in the now until I gave up what no longer served me. Like I mentioned above, I said goodbye to booze and drugs, selfishness and toxic relationships. I chose long-term happiness over short-term pleasure and it was the best decision I could have ever made.
"We can never obtain peace in the outer world until we make peace with ourselves" – Dalai Lama
I have been fascinated with the Tibetan way of life and the teachings of The Dalai Lama for many years, prior to ever being addicted to any substance. However, when I discovered the gift of inner peace, I started studying his teachings more.
One of the best tools I have incorporated into maintaining a state of inner peace and joy is waking up in the morning and reading his teachings. I start each morning with the following words by him:
"Today I am fortunate to be alive, I have a precious human life, I am not going to waste it. I am going to use all my energies to develop myself, to expand my heart out to others; to achieve enlightenment for the benefit of all beings. I am going to have kind thoughts towards others, I am not going to get angry or think badly about others. I am going to benefit others as much as I can."
When I read these words, I am immediately directed back to the practice of compassion. The Dalai Lama believes that our purpose in life is 1) to seek happiness and 2) to help others. He believes that we find this happiness through the practice of compassion.
"If you want others to be happy, practice compassion. If you want to be happy, practice compassion." ― Dalai Lama
"Compassion is not religious business, it is human business, it is not luxury, it is essential for our own peace and mental stability, it is essential for human survival." – Dalai Lama
Dictionary.com defines compassion as: a feeling of deep sympathy and sorrow for another who is stricken by misfortune, accompanied by a strong desire to alleviate the suffering.
When I stated that the reason my sobriety stuck was because: "I stopped thinking I deserved the whole world, and instead started thinking about what the world deserved," I realize I had actually defined compassion in my own words. And compassion was in fact, the key, to my recovery and my sobriety.
Last week, I was invited to attend a gathering with the State Oracle of Tibet whose calling is to assist and protect His Holiness, (The Dalai Lama), through the interpretation of visions and dreams. As I read further about the State Oracle of Tibet, I discovered that he is a keeper of wisdom and symbolizes the usefulness of the unification of ancient teachings and modern scientific knowledge. According to my own research, oracles remain an important part of the Tibetan way of life, and they rely on them for various reasons; to foretell the future, and sometimes to act as healers.
I believe that we all have the ability to be healers. I consider myself to be a healer as my work consists of helping other people who are suffering from addiction discover the gifts of sobriety. In my work, I have learned that the top reason that people are deferred from getting the help they need is the stigma and shamed that is attached to addiction. As a recovery advocate, my goal is to help people see their true nature, as opposed to the label society has slapped on them. We are all born the same; we are born as pure love. We are not addicts and alcoholics; we are so much more.
"There is only one important point you must keep in your mind and let it be your guide. No matter what people call you, you are just who you are. Keep to this truth. You must ask yourself how is it you want to live your life. We live and we die, this is the truth that we can only face alone. No one can help us, not even the Buddha. So consider carefully, what prevents you from living the way you want to live your life?"
And so I ask you: "what prevents you from living the life you want to live?"
REAL LIFE. REAL NEWS. REAL VOICES.
Help us tell more of the stories that matter from voices that too often remain unheard.
This post was published on the now-closed HuffPost Contributor platform. Contributors control their own work and posted freely to our site. If you need to flag this entry as abusive,
send us an email
.