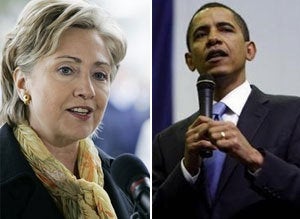 At the Compassion Forum, Hillary Clinton commented on Obama's remarks about economically-depressed voters, saying they seemed "elitist, out of touch and, frankly, patronizing," and pointed to what she described as a perception of Al Gore and John Kerry that they "did not really understand or relate to or frankly respect their ways of life."
i do think it raises a lot of concerns, and we've seen that exhibited in the last several days, by people here in Pennsylvania, in Indiana where I was yesterday, and elsewhere, because it did seem so much in line with what often we are charged with. Someone goes to a closed door fund-raiser in San Francisco and makes comments that do seem elitist, out of touch and, frankly, patronizing. That has nothing to do with him being a good man or a man of faith. We had two very good men and men of faith run for president in 2000 and 2004. But large segments of the electorate concluded that they did not really understand or relate to or frankly respect their ways of life.
Barack Obama also spoke about the reaction to his remarks at the San Francisco fundraiser:
Watch the exchange with CNN's Campbell Brown:
CNN is airing a "Compassion Forum," featuring the first back-to-back appearances from Barack Obama and Hillary Clinton since Obama's remarks about economically-depressed small town voters were reported. Here's a description of the event from Messiah College in Grantham, Pennsylvania, where the event is being held:
Messiah College has been selected to host The Compassion Forum, an unprecedented bipartisan presidential candidate forum dedicated to discussing pressing moral issues that bridge ideological divides within our nation. Senator Hillary Clinton and Senator Barack Obama have accepted the invitation to participate in the Forum. Senator John McCain has thus far declined the invitation, which is still open. The Compassion Forum is scheduled for 8 p.m. on Sunday, April 13, in Brubaker Auditorium, and will be covered by mainstream media and religious media outlets alike. CNN is the exclusive broadcaster of The Compassion Forum and will televise and stream the event live from 8-9:30 p.m.

The Church Communication Network (CCN) will broadcast the event to tens of thousands of people of faith in at least 1,000 congregations nationwide on April 20, the Sunday evening before the Pennsylvania primary.

Now more than ever, Americans motivated by faith are bridging ideological divides to address domestic and international poverty, global AIDS, climate change, genocide in Darfur, and human rights and torture. The Compassion Forum will provide the opportunity for candidates to discuss how their faith and moral convictions bear on their positions on these important issues.

The Compassion Forum will be a unique and unprecedented event. Each candidate will participate in a separate substantive conversation. This will not be a debate. Questions will be posed by co-moderators Jon Meacham, editor of "Newsweek," and Campbell Brown, anchor of CNN's Election Center.
Check back to The Huffington Post for updates and video highlights.
Popular in the Community