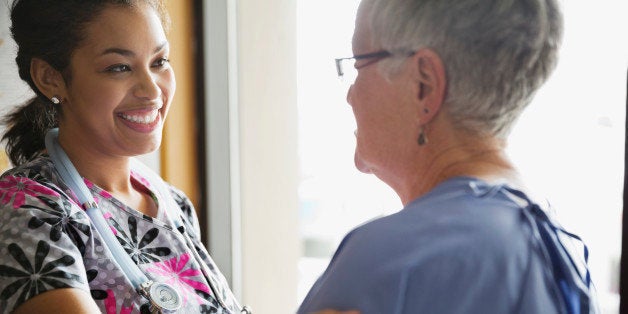 Sure, a doctor's medical knowledge and guidance is of utmost importance when you're receiving care for a condition such as cancer. But what is also important is a doctor's compassion, which is the ability of the doctor to actively and deeply imagine the suffering a patient is going through. But what does this look like? What are the figures of speech, or manners of communication, that best convey compassion from a doctor to a patient?
Researchers at the University of Rochester Medical Center recorded and catalogued instances of compassionate communication between 23 Rochester-area oncologists and 49 patients, who all had stage III or IV (advanced) cancer. There were 49 recorded encounters that were analyzed; the encounters occurred between November 2011 and June 2012. The analysis of the recordings is published in the journal Health Expectations.
Patient: "I should just get a room here."

Doctor: "Oh, I hope you don't really feel like you're spending that much time here."
In this exchange with a patient who was concerned about drinking two liters of barium sulfite, a doctor shows how humor can convey compassion:
Doctor: "If you just get down one little cup it will tell us what's going on in the stomach. What I tell people when we're not being recorded is to take a cup and then pour the rest down the toilet and tell them you drank it all (laughter)… Just a creative interpretation of what you are supposed to take."

Patient: "I love it, I love it. Well, I thank you for that. I'm prepared to do what I've got to do to get this right."
Researchers also noted that the tone of voice, as well as pauses in speech, conveyed emotion and attitude.
"Compassion is one of what I call the four C's; along with competency, communication and convenience, these are things patients should be able to expect from their doctors," Jain wrote. "Compassion and communication skills are part of a good bedside manner, something that medical schools strive to teach."
Related