When I was around 13 years old, I was visiting family in California and we were walking along Venice Beach. There was a man who set up a booth along the boardwalk showing graphic details about how "food animals" were inoculated, caged, confined and eventually slaughtered. I read it in great detail, but then went on with my merry life and my vacation, seemingly unchanged.
Fast forward 10 years later: I'm 23 and living in California and walking down that same beach. About 100 feet ahead, in the same location, I see the same guy behind a similar booth. I am sure it is the same guy, and immediately, everything I saw 10 years prior clicks. What I learned at his makeshift booth 10 years ago immediately changes from knowledge to knowing, from information to wisdom. In a flash I realized the huge amount of suffering that was being caused by me. I realized I could change how I eat in order to prevent the suffering of others. More importantly, I realized that my life matters, and that the numerous daily choices I made could either contribute to, or ease, suffering worldwide.
That was the beginning of how I started thinking not just about what I ate, but about who I ate. This one moment made me reevaluate all the other choices I was making in my life. I began to dedicate my life to choosing kindness over harm, inter-being over ego-being, compassion over indifference.

This did not happen overnight -- it took 10 years for this insight to steep inside me, and then a stimulus to conjure it up. When I was 12, I had no idea that the man in the booth on Venice Beach would change the fabric of my life and be the basis of the philanthropic work I do now.
I share this story because we all have those alchemical AHA! moments where we are influenced and inspired deep in our core. Where we cannot go back to the way things were before we opened our eyes (and if we did, it would be in total violation to the core of our being). These moments are the building blocks of a lifetime of compassion and an unwavering commitment to activism. They are the insights that reawaken our intuitive wisdom and inherent goodness.
Recently, I had the honor of interviewing Chloe Falkenheim, one of the Pollination Project's youngest grantees. Chloe has already walked a similar path -- but she's just 16 years old. She has had the fortune to awakening to the suffering of others, and her own personal power to speak on behalf of those without a voice, at a very young age.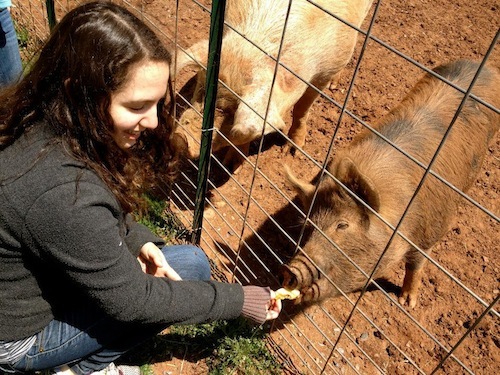 Chloe Falkenheim's path to activism started when she was three years old. She watched the movie Chicken Run and learned that the chicken she ate was the same as the chickens in the movie. When she was a little older, she read Charlotte's Web and could not tolerate the idea that people ate pork. Finally, she started to educate herself about eating a healthy plant-based diet through podcasts from Colleen Patrick Goudreau. Through the podcast, and learning about other young activists like Julia Butterfly Hill, she realized it wasn't just about changing her diet, but about finding her voice as a young animal rights and environmental activist.
Chloe created a vegetarian club at her school and continues to improve it. She explains, "you can't be a good activist if you can't learn from your mistakes." Chloe's passion is helping other youth show their compassion for animals and for the planet. She was fortunate that her parents supported her in becoming vegan, but acknowledges that many other parents are fearful that their kids will suffer from poor nutrition, and they don't want to have to cook a separate meal for their vegetarian child.
Chloe just launched a resource-rich website that educates young people on what they need to know to take their first, healthy steps towards a vegan diet. She helps them talk to their parents, to eat healthily, to eat compassionately, to combat the common misconceptions about veganism, and to find their voice. Chloe says, "Kids are not bitter about the world and don't think 'here's no way to change that,' they think "yes I can change that."
Chloe's site is also a hub for other young animal rights and environmental leaders to come together all over the world. She is starting a virtual "Vegetarian Youth Alliance" with other teens who have or want to start vegetarian clubs in their schools.
At age 16, Chloe has already done so much to educate other young people about compassionate choices. And it all started with an "aha!" moment when she was three.
What was one of your "Aha!" moments? When have you known you had to make a different choice about the way you live and the way you engage with others? Have you allowed that AHA! to change your life? I'd like to hear your story. More importantly, I'd like you to share it with your friends and family. And most importantly, I'd like you to take that insight fully to heart and act upon it in your life.
And if you've read this far: Consider this blog post as your reminder to go back to that AHA! moment -- that time when you realized you could be the change you want to see in the world.
What are you waiting for?
Calling all HuffPost superfans!
Sign up for membership to become a founding member and help shape HuffPost's next chapter