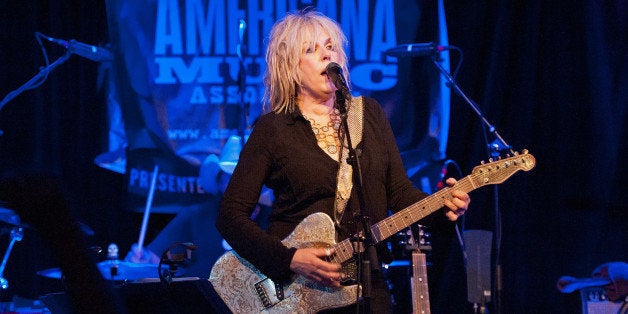 It shouldn't come as a huge surprise that the inspired daughter of a profound poet likes to write. Any time, anyplace. Words, thoughts, phrases will get scribbled down on notepads, Post-its or, if it's during a night out on the town, even cocktail napkins.
"We might be out at a bar listening to a band and I'll think of something and write it down, jot it down on a cocktail napkin," singer-songwriter Lucinda Williams was saying on the phone from her Studio City, California, home in early September. "I've often thought I should put out a book of lyrics or something, Songs from Cocktail Napkins. Because I literally keep, put a cocktail napkin in my purse and then I throw it in my folder with all my other song notes."
It would probably be a hit, too, just like the many records the Americana Mama has made since Ramblin' on My Mind, her album of covers, was released in 1979 to signal the beginning of a prolific career.
Thirty-five years later, Williams is still taking notes, believing the tiniest idea might explode into a meaningful song that could be the genesis of another groundbreaking album.
Williams finds creativity in creatures great and small, but went to a most reliable source -- her father -- to top off her splendid new release, Down Where the Spirit Meets the Bone, which drops today (Sept. 30).
Her first double studio album, which she co-produced with husband-manager Tom Overby and songwriter-multi-instrumentalist Greg Leisz, includes 20 songs, 18 of them written just by Williams.
Several of the selections were performed during a two-hour show before a receptive invitation-only audience at the City Winery in Nashville on Sept. 21 to conclude AmericanaFest.
She overcame a coughing fit during "Protection" while her outstanding band (all of whom are on the album) -- guitarist Stuart Mathis, bassist David Sutton and drummer Butch Norton -- played through it, then followed up with a rousing rendition of "Everything But the Truth." (Williams, right, with David Sutton)
Williams also went solo to sing the powerful "Compassion." It's the album kickstarter that she cut "at pretty much the 11th hour" at Overby's urging after trying for years to turn one of her father's poems into a song.
"I definitely learned something when I did that," Williams said of the challenge to provide additional lyrics and write music to the following poem, written by Miller Williams, a prominent poet and English professor who was born and raised in Arkansas:
Have compassion for everyone you meet,
even if they don't want it. What seems conceit,
bad manners, or cynicism is always a sign
of things no ears have heard, no eyes have seen.
You do not know what wars are going on
down there where the spirit meets the bone.
That final line contains the title of the album, and the poem, his daughter said, "is about not jumping to conclusions about people all the time."
The phrase "down where the spirit meets the bone," Williams added, "is just that place deep down inside all of us where nobody else can really see. I love the line about bad manners or cynicism. Because I think that bothers me, too, about other people. ... Like I feel uncomfortable around cynical people. Or if they come across as jaded or cynical. ... You don't know what that person's been through. Yeah, the suffering that he or she has encountered.
"Everybody has different ways of dealing with that. Some people get cynical, some people act like idiots or come across with the bad manners thing. Like yelling at you when you're in your car driving and some guy's ... road rage or whatever it is. The rude person in line who pushes ahead to get in line. Who knows what that person went through." (laughs)
Showing compassion, which she did on a recent flight from Arkansas when a man didn't want to get out of her assigned seat, was one of life's many admirable attributes that Lucinda Williams took from Miller Williams.
"I really looked up to him," Williams said of her 84-year-old father. "Unfortunately, he has Alzheimer's now. It's just heart-wrenching."
That revelation came early in a far-reaching interview that lasted nearly an hour. On the phone specifically to promote her album, an expressive Williams clearly had more personal things on her mind.
"I remember him saying one time, 'Don't ever lose your sense of wonder,'" she said. "Some of the things he would just say in conversation, in passing. Some of the lines, in fact, that line (from another of the album's songs) about the 'temporary nature of any precious thing, that just makes it more precious.' He said that to me one time. We were talking on the phone and I wrote it down. It was so profound. And in another part, in that same song, he said that thing about the saddest joys are the richest ones.
"That's what I mean when I say I write things down and keep them. You know I had those lines written down from two or three years ago maybe, whenever it was, and built that whole song around them, around those few lines."
No wonder then that she penned a simple but moving tribute in the album's liner notes to her father, whom she visited this summer in Arkansas:
As Flannery O'Connor was to you, you were my greatest teacher. Thank you.
So what did Williams learn from taking on the poetry of her father, whose mentors included O'Connor and John Ciardi?
Williams tells a story as well as she writes a song. But, just like a double album, it requires spending some extra time with her during this engaging conversation to appreciate the full impact.
Born in the sweltering southwest Louisiana town of Lake Charles, she remembers bonding at an early age with her dad, who took her along to visit O'Connor at the poet's home.
"I sort of fantasize about living in a house like Flannery O'Connor lived in in Milledgeville, Georgia, you know, kind of out in the country in a big old plantation home," Williams said, also mentioning the secluded New England residence of Pulitzer Prize winner Edna St. Vincent Mallay. "But I'm not really a loner like that. I like to entertain and hang out with friends and stuff."
Yet Williams still finds southern comfort in places such as New Orleans, where she went to junior and senior high school, and Jackson and Vicksburg, two Mississippi cities where she also was raised by her mother Lucy, who was born in Bonita, Louisiana.
Returning to Macon, Georgia, to play the renovated Cox Capitol Theatre brings back memories of Williams seeing Rev. Pearly Brown, a blind preacher who sang the blues on the downtown streets and made "an indelible impression on me" at the age of 6.

So much so that Williams and Overby, whom she said works in his man-cave office when he's not watching ESPN or playing fantasy football, called their new label Highway 20 Records, which covers much of those old stomping grounds.
A visit at the age of 4 to O'Connor's home was made more memorable because her father's greatest teacher "had a real strict schedule."
Sitting on front porch and "waiting until she was finished with her work before she would see us," further strengthened the father-daughter connection.
"Well, see when my parents split up (they divorced in the 1960s), we stayed with my dad," Williams said of the children who included brother Robert and sister Karyn. "Because my mother suffered from alcoholism and mental illness, so she just wasn't capable of taking us on.
"Even when they were still together, my mother would be having nervous breakdowns or whatever it was she was doing. My dad was always real protective of her. And he would take me aside and say, 'It's not your mother's fault. She's not well.' That kind of thing. I remember, he really kind of, he took care of me more (than her siblings). There was that closeness."
The ties that bind remained secured as Miller Williams stood behind his daughter, the rebellious high school student who got expelled for refusing to say the Pledge of Allegiance.
"Yeah, it was the '60s," Lucinda Williams said, laughing. "It was the height of all that. The music that was coming in. Bob Dylan's protest songs, Joan Baez and all of that."
Yet is was Miller Williams who set his teenager straight, along with his creative writing students at Loyola University, when the 20-somethings would visit the family home in New Orleans.
"They were always talking about Leonard Cohen and Bob Dylan and how Bob Dylan was a poet, not just a songwriter," Williams recalled. "My dad would be saying, 'No, he's a songwriter, he's not a poet. Those are two different things.'
"Never was that more apparent to me than when I sat down and tried to take one of his poems and turn it into a song," Williams said, lesson learned and finally appreciated more than four decades later.
It's also the premature ending to a story that's still worth telling.
The death of her mother in Fayetteville, Arkansas, on March 7, 2004, led to a cathartic release for Williams, nearly resulting in her first double album in 2007 instead of 2014.
"I really started writing more prolifically right before the West album came out," she said. "I was writing a lot 'cause that was shortly after she had died. I found myself in this real prolific mode and actually wanted to put out a double album then, when West came out. Because I actually had enough songs for two albums but I was still on Lost Highway and (they) said no.
"So a lot of the songs that came out on the next album (2008's Little Honey), had actually been written from the West period. And I remember being real frustrated. That's another reason I wanted to do this double album now because I remember then when I wasn't able to put out all the songs at once. It felt weird to me to have to wait. Another year and a half or whatever it was to put 'em out on the next album."
In 2009, Williams married Overby, saying for the first time she was finally in a committed relationship "with someone I felt free to be myself with."
It ended years of unsatisfying affairs with a series of other suitors, including one that Williams said resulted in "this really bad abusive relationship, the likes of which I had never experienced before" that occurred around the time of her mother's death.
"But now I know what it means to be a battered woman," she added. "I never understood it before. Like, 'Why don't they just leave?' There I was doing the same thing, and it's a really interesting, fascinating situation. I mean the whole thing, what your mind does during that kind of thing, how you just numb yourself. It's really weird.
"You don't think, 'Oh, this intelligent woman could find herself in that situation.' You think it's all like lower-class, less-educated women getting themselves in these things. And nothing could be further from the truth. So that was a big, super whammy. I lose my mother and I find myself in this horrible, abusive relationship. I think that was a big turning point. I got out of that relationship and, all of a sudden, I'm just writing, writing, writing. Then Tom and I found each other."
Finally being content raised a question, though.
"The big test for me was, 'Am I gonna be able to be with someone like this and be able to write, be able to be creative?' " Williams wondered. "And yes, I was able to. Because I'd had that problem before in the past. I was sort of what you'd call, people refer to as a serial monogamist. I didn't date a lot of different people, guys at one time or anything. I'd meet someone and if it worked out, we'd move in and live together for three or four years or something like that."
Those previous years of dissatisfaction proved to her that being able to write a sad song when you're sad and miserable isn't necessarily true. "Side of the Road," from 1988's self-titled album that was reissued earlier this year, was about shutting down creatively, she said, though dealing with a series of "beautiful losers" eventually led to songs such as "Drunken Angel" and "Lake Charles" from 1998's landmark Car Wheels on a Gravel Road.
"The thing is, when I'm sad and miserable, I don't feel like writing," Williams said. "I just want to check out and not do anything. Or go out and get drunk or something. ... There are two parts to that rumor or myth or whatever. Being sad of miserable or having things happen to you that are sad and painful do provide fodder, grist for the mill. That's certainly true. But you don't have to be in that. And I've got plenty of that to draw off of, you know, to last me for the rest of my life.
"Stuff from my childhood and everything else. Not to mention the world around us. That's another thing I've been pushing myself to try to do more as a writer is ... be able to write good topical songs like Bob Dylan always did. Those have always been more challenging for me to write," Williams said.
"West Memphis," a song off the new album written about three wrongly convicted teenagers who were eventually released, proves she's perfectly capable.
"For me, the love song, the unrequited love song, is the easiest thing to write," Williams added. Whether that subject is covered in folk, blues or rock, "It's all about 'my baby left me and I'm gonna jump in the river and drown.' "
Saying now that married life is "great, if you're with the right person," and "Mama's pretty happy" at this stage of her life, when some retiring types are thinking ahead to their next nap, there already are enough songs for a 12th studio album awaiting a 2015 release. First, though, is a companionship with Nashville that needs nurturing.
"When I lived in Nashville, I always had one foot out the door," Williams told ChicagoPride.com around the time West was released. "I don't really have any strong ties there to the South now that my mother's gone."

Though going back to her roots to become a full-time resident, whether it's in Milledgeville, Macon, Jackson or Nashville, is "unrealistic" now, Williams holds a soft place in her heart for the Music City.

Special guest Elizabeth Cook (left) has a laugh with Lucinda Williams
at Nashville's City Winery on Sept. 21, 2014.
She was a constant presence during AmericanaFest, appearing onstage at Jim Lauderdale's showcase at 3rd & Lindsley, the terrific Rock My Soul show taped for PBS at the Downtown Presbyterian Church and the City Winery gig, where special guests included Amos Lee and supporting act Elizabeth Cook.
Williams' fall tour, which begins Nov. 2 in Denver, features three more dates at Nashville's City Winery on Nov. 24-26.
Asked about her relationship these days with Nashville, she said, "It's actually pretty good," and mentioned enjoying some free time there while doing some promotional appearances -- including visiting CMT -- after her last tour wrapped in June. (Williams, right, with Amos Lee)
"I never thought I'd live to see the day when I was asked by CMT people to go do something with them," she said, which might lead some to assume "Cold Day in Hell," her song written on an afternoon in San Francisco, was inspired by that. "The town has really completely changed. ... The music scene is so much better now. And there's a lot more rock music, alternative kind of music.
"I think it's 'cause a whole new generation moved in there and, you know, they're all hipsters and rockers. The country thing, of course, is still there, and always will be. But it doesn't dominate the town like it used to. It's not so overbearing. It's a little annoying when you're staying at the Loews Vanderbilt and all the music you hear, you get on the elevator and it's all like that straight Nashville music. But then every so often you'll hear something else coming out and you'll go, 'Wow.'
"You can just see it sort of infiltrating itself. The more kind of left-of-center music, you know."
That sounds like someone we might know a little bit better now.
Lucinda Williams plans to adapt another of Miller Williams' poems for an album track in the future, though the search is on for one with regular rhyme schemes "like some of Robert Frost's poems," she said, after discovering that her father's "Why Does God Permit Evil?" was too long to turn around musically.

In the meantime, though, just read between the lines. A companion record to that book Songs from Cocktail Napkins might already be in the works.
Publicity photo by Michael Wilson. Concert photos by Michael Bialas. See more from AmericanaFest 2014.
Popular in the Community