"A human being is part of the whole, called by us 'universe,' a part limited in time and space. He experiences himself, his thoughts and feelings, as something separate from the rest - a kind of optical delusion of consciousness. This delusion is a kind of prison for us, restricting us to our personal desires and to affection for a few persons nearest to us. Our task must be to free ourselves from this prison by widening our circle of compassion to embrace all living creatures and the whole of nature in its beauty."  ~ Albert Einstein
The devastation caused by Hurricane Harvey in Texas, Louisiana, and elsewhere along the Gulf Coast is beyond description. Natural calamities like Harvey are never easy to understand. How is it that life, and the universe, can appear so beautiful one day and so brutal the next? What is encouraging to note is that in spite of (and perhaps because of) all the pain and loss, there seems to be a deepening in the awareness of the interconnectedness of people on a level we seldom experience; there is a vibration of common brotherhood being felt; further proof that the events of August 12th in Charlottesville, where racism and hate raised its ugly head, do notrepresent the heart of the American people. In addition to first responders, record numbers of private citizens came to the rescue of flood victims of Harvey at the risk of their own lives with small boats and high-water trucks, not to mention those who provided food, shelter, or tended to the needs of helpless animals. As one news commentator pointed out, Not one rescuer--or those providing comfort--asked to see immigration papers or tried to confirm citizenship status or the religious beliefs of those they were rescuing; not one rescuer declined to help those whose skin color was different than theirs; not one person was left behind because of their gender or sexual preference. This is the spirit of the real America, the country that already IS great.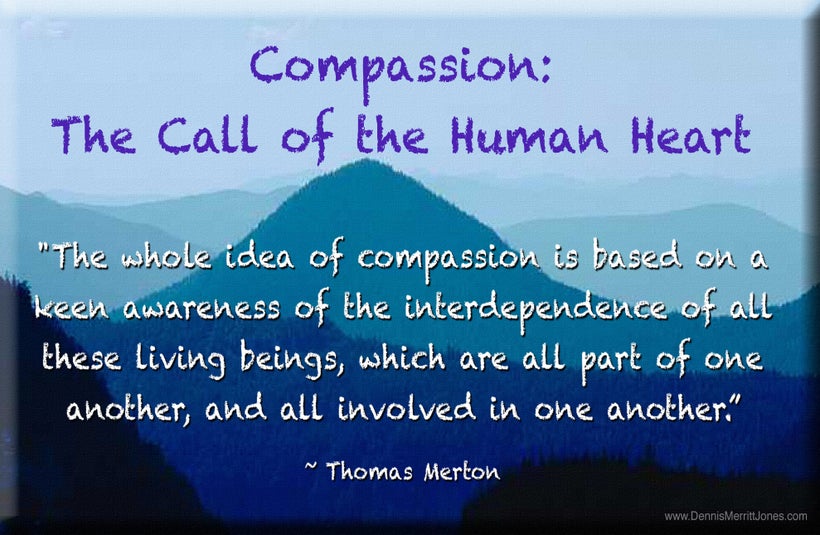 What this news commentator was inferring was the fact that at the center of the American heart, compassion is alive and well. Thomas Merton reiterates this sentiment in the quote above. His words exquisitely summarize the ascending belief in oneness by the majority of people: The awareness of this interconnectedness is rising in the consciousness of our species and shocking events such as Hurricane Harvey only quicken the vibration. Because of this tragedy we can bear witness to the heart of humanity opening and beating stronger than ever before, building bridges that span skin color, religions, and cultural barriers, connecting hearts to hearts, creating a diversity of people being human together, showing compassion for their earth family (including animals).
No doubt this is one of those times when it's easy to see the very best of ourselves and others emerge through the very worst of crisis and misfortunes. It's about compassion, loving-kindness, and generosity of spirit--and it always has been. Let us continue to be bridge builders by extending the best of ourselves to others long after this crisis passes because there will undoubtedly be more in our future. (As I write these words Hurricane Irma is approaching the islands and the mainland in Florida, so please keep all those who may be in her path in your prayers.) Compassion and generosity are things we can practice every day, not just during a crisis. It's an inherent part of who and what we really are--not only as Americans, but more important--as human beings.
Calling all HuffPost superfans!
Sign up for membership to become a founding member and help shape HuffPost's next chapter
This post was published on the now-closed HuffPost Contributor platform. Contributors control their own work and posted freely to our site. If you need to flag this entry as abusive,
send us an email
.