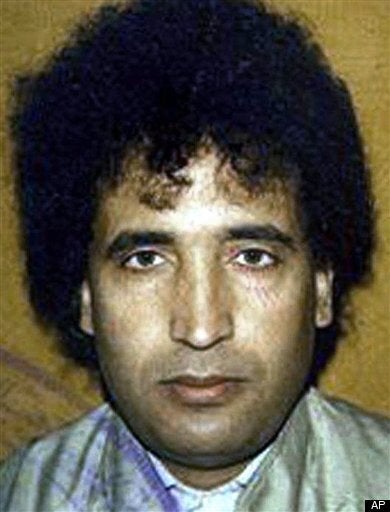 Hundreds of planes took off on August 20, 2009, just as they did on December 21, 1988. I didn't see Pan Am Flight 103 went it went wheels up that day, but I did see it in pieces on the ground on television. I did not see all of the planes taking off from La Guardia, JFK, or Newark on August 20, 2009 -- all of the airports into and out of which I often fly with hundreds and millions of other people. But I did see one plane lift off and soar in one piece on TV. Watched one passenger board just minutes before. You know his name and so do I. But I will not utter it here because saying it means remembering it, and there are some names that must be stricken from the record of humanity for the inhumane actions to which certain people choose to attach their own; names which they choose to sign with bloody hands on their systematic, unapologetic, ghastly, and proud erasure of other peoples' lives. Sometimes erasing a name from the Book of Life is the only thing we can do in a world in which justice remains a mystery and we are mystified. In this world, we have the power to remember and we have the power to forget.
The Hebrew month of Elul has just begun, the time in which preparation for Rosh Hashanah (the Jewish New Year) and Yom Kippur (the Day of Atonement) takes place. On Yom Kippur, part of the day's observance includes a service of remembrance, called Yizkor, during which we read the names of the dead, reflect on their lives and their legacies, honor them through memory, and commit ourselves to action inspired by their memory.Much has been and will continue to be said in days to come about the terrorist who boarded a private plane that carried him in comfort and safety to a hero's welcome and to a destination where his victims -- all 270 of them -- never arrived: death at home surrounded by loved ones. They never had the chance to arrive at the same fate all mortals share. They were expedited there because one mortal (or the only one convicted) chose the time, place, and gruesome manner of their fates. As such, there will be--there is--more than justifiable anger, outrage, sadness, disbelief, the inexcusable opening of wounds that never fully heal, and more. But no matter how hard we try we will not be able to make sense of any of it.
What we can do is sentence the name of that one far too high-profile passenger to eternity in the darkest, most forgotten, hidden recesses of the universe by refusing to say it, and immediately start saying the names of the people who must be remembered--today in particular. The names of the passengers, crew, and people who never would otherwise have noticed the plane flying overhead until it was raining down on them are listed here (I have gathered them from the Internet-- http://plane-truth.com/Aoude/geocities/victim.html--and apologize in advance if there are any omissions or if there is any inaccurate information. Should you discover errors, please correct them here.).
Take a moment to read these names. Read them all or read a few. If you're reading this and knew one of them, tell us who he was, tell us what she hoped to become. Find a person who shares your name, your hometown, your country, the age of your child, the age you are today, or the age you were in December 1988. Then make a pledge to do one small thing in their honor. The more their names are read, said, and remembered, the more we do to erase the one name that deserves no mention, no headlines, no press whatsoever. The one who must be nameless may have gotten a release, but we have the power to give 270 souls, their memories, and their loved ones the compassion. Zichronam livracha--may their names and their memories be a blessing.
Ahern, John Michael Gerard, 26, Rockville Center, New York Aicher, Sarah Margaret, 29, London, EnglandAkerstrom, John David, 34, Medina, OhioAlexander, Ronald Ely, 46, New York City, New York Ammerman, Thomas Joseph, 36, Old Tappan, New Jersey Apfelbaum, Martin Lewis, 59, Philadelphia, Pennsylvania Asrelsky, Rachel M., 21, New York, New YorkAtkinson, William Garretson III, 33, London, EnglandAtkinson, Judith Ellen, London, EnglandAvoyne, Elisabeth Nicole Marie, Crossy Sur Seine, FranceAvritt, Jerry Don, Westminster, CaliforniaBacciochi, Clare Louise (19), Warwickshire, UKBainbridge, Harry Michael, 34, Montrose, New YorkBarclay, Stuart Murrav, 29, Farm Barnard, VermontBell, Jean Mary, 44, Windsor, England Benello, Julian MacBain, 25, Brookline, Massachusetts Bennett, Lawrence RJV, 41, Chelsea, MichiganBergstrom, Philip, 22, Forest Lake, Minnesota Berkley, Alistair Davis, 29, London, EnglandBernstein. Michael Stuart, 36, Bethesda, MarylandBerrell, Steven Russell, 2O, Fargo, North DakotaBhatia, Surinder Mohan, 51, Los Angeles, California Bissett, Kenneth John, 21, Hartsdale, New York Boatman-Fuller, Diane Anne, 37, London, EnglandBoland, Stephen John, 20, Nashua, New HampshireBouckley, Glen, 27, Liverpool, New York Bouckley, Paula, 29, Liverpool, New YorkBoulanger, Nicole Elise. 21, Shrewsbury, MassachusettsBoyer, Francis, 43, Toulosane, FranceBright, Nicholas, 32, Brookline, MassachusettsBrowner (Bier), Daniel Solomon, 23, Parod, IsraelBrunner, Colleen Renee, 20, Hamburg, New YorkBurman, Timothy Guy, 24, London, EnglandBuser, Michael Warren, 34, Ridgefieid Park, New JerseyBuser, Warren Max, 62, Glen Rock, New JerseyButler, Steven Lee, 35, Denver, ColoradoCadman, William Martin, 32, London, EnglandCaffarone, Fabiana, 28, London, EnglandCaffarone, Hernan, 28, London, EnglandCanady, Valerie, 25, Morgantown, West VirginiaCapasso, Cregory, 21, Brooklyn, New YorkCardwell, Timothy Michael, 21, Cresco, PennsylvaniaCarlsson, Bernt Wilmar, 50, New York, New YorkCawley, Richard Anthony, 43, New York, New YorkCiulla, Frank, 45, Park Ridge, New JerseyCohen, Theodora Eugenia, 20, Port Jervis, New YorkCoker, Eric Michael, 20, Mendham, New Jersey Coker, Jason Michael, 20, Mendham, New JerseyColasanti, Gary Leonard, 20, Melrose, MassachussetsConcannon, Bridget, 53, Banbury, EnglandConcannon, Sean, 16, Banbury, EnglandConcannon, Thomas, 51, Banbury, EnglandCorner, Tracey Jane, 17, Millhouses, EnglandCory, Scott, 20, Old Lyme Court, ConnecticutCoursey, Willis Larry, 40, San Antonio, TexasCoyle, Patricia Mary, 20. Wallingford, Connecticut Cummock, John Binning, 38, Coral Gables, FloridaCurry, Joseph Patrick, 31, Fort Devens, MassachusettsDaniels. William ,Allen, 40, Belle Mead, New JerseyDater, Gretchen Joyce, 20, Ramsey, New Jersey Davis, Shannon, 19, Shelton, ConnecticutDella Ripa, Gabriel, 46, Floral Park, New YorkDimauro, Joyce Christine, 39, New York City, New YorkDinardo, Gianfranca, 26, London, EnglandDix, Peter Thomas Stanley, 35, London, EnglandDixit, Om. 54, Fairborn, OhioDixit, Shanti, 54, Fairborn, Ohio Dornstein, David Scott, 25, Philadelphia, PennsylvaniaDoyle, Michael Joseph, 30, Voorhees, New JerseyEggleston, Edgar Howard III, 24, Glens Falls, New York Ergin, Turhan, 22, West Hartford, ConnecticutFisher, Charles Thomas IV, 34, London, England Flick, Clayton Lee, 25, Coventry, EnglandFlynn, John Patrick, 21, Montville, New JerseyFondiler, Arthur, 33, West Armonk, New YorkFortune, Robrt Gerard, 40, Jackson Heights, New YorkFreeman, Paul Matthew Stephen, 25, London, EnglandFuller, James Ralph, 50, Bloomfield Hills, MichiganGabor, Ibolya Robertine 79, Budapest, HungaryGallagher, Amy Beth, 22, Quebec, CanadaGannon, Matthew Kevin, 34, San Juan Capistrano, CaliforniaGareczynnski, Kenneth Raymond, 37 North Brunswick, New JerseyGibson, Kenneth James, 20, Romulus, MichiganGiebler, William David, 29, London, EnglandGordon, Olive Leonora, 9i, London, EnglandGordon-Gorgaez, Linda Susan, 39, London, EnglandGorgaez, Anne Madelene, 76, Newcastle, PennsylvaniaGorgaez, Loretta Anne, 47, Newcastle, PennsylvaniaGould, David, 45, Pittsburgh, PennsylvaniaGuevorgian, Andre Nikolai, 32, Sea Cliff, New YorkHall, Nieola Jane, 23, Sandton, South AfricaHalsch, Lorraine Frances, 31, Fairport, New YorkHartunian, Lynne Carol, 21, Schenectady, New YorkHawkins, Anthony Lacey, 57, Brooklyn, New YorkHerbert, Pamela Elaine, 19, Battle Creek, MichiganHilbert, Rodney Peter. 40, Newton, PennsvlvaniaHill, Alfred, 29, Sonthofen, West GermanyHollister, Katherine Augusta, 20, Rego Park, New YorkHudson, Josephine Lisa, 22, London, EnglandHudson, Melina Kristina, 16, Albany, New YorkHudson, Sophie Ailette Miriam, 26, Paris, FranceHunt, Karen Lee, 20, Webster, New York Hurst, Roger Elwood, 38, Ringwood, New JerseyIvell, Elizabeth Sophie, 19, Robertsbridge, East Sussex, EnglandJaafar, Khalid Nazir, 20, Dearborn, MichiganJeck, Robert van Houten, 57. Mountain Lakes, New JerseyJeffreys, Paul Avron, 36, Kingston-upon-Thames, EnglandJeffreys, Rachel, 23, Kingston-upon-Thames, EnglandJermyn, Kathleen Mary, 20, Staten Island, New YorkJohnson, Beth Ann, 21, Greensburg, PennsylvaniaJohnson, Mary Alice Lincoln, 25, Wayland, MassachusettsJohnson, Timothy Baron, 21, Neptune, New JerseyJones, Christopher Andrew, 20, Claverack, New YorkKelly, Julianne Frances, 20, Dedham, MassachusettsKingham, Jay Joseph. 44, Potomac, MarylandKlein, Patricia Ann, 35, Trenton, New Jersey Kosmowski, Gregory, 40, MiIford, MichiganKulukundis, Minas Christopher, 38, London, EnglandLaRiviere, Ronald Albert, 33, Alexandria, VirginiaLeckburg, Robert Milton, 30, Piscataway, New JerseyLeyrer, William Chase, 46, Bay Shore, New YorkLincoln, Wendy Anne, 23, North Adams. Massachusetts Lowenstein, Alexander Silas, 21, Morristown, New JerseyLudlow, Lloyd David, 41, Macksville, KansasLurbke, Maria Theresia, 25, Balve Beckum, West GermanyMcAllister, William John, 26, Sunbury-on-Thames, EnglandMcCarthy, Daniel Emmet, 31, Brooklyn, New YorkMcCollum, Robert Eugene, 61, Wayne, PennsylvaniaMcKee, Charles Dennis, 40, Arlington, Virginia McLaughlin, Bernard Joseph. 30, Bristol, EnglandMack, William Edward, 30, New York City Malicote, Douglas Eugene, 22, Lebanon, OhioMalicote, Wendy Gay, 21, Lebanon, OhioMarek, Elizabeth Lillian, 30, New York CityMarengo, Louis Anthony, 33, Rochester, Michigan Martin, Noel George, 27, Clapton, EnglandMaslowski, Diane Slaric, 30 , New York CityMelber, Jane Susan. 27, Middlesex, EnglandMerrill, John, 35, Hertfordshire, EnglandMiazga, Suzanne Marie, 22 , Marcy, New YorkMiller, Joseph Kenneth, 53, Woodmere, New YorkMitchell, Jewel Courtney, 39, Brooklvn, New YorkMonetti, Richard Paul, 20, Cherry Hill, New JerseyMorgan, Jane Ann, 37, London, EnglandMorson, Eva Ingeborg, 48, New York CitvMosey, Helga Rachael, 19, Warley, EnglandMulroy, Ingrid Elizabcth, 25, Lund, SwedenMulroy, John, 59, East Northport, New YorkMulroy, Sean Kevin, 25, Lund, SwedenNoonan, Karen Elizabeth, 20 , Potomac, MarylandO'Connor, Daniel Emmett, 31, Boston, MassachuscttsO'Neil, M. Denice, 21 Bronx, New YorkOtenasek, Anne Lindsey, 21, Baltimore, MarylandOwen, Bryony Elise, 1, Bristol, EnglandOwen, Gwyneth Yvonne Margaret 29, Bristol, EnglandOwens, Laura Abigail. 8, Cherry Hill, New JerseyOwens, Martha, 44, Cherry Hill, New JerseyOwens, Robert Plack, 45, Cherry Hill, New JerseyOwens, Sarah Rebecca, 14, Cherry Hill, New JerseyPagnucco, Robert Italo, 51, South Salem, New YorkPapadopoulos, Christos Michael, 45, Lawrence, New YorkPeirce, Peter Raymond, 40, Perrysburg, OhioPescatore, Michael. 33, Solon, OhioPhilipps, Sarah Suzanue Buchanan, 20, Newtonville, MassachusettsPhillips, Frederick Sandford, 27, Little Rock, ArkansasPitt, James Andrew Campbell, 24, South Hadley, MassachusettsPlatt, David, 33, Staten Island, New YorkPorter, Walter Leonard, 35, Brooklyn, New YorkPosen, Pamela Lynn, 20, Harrison, New YorkPugh, William, 56, Margate, New JerseyQuiguvan, Crisostomo Estrella, 43, London, EnglandRamses, Rajesh Tarsis Priskcl, 35, Leicester, EnglandRattan, Anmol, 2, Warren. Michigan Rattan, Garima, 29, Warren, MichiganRattan, Suruchi, 3, Warren, Michigan Reeves, Anita Lynn, 24, Laurel, MarylandRein, Mark Alan, 44 , New York CityRencevicz, Diane Marie, 21, Burlington, New JerseyRogers, Louise Ann, 20, Olney, MarylandRoller, Edina, 5, HungaryRoller, Janos Gabor, 29, HungaryRoller, Zsuzsanna, 27, HungaryRoot, Hanne Maria, 26, Toronto, CanadaRosen, Saul Mark, 35, Morris Plains, New JerseyRosenthal, Andrea Victoria, 20, New York CitvRosenthal, Daniel Peter, 20, Staten Island, New YorkRubin, Arnaud David, 28, Waterloo, BelgiumSaraceni, Elyse Jeanne, 20, East London, EnglandSaunders, Scott Christopher, 21, Macungie, PennsylvaniaSaunders, Theresa Elizabeth, 28, Sunbury-on-Thames, EnglandSchauble, Johanness Otto, 41, Kappellenweg, West Germany Schlageter, Robert Thomas, 20, Warwick. Rhode IslandSchultz., Thomas Britton, 20, Ridgefield, ConnecticutScott, Sally Elizabeth, 22, Huntington, New YorkShapiro, Amy Elizabeth, 21, Stamford, ConnecticutShastri, Mridula, 24, Oxford, EnglandSheanshang, Joan, 46, New York CitySigal, Irving Stanley, 35, Pennington, New JerseySimpson, Martin Bernard Christopher, 52, Brooklyn, New YorkSmith, Cynthia Joan, 21, Milton, MassachusettsSmith. Ingrid Anita, 31, Berkshire, EnglandSmith, James Alvin, 55, New York CitvSmith, Mary Edna, 3l, Kalamazoo, MichiganStevenson, Geraldine Anne, 37, Esher, EnglandStevenson, Hannah Louise, 10, Esher, EnglandStevenson, John Charles. 38, Esher, EnglandStevenson, Rachael. 8, Esher, EnglandStinnett, Charlotte Ann, 36, New York CityStinnett, Michael Gary, 26, Duncanville, TexasStinnett, Stacey Leanny, 9, Duncanville, TexasStow, James Ralph, 49, New York City Stratis, Elia G., 43, Montvale, New Jersey Swan, Anthony Selwyn, 29, Brooklyn, New YorkSwire, Flora Margaret, 24, London, EnglandTager, Marc Alex, 22, London, EnglandTanaka, Hidekazu, 26, London, EnglandTeran, Andrew Alexander, 20, New Haven, ConnecticutThomas, Arva Anthony, 17, Detroit, MichiganThomas, Jonathan Ryan, 2 months, Southfield, MichiganThomas, Lawanda, 21, Southfield, MichiganTobin, Marc; Lawrence,21, North Hempstead, New YorkTrimmer-Smith, David William, 51, New York CityTsairis, Alexia Kathryn, 20, Franklin Lakes, New JerseyValentino, Barry Joseph, 28, San Francisco, CaliforniaVan Tienhoven, ThomasS Floro, 45, Buenos Aires, ArgcntinaVeidany, Asaad Eidi, 46, Great Neck, Néw YorkVrenios, Nicholas Andreas, 20, Washington, D.C.Vulcu, Peter, 21, Alliance, OhioWaido, Janina Jozefa, 61, Chicago, IllinoisWalker, Thomas Edwin, 47, Quincy, MassachusettsWeedon, Kesha, 20, Bronx, New YorkWeston, Jerome Lee, 45, Baldwin, New YorkWhite, Jonathan, 33, North Hollywood, CaliforniaWilliams, Bonnie Leigh, 21, Crown Point, New YorkWilliams, Brittany Leigh, 2 months, Crown Point, New YorkWilliams, Eric Jon, 24, Crown Point, New YorkWilliams, Ceorge Waterson, 34, Joppa, MarylandWilliams, Stephanie Leigh, 1. Crown Point, New YorkWolfe, Miriam Luby, 20, Severna Park. MarylandWoods, Chelsea Marie, 10 months, Willingboro, New JerseyWoods, Dedera Lynn, 27, Willingboro, New JerseyWoods, Joe Nathan, 28, Willingboro, New Jersey Woods, Joe Nathan, Jr., 2, Willingboro, New JerseyWright, Andrew Christopher Gillies, 24, Surrey, England Zwynenburg, Mark James, 29, West Nyack, New York Captain James Bruce MacQuarrie, 55, Kensington, New HampshireFirst Officer (co-pilot) Raymond Ronald Wagner, 52, Pennington, New JerseyFlight engineer Jerry Don Avritt, 46, Westminster, CaliforniaMary Geraldine Murphy, 51, Twickenham, UKMilutin Velimirovich, 35, Hounslow, UKElisabeth Nichole Avoyne, 44, Croissy-sur-Seine, France,Noelle Lydie Berti, 41, Paris, FranceSiv Ulla Engstrom, 51, Windsor, UKStacie Denise Franklin, 20, San Diego, CaliforniaPaul Isaac Garret, 41, Napa, CaliforniaElke Etha Kuhne, 43, Hannover, BRDMaria Nieves Larracoechea, 39, Madrid, SpainLilibeth Tobila Macalolooy, 27, Kelsterbach, BRD Jocelyn Reina, 26, Isleworth, UKMyra Josephine Royal, 30, Hanwell, UKIrja Syhnove Skabo, 38, Oslo, Norway Joanne Flannigan, 10Kathleen Mary Flannigan, 41Thomas Brown Flannigan, 44Dora Henrietta Henry, 56Maurice Peter Henry, 63Mary Lancaster, 81Jean Aitken Murray, 82John Somerville, 40Lynsey Ann Somerville,10Paul Somerville, 13Rosalind Hanney Somerville, 40
Related
Popular in the Community