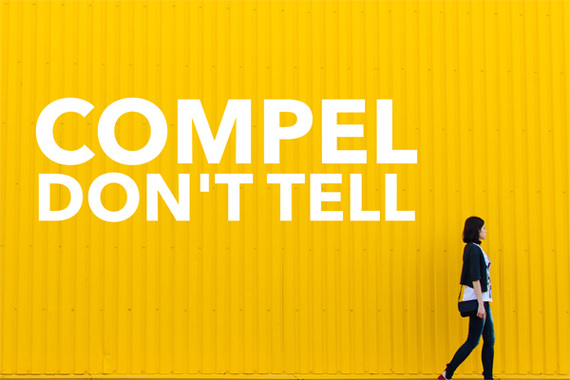 In order to stand out in the competitive world of business today, we must develop ways to communicate our ideas and draw attention to our products and services, while at the same time, walk a very delicate balance of not coming on too strong. If potential customers feel like you are coming AT them, they back off. So how do you do this?
It's fairly easy to tell people what you do, but honestly, that's not the most riveting way to cultivate a desire to know more about you and your business. You need to be compelling; you need to pique someone's interest that will draw them in. To cause them to walk towards you so that you don't even need to walk towards them. With so many options for consumers today, it's not enough to be good at what you do; you need to excel at standing out first!
What I like about this demand that we, as businesses, must be interesting and compelling is that it elevates the standards of business. It requires an awareness of human behavior and a respect for others. It allows you to become the architect of your business. Like any good architect, you need more than a plan. You also need a strong foundation, a sound structure, and an interesting -compelling- design. You need to pay close attention to three parts of your business that demand that you be compelling in order to become a successful architect of your business.
There are three parts of business where you must be compelling.
First and foremost, pay attention to your marketing language- all the words you use to create and promote your business- in print, social media, websites, and ads of all types. Talk about what your potential clients can expect in terms of results rather than what you can do. Entice them by allowing them to imagine the results they will receive by choosing your product or service. And by all means, keep your marketing messages concise! With just a few seconds to grab someone's attention, you have to say an awful lot in very few words. With my coaching clients, we create a Stand Out Statement™. A Stand Out Statement™ is the modern day tagline or slogan. The difference is, whereas a slogan or tagline reads like a clever sentence that one thinks up, a Stand Out Statement™ is a compelling statement, 3-9 words, that lets people know what you stand for that intrigues them. It creates an emotional connection rather than an intellectual one which is far more compelling.
The second arena in which you must be compelling is in networking and referrals. Instead of telling someone about what you do, zero in on planting the seed to grow your business. Compel the person before you with a question or statement that sparks interest rather than listing your services right off the bat. When I'm at an event and get asked the typical, "What do you do?" My answer is, "Do you know someone who is super-talented at something but not experiencing the level of success that he or she would like? You do? Great. That's where I come in. I help people transform their talent into a successful business as a coach, speaker, and podcast host." See what happened there? By shifting the focus from who you are and what you do to getting your audience to think about those who might be served and benefit from what you are offering, you invite referrals. Compel. Don't tell.
Lastly, you must create a compelling brand. As the architects of our own brand, we must create curiosity and a buzz about our brand. Two very different brands come to mind here: Virgin Airlines and Ben & Jerry's ice-cream. Virgin created its distinctly evocative brand by breaking the mold of what airlines are expected to look like. As the story goes, with no money left for marketing after launching, Virgin principals had to get creative about generating interest and excitement. Using the center aisle of one of its newly-minted aircrafts as a fashion runway, their premier flight included a fashion show. Creating a social media frenzy. Virgin immediately invented itself as a hip, modern airline that offers an experience greater than flying. Flying with Virgin is entertaining. People are compelled by the entire experience from the neon lights on board, sending drinks to other seats, to the free WiFi which allows passengers to share their new "virgin' experience on social media right away. Personally. I love that every seat has a power outlet.
Unlike Virgin but equally as effective and compelling is the Vermont-based, ice cream brand, Ben & Jerry's. Ben & Jerry's has done a bang-up job at cross-innovation to develop a very compelling brand. Standout concoctions like Phish Food and Cherry Garcia integrate well-known music brands as ice-cream flavors. They've added humor, and perhaps a touch of harsh reality with flavors such as Chubby Hubby and Chunky Monkey. They've stayed current by adding flavors such as Tonight Dough, playing off of Jimmy Fallon's success modernizing an old standard at The Tonight Show. Not only is the operation and mission of Ben & Jerry's a compelling brand, each and every flavor is a compelling statement. Let's face it. While the ice-cream is excellent, it's the brand that grabs you first. The quality keeps you coming back.
So, how will you standout? What makes your business unique? Effective? Successful? We're listening. We're watching. But shhhh. Compel. Don't tell.
Popular in the Community