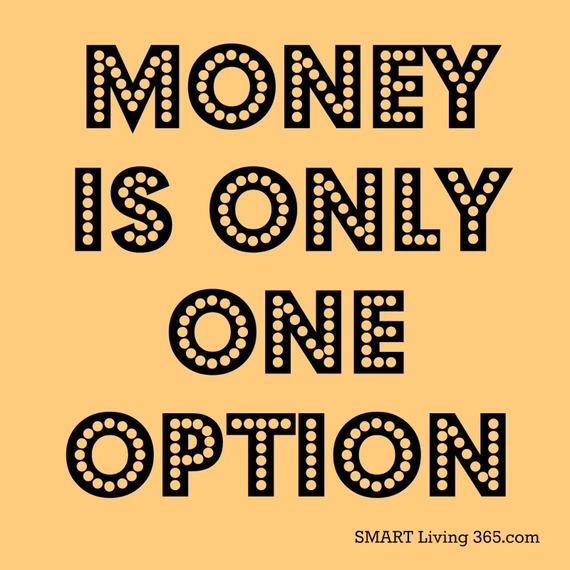 Lately I've read a number of blog posts that discourage writers from giving any of their work away without payment -- in other words, writing for free. It seems some writers feel that if a writer writes something without being paid that diminishes the value of the work for all other writers. And while I agree that every type of artist is wise to honor and value their gifts and contributions, that doesn't mean that the only means of payment comes in the form of money. In fact, looking back over my own experiences, much of the pay I've received for my work came in a variety of forms and fashion. As creative artists of any type, let's never forget that value means something different to each of us, and compensation doesn't have to look like money.
The idea comes easy for me because my husband and I got involved in exchanging many years ago. As real estate brokers who started in the industry during a bleak period in the mid-to-late-'80s, exchanging provided a creative way for us to transfer problematic properties without much cash. The saying, "One person's junk is another person's treasure," fit many property owners who were looking for a way out when no sale was available. By helping clients exchange what they had for something that they felt offered more potential, everyone came out happy.
Throughout the years we have personally traded property and services for real estate, automobiles, business equipment, furniture and more. Never a mere order-taker in the business world, my husband Thom has gone on through the years perfecting the talent of creative transactions in commercial real estate with or without cash. It is precisely because he doesn't fit into the one-size-fits-all category that has led to much of his success in that industry.
So why should it be any different in other lines of work, including creative achievements? Looking back I see many times where I have successfully exchanged my writing for things of value for both my family and me. An early trade came when I wrote a couple of advertising pieces in exchange for several massages from our massage therapist. Then several years later I started my first blog with a strong emphasis on the environment and sustainability. I knew nothing about blogging at the time and just committed myself to learning more and more as I went along, both environmentally, and with blogging. The site was not monetized and the ultimate goal was seen as a community service.
Yet early on I received an offer for creative compensation from the editor of a local business magazine. After reading a number of my blog posts, he offered me a job. He would provide business advertising in his newspaper in exchange for my writing a monthly column focused on the environment. For over a year I re-purposed the articles I was already writing for my blog that fit the guidelines of the paper in exchange for print advertising. At least one particular ad can be traced to a direct sale resulting in thousands of dollars of commission for our family. In addition Thom's reputation as a leader in his field benefited tremendously.
Another exchange came from a local manufacturer of unique recycled garden accessories and ornaments. After taking out our water-guzzling yard and replacing it with desert landscaping, we needed several large pots to complete the transformation. In exchange for writing a feature post for this sustainable garden manufacturer and his work, we were offered three of his recycled glass pots at a value approaching nearly $2,000.
One of the most rewarding exchanges came after I had been writing and blogging about the environment for nearly three years. During that time we became closely connected with many of the local businesses and providers of other green and environmental products in our community. One of our favorites was solar. When we learned from one of the most trusted solar providers that rebates in our community were at an all time high, Thom and I agreed to buy solar for our home. That's when our solar provider told us that in exchange for all the help and promotion we had done for his business, he wanted to waive all costs and expenses over and above our rebates. Essentially, we received the entire solar system on our home at zero cost out of our pocket.
Please understand I'm not explaining these details to brag and tell you what a great negotiator I am. Frankly I didn't negotiate any of these transactions at all. What is important is realizing that if I had charged for my work by the hour or by the piece, the resulting compensation would have been a fraction of the value that I eventually received. While there are many instances when I am paid in cash for my writing, my big point is, not everything of worth has to be exchanged in the measurement of money.
Ever hear of the book, Do What You Love And The Money Will Follow? My life has been a series of lessons where that statement demonstrates that when I trust my passion and the Universe Itself, finances have a way of working out. Plus, when we trust and stay receptive to miracles, our writing will open doors to all sorts of possibilities and create connections to people who can aid our future dreams in unimaginable ways. Those kinds of opportunities are priceless.
It's also good to point out that when we attempt to reduce our value and worth at all times to mere dollars and cents we will always come up short. I have always found that I am usually rewarded for my work in direct resonance to my own sense of value. Don't think I'm worth much? Neither will anyone else. Believe I offer something unique, special and valuable? That's when other people and circumstances will come together in better and more beneficial ways than I can otherwise imagine.
Hopefully those of us who call ourselves authors and writers have arrived at the point where we value our work and know it benefits others. When we do, we don't need to attach a non-negotiable price tag to what we create. Instead I believe it is SMART to recognize and know that what we give out comes back to us in more ways than we can envision. Just remember, payment doesn't always look like money.
Kathy Gottberg believes in living healthy, authentic, fearless and SMART. This post originally appeared on her blog with a number of related comments. For more on this topic go to SMART Living 365.