Every 60 seconds, a child dies from malaria. This isn't an old statistic -- this is reality for thousands of children in sub-Saharan Africa today in 2014.
The United Nations Foundation's Nothing But Nets campaign has been working hard since 2006 to change this reality. And we're making great progress -- over the last decade, coordinated global efforts have helped to reduce child mortality rates from malaria by half. We want -- and need -- to defeat malaria for good. And what is so profound is that hundreds and hundreds of kids here in the U.S. have joined us in this mission.
In honor of World Malaria Day (April 25), the Nothing But Nets campaign launched a nationwide challenge to ask Americans to "Compete to Beat Malaria." This month-long challenge convenes our partners, local communities, schools, and families to take sports challenges to raise awareness, funds, and voices to fight malaria.
Founded on an article by sports columnist, Rick Reilly, the Nothing But Nets campaign has sports in its DNA. For years, our supporters have leveraged their passions for sports to fight malaria while doing what they love. No matter how big or small, everyone can create a sports challenge to help us defeat malaria.
One young person stands out -- Cooper Smith. Recently, the campaign honored Cooper for his efforts to fight malaria. For a second year, he has asked his friends and family to donate to Nothing But Nets in lieu of gifts for his birthday. He's hosting a great basketball contest to get his friends involved and he has already sent several hundred nets to Africa.
Kids all over the country can do the same -- and save thousands of lives. But don't take my word for it -- listen to Cooper: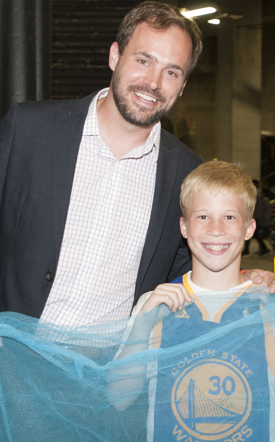 My birthday is coming up on April 18th, and one of my wishes is to increase awareness for Nothing But Nets -- a great nonprofit that gives nets to families in Africa to protect kids like me from malaria. And these nets are just $10 each.

So why do I believe in Nothing But Nets so much? Well, first, $10 to save a life is crazy. And that net is just so helpful. And malaria is just a terrible thing that is simply caused my mosquitoes. If you can prevent the mosquitoes from biting people and spreading the disease, that is all you really have to do. It is as simple as that.

I want to do something different than just ask people to give money to Nothing But Nets. Kids like me can get involved; it is so easy and important and you don't have to have a lot of money. I organized a trick shot contest to raise awareness for Nothing But Nets because it is fun for my friends. When you often talk about fundraisers, you often think of things that are boring. If you create something that is fun, everyone gets excited and they will join. And that is pretty much the best thing possible. My best friend is doing a contest as well. All you have to do is tape yourself doing a great trick shot, just post it somewhere -- anywhere -- and include #nothingbutnetscoop. The United Nations Foundation and Nothing But Nets will be looking for those hashtags to profile great trick shots before World Malaria Day on April 25.

So will you help me send nets to Africa? Visit my page to donate. And if you don't have money but you believe in this cause -- just tape yourself doing a crazy trick shot and use #nothingbutnetscoop to raise awareness.
Chris Helfrich is Director of the United Nations Foundation's Nothing But Nets campaign. Cooper David Aaker Smith is a middle school student from Lafayette, California. Visit www.NothingButNets.net/WorldMalariaDay.
Related